Around 25 years ago, my parents gave me their old Volvo 240. At the time, my daughter, Cayla, was born and we needed to replace one of our coupes with a four door sedan. I can't say much about the 240's shape – it was rectangle and boxy, but, it drove well, was considered one of the safest cars in its price range, and was reliable. With a new baby on board, safety was the ticket. Well, the years have passed way too quickly. My daughter is now 27-years old and Volvo today produces vehicles that continue to be leaders in safety. They are still reliable, and drive well. The biggest difference is that the styling is outstanding and the all-new 2017 Volvo S90 is proof that safe vehicles can also be beautiful!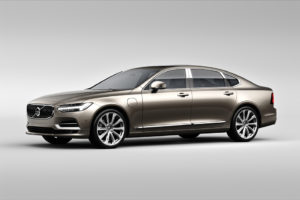 The 2017 Volvo S90 sedan replaces the outgoing S80 in the Swedish-made product line; however, this isn't a simple upgrade or minor change with a new name. This is a start-from-scratch; a fully re-engineered effort that delivers what I would consider to be the best Volvo ever. The S90 is the fully-reconceived flagship sedan that is built on a new platform launched last year on the XC90 crossover. It includes a new engine, a beautiful new design concept and not a single carry-over part from its previous model.
Under the permission of its new owners, China's Geely Holding, Volvo has been allowed to completely rethink and redesign its largest sedan as well as its company's overall design theme. Instead of chasing after the German sport sedans specification list, Volvo was encouraged to express itself by conceiving an elegant design, spacious and beautifully crafted interior, and a driving and performance experience that is second to none.
The 2017 Volvo S90 is produced in Sweden and available in four configurations: T5 Momentum ($46,950), T5 Inscription ($49,650), T6 AWD Momentum ($52,950), T6 AWD Inscription ($55,450). The T5 models are equipped with a 2.0-liter 4-cylinder turbocharged generating 250 horsepower and 258 pound-feet of torque. The upgraded T6 2.0-liter 4-cylinder adds a belt-driven supercharger to pump more forced air into the turbo stream. This increases the horsepower to 316 and the torque to 295 lb.-ft. My test car was the S90 T6 AWD Inscription and I can tell you, it performs like a rocket.
The exterior is carved with the smooth outline of a coupe and elegance is infused into the curves and swoops of its shiny steel skin. The profile boasts bold and luxurious authority as it stands tall on its 19-inch wheels. The T-shaped headlights are themed as Thor's Hammer and are laid in concert with the classically long Volvo hood, uniquely- shaped side glass and the scalloped grille. Sensors and cameras are place on all four poles creating a 360-degree aerial view when the transmission is requested to backup. I must admit, I have driven other cars that have this 360-degree view option and the Volvos for some reason take the items parallel to it (cars, bushes, etc.) and stretches them with giant height proportions which created an uneasy sensation when backing up.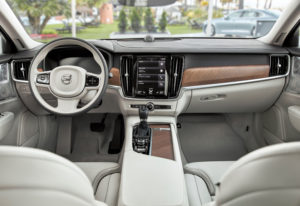 The interior is truly worthy of praise. With plenty of room for four adult passengers and a smaller rider (in the center of the back seat), all will enjoy the blending of a living room couch, while having form-hugging seats that will keep you in place during the curviest of roads. Beautiful wood trim is decorated throughout the cabin. Every element of the interior is designed as a work-of-art, from the shifter to the speaker covers. The nine-inch center screen works in part like a tablet as you swipe from page to page to engage your adjustments. I am a guy who enjoys gadgets, but, I must admit, the screen replaced most of the typical control buttons, and attempting to drive and swipe at the same time was very distracting. I would prefer to have buttons which I can quickly access for the common functions.
The T6 trims are engineered with air suspension delivering a comfortable smooth ride or as Volvo coins it "a relaxed confidence." The suspension loads up evenly and unloads out of a corner with the grace of a ballerina. Passengers will be pleased as there isn't much bobbing or bouncing over imperfections in the road and the ride is extremely quiet, thanks to its active noise cancellation technology.
Cool Features:
Volvo's Pilot Assist
360 Aerial View in Reverse
Rear seats temperature control and heated seats
As we know, Volvo is known for being a leader in vehicle safety and the 2017 Volvo S90 is bursting at the seams with safety features. The S90 will be the first automobile with semi-autonomous driving technology standard across the line. The Pilot Assist system blends active cruise control with forward collision warning and lane-keep assist. This system lets the driver remove his or her hands from the steering wheel sporadically, for up to 15 seconds each time. Blind-spot monitoring and cross-traffic alert systems are optional. There is also a Large Animal Detection system that tracks the movement of creatures like moose and deer, warning the driver, as it takes evasive action as necessary.
In Summary –The 2017 Volvo S90 is comparable to German sedans in comfort, performance and safety, but, at a much better price. It's better-equipped than many luxury sedans and is loaded with technical features. The styling of the S90 hits the mark and creates a new standard for Volvo. The S90 is a beautiful and luxurious vehicle both inside and out.
Specifications
2017 Volvo S90 T6 AWD Inscription
Base price: $52,950as driven: $66,105 (including destination & optional
features)
Engine: 2.0-liter 4-cylinder Super and Turbo charged engine
Horsepower: 316 @ 5,700 RPM
Torque: 295 @ 2,200 RPM
Transmission 8-Speedautomatic
Drive: AWD Drive
Seating: 5-passenger
Turning circle 36.7 feet
Cargo space: 13.5 cubic feet
Curb weight: 4222 pounds
Fuel capacity: 15.9 gallons
EPA mileage: City 22/Hwy 31
Wheel Base: 115.8 inches
Warranty: 4 years/50,000-miles powertrain limited
Also consider: Cadillac CT6, Lexus GS, Jaguar XF, Mercedes-Benz E-Class