This is the month when everyone is Irish…if not in fact, at least in spirit. That alone is cause for celebration, but March also marks the arrival of some of spring's sweetest crops at the farmers' market.
While shopping, don't limit your purchases to spuds and cabbage needed for the traditional American-style St. Patrick's Day meal. Also treat yourself to a bunch or two of freshly-dug beets; a few baskets of early strawberries; and plenty o' green: squeaky-fresh artichokes; sweet locally-grown asparagus; tender baby lettuces; plump fava beans; and peas of all persuasions. It's going to be a good week.
You may also want to re-think the corned beef and cabbage thing. Maybe this is the year you want to simply to nibble something good in front of the television as you watch The Quiet Man. Enter: Irish Nachos.
This hearty dish includes all of St. Patrick's favorites, piled high onto a bed of warm, crispy potatoes.What's not to like? Instead of opening a few cans, as one often does for classic nachos, this one is brimming with fresh ingredients, all in the colors of the Irish flag. Think of it as a deconstructed baked potato with a hint of the Emerald Isle. Serve with small plates and forks for a casual supper, or as a super-snack for sports fans.
This crazy fusion is a crowd-pleaser; and all the elements can be prepared ahead, and are easily multiplied as needed.There's no point in offering an actual recipe here, as you are the master of your nacho destiny. Add as little or as much of the ingredients as you like. Here is the architectural blueprint for making your masterpiece, along with a couple of helpful recipes.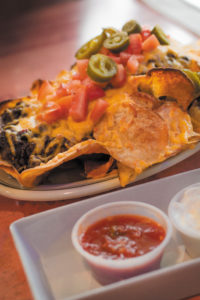 How to Assemble Irish Nachos
Make a batch of Crispy Smashed Potatoes (recipe follows). If you will be serving soon, do not turn off the oven. Transfer the potatoes, along with any crispy potato bits, into a shallow baking dish and topwith a generous handful of cheese.
As far as the choice of cheese, your options are wide open. You can get fancy with crumbled soft goat cheese, but a robust, Irish cheddar or a bit of farmhouse blue are other good choices. If you would rather stick to the basics, use shredded Monterey jack or another favorite, cheddar.
If desired, top with your choice of meat and another handful of cheese. Place in the oven for 5 minutes, or until the cheese has softened or melted (as you prefer) and the potatoes are heated through.
Any protein will do here, but coarsely chopped cooked bacon or pancetta; crumbled cooked sausage; or bite-size shreds of corned beef all work well.
Top the warm potato mixture with a mound of very thinly sliced green cabbage or a shower of baby arugula leaves, and drizzle with Herbed Sour Cream (recipe follows). Place the remaining Herbed Cream in a small serving bowl.
Scatter 2 or 3 thinly-sliced green onions and 1 shredded carrot over the top. Serve at once with a couple of large spoons, so guests can serve themselves. Pass the reserved Herbed Sour Cream on the side. Serves 4 to 6. Maybe.
Crispy Smashed Potatoes
12 Yukon Gold or red creamer potatoes, each about 1 1/2-inches in diameter
Coarse (kosher) salt and freshly ground black pepper
4 tablespoons California olive oil
Place the potatoes in a large pot. Add enough cold water to cover, and about 1 tablespoon of coarse salt. Bring the water to a boil over high heat; then reduce the heat to medium-low and simmer, uncovered, until the potatoes are tender when pierced with the tip of a sharp knife, about 20 minutes. Drain the potatoes. (This part can be done hours in advance, so all you need to do is roast the potatoes just before serving.) Preheat the oven to 425 degrees.
Place the potatoes on a baking sheet. Drizzle with 3 tablespoons of the oil, turning to coat.Arrange the potatoes in a single layer. Using a potato masher or a large fork, smash each potato until it's about 1/2-inch thick. (Don't aim for perfection here. You want plenty of nooks & crannies, with bits of potato spilling out.) Drizzle with the remaining olive oil and season generously with salt and pepper. Roast the potatoes, turning once, until nicely browned, 25 to 30 minutes.
Herbed Sour Cream
1 1/2 cups sour cream or plain yogurt
3 tablespoons finely chopped parsley
3 tablespoons minced fresh chives
3 tablespoons finely chopped fresh dill, basil, cilantro, or tarragon
1teaspoon fresh lemon or lime juice
1/4 teaspoon salt
Dash of cayenne pepper
In a bowl, combine the sour cream, parsley, chives, dill, lemon juice, salt, and cayenne. Stir until well mixed.
Serve at once, or cover and refrigerate for up to 1 day.
Other options to consider
Check your produce drawer! Veggies like diced bell pepper, blanched fresh peas, or bite-size broccoli florets add healthy crunch and more green!
Guacamole aficionados always appreciate another dose of their favorite green; or a drizzle of tomatillo salsa for a touch of heat.
I always think 1 or 2 sliced jalapeno chile peppers are always a good idea. No, they're not the least bit Irish, but the color works—and I love the added zing.
Still yearning for beans in your nachos? Try shelled fava beans or edamame.
Not feeling that layer of meat? Omit the meat and cheese altogether and, just before serving, scatter thin slices of smoked salmon or trout over the top.
The Danville Certified Farmers' Market, located at Railroad & Prospect, is open every Saturday, rain or shine, from 9 a.m. until 1 p.m. For specific crop information call the Pacific Coast Farmers' Market Association at 1-800-949-FARM, or visit their web site at www.pcfma.org. This market is made possible through the generous support of the Town of Danville. Please show your appreciation by patronizing the many fine shops and restaurants located in downtown Danville. Buy fresh. Buy local. Live well!