"In Hollywood, the women are all peaches. It makes one long for an apple occasionally."                                                                                                                                      William Somerset Maugham
When days are short and you suddenly recognize that unmistakable chill in the air, it's too late to mourn the passing of summer. Instead, appreciate the moment. Embrace autumn with a rustic apple crisp. (Food can solve all kinds of problems. Trust me.)
This fruit-laden concoction is favored by both rookies and experienced bakers, as it provides all the comfort and goodness of homemade apple pie with none of the accompanying angst. Sweet, heady aromas wafting through the house will make you forget those days at the beach. Consider it a cheap form of aromatherapy.
In other parts of the country my choice of apple might be limited to the ubiquitous Granny Smith; and there would be nothing wrong with that. When grown and stored properly, these apples are pleasantly tart and hold their shape during baking. But since we live in the heart of several renowned apple-growing regions, it's easy to add complexity of flavor and texture to the filling by mixing things up a bit. Along with that old reliable Granny, I might add a jumble of other varieties lurking in my refrigerator: Golden Delicious, Gala, McIntosh, Jonathan, and Pink Lady are all proven winners. I've found that a crisp can be a very noble ending for any aging apples losing their "snap," and therefore less appealing to eat out of hand.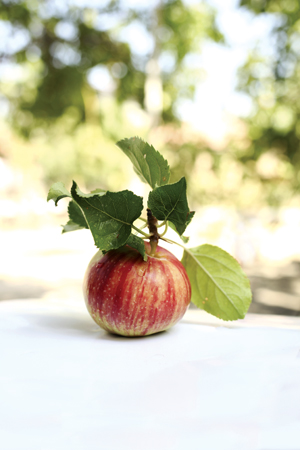 There's a good reason this is a seasonal dessert. Have you ever bought a supermarket apple in the summer? A mealy, flavorless specimen that was waxed to a high shine, trucked in from another state (or hemisphere), and then held for months in cold storage? It takes only one lackluster bite to realize you've made a big mistake. One must wait for autumn to buy apples at their sweet, crisp, tree-ripened best. Just follow your nose at the farmers' market to revel in this fruit's perfection. And you'll understand why poor Adam didn't have a chance.
Apple crisp is designed to charm the palates of all ages and–although you may not want to advertise this fact to certain people–actually boasts some nutritional value. So think outside the box–there is no reason to limit crisp consumption to dessert-time. Crisps are the perfect little something to enjoy alongside a steaming hot cup of coffee or tea, or an ice-cold glass of milk. Since crisps are so easy to serve, they're always a good idea for potlucks and buffets.(If you want to get fancy for company, divide the mixture among ramekins and bake individual portions.) And on the off-chance there is any around the next day, leftover crisp makes a darn fine breakfast…straight out of the refrigerator!
Homey creations like this have very few rules; so as long as you use good, flavorful apples, you're home free. In a hurry? You can even forgo peeling them. And if the spirit moves you, toss a handful of raisins, dried cherries, chopped dates or dried apple slices into the filling prior to baking.A sprinkling of finely grated fresh ginger or citrus zest is also good. I generally use only a whisper of cinnamon, but feel free to amp up the spiciness to your standards byusing a bit more, with or without a little added ground ginger, cardamom, cloves, or grated fresh nutmeg.
This ispretty much perfect as is, but you can certainly add your own special flourish with a dusting of powdered sugar over each serving. For guaranteed oohs and aahs, serve with a big spoonful of Greek yogurt, crème fraîche, whipped cream, or ice cream. There's no reason kids should get all the treats on Halloween.
 Apple Crisp with Toasted Walnuts
For the crisp topping:
1 cup California walnut halves and pieces
1/2 cup all-purpose flour
1/2 cup rolled oats (regular or quick-cooking oatmeal)
1/2 cup (packed) light or dark brown sugar
1/4 cup granulated sugar
1/8 teaspoon ground cinnamon
1/8 teaspoon salt
1 stick (4 ounces) cold unsalted butter, cut into 1/2-inch cubes and chilled
For the filling:
6 medium-to-large apples(2 1/2 to 3 pounds), preferably assorted varieties
1 tablespoon fresh lemon juice
3 to 4 tablespoons granulated sugar (depending on the sweetness of the apples)
1 tablespoon all-purpose flour
1/4 teaspoon ground cinnamon
Preheat the oven to 350 degrees. Spray a 9-inch deep-dish pie plate or other 2-quart baking dish with no-stick cooking spray.
Spread the walnuts in a pan and bake, stirring once or twice, until lightly toasted and fragrant, 8 to 10 minutes. Let cool; then chop finely.
To make the topping: In a medium bowl, combine the walnuts, flour, oats, brown sugar, granulated sugar, cinnamon, and salt. Stir to blend. Add the butter. Using your fingertips or a large fork, work in the butter, tossing and mixing,until it forms small, irregular pieces. Refrigerate while you make the filling.
To make the filling: Place the lemon juice in a large bowl. Peel, core, and slice the apples about 1/4-inch thick, tossing the slices in the lemon juice as they are cut.
Sprinkle the sugar, flour, and cinnamon over the top of the apples; then toss gently to mix. Scrape the apple mixture (and any accumulated juices) into the prepared baking dish. Crumble the cold topping mixture evenly over the apples. (Do not pat it down or press it into the apple mixture. You don't want this to end up being a dense, compact topping.) Bake until the topping is golden brown, the filling is bubbly-hot, and the apples are just tender when pierced with the tip of a sharp knife, 45 minutes to 1 hour. Cool slightly before serving warm or at room temperature.
The Danville Certified Farmers' Market, located at Railroad and Prospect, is open every Saturday, rain or shine, from 9 a.m. until 1 p.m. For specific crop information call the Pacific Coast Farmers' Market Association at 1-800-949-FARM, or visit their web site at www.pcfma.com. This market is made possible through the generous support of the Town of Danville. Please show your appreciation by patronizing the many fine shops and restaurants located in downtown Danville. Buy fresh. Buy local. Live well.