Crazy, brilliant, destructive, genius, passionate…all words that could well describe the amazing Mel Gibson. From his Mad Max and Lethal Weapon days to Hacksaw Ridge, you never quite know what to expect.
I have to admit I waited for Hacksaw Ridge to come out on DVD to watch it. Did I want to watch it? Not really, but once again I was drawn to a film that I believed I needed to see. Movies are like traveling, sometimes you go to just soak up the sun, drink a Pina Colada or two and unwind. Other times, you go to explore, learn and see things you've never seen before; things that will teach you about the big wonderful world in which we live.
Hacksaw Ridge was based on the true story of Pfc. Desmond T. Doss, a humble boy from the Blue Ridge Mountains of Virginia. Growing up with a violent father and a religious mother taught Desmond a few things—faith in God and a strong belief in "due no harm."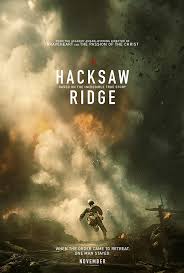 When WWII came around all the boys in town were volunteering for service, Desmond volunteered as well. He was told he could be a Medic and not fight or carry a gun. With patriotism running high, the military didn't honor that promise at first. Des fought for the right to go to war, but as a Conscientious Objector he just didn't want to carry a weapon.
Having gotten married to the love of his life during his first leave, he was off to war—Okinawa to be exact. The 1945 battle was bloody. I'm kind of a "wuss" when it comes to movies so now you know why I waited for it to come out on DVD. This movie is bloody, gory and tense, but then again, like Passion of the Christ or Braveheart, that's what Director Mel Gibson does best. I only paused Hacksaw Ridge twice. I was very proud of myself!
There is no other way to tell this story. The real event had to be even more bloody and gory. They don't make commemorative statues out of less. The taking of Okinawa was a turning point in WWII. Long after the others had pulled off the ridge, surrounded by Japanese, Private Desmond (Des) Doss stayed, saving the lives of 75 wounded soldiers.
Exhausted, hurting but determined, Des prayed. His cry to God, "What is it you want me to do? I don't understand. I can't hear you." A quiet moment; then he returns to save more lives with his mantra of, "One more. Help me get one more."
Hacksaw Ridge, the movie, is a slice of history; a moment in time that should never be forgotten. Mel Gibson has honored our valiant soldiers of one of the bloodiest battles of the bloodiest war in history with this movie.
Young actor, Andrew Garfield plays Doss brilliantly. He actually looks like him. Des was the only Conscientious Objector to ever be awarded the Congressional Medal of Honor. Doss lived with his lovely wife to a ripe old age; humbleness was still a vital part of his character.
Gibson's directing was genius. His film was awarded Oscars for Best Film Editing and Best Sound Mixing. It was nominated for Best Picture, Best Actor in a Leading Role, Best Directing and Best Sound Editing and that's just the Academy Awards.
While it's R rated and may not be appropriate for the whole family, I highly recommend Hacksaw Ridge. Thank you, again, Mel Gibson. Send your comments to chastings@rockcliff.com.