Despite the underwhelming response to My Beer Garden article in the July issue of Alive, Eric Johnson – CEO of Alive World Wide, graciously bestowed upon me the enviable assignment to write an investigative journalist piece on pubs, inns and taverns throughout the United Kingdom. Who could say no to an all-expenses paid "Stamps in my Passport" trip to sample beers, lagers and ales (not to mention a little whiskey) from Great Britain and the Isle of Ireland? Truth be told, I drank more beer over the eight days of our tour than I did in the eight months leading up to the trip. Now my liver needs a vacation.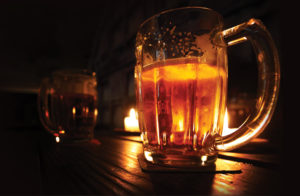 Saturday – Our trip began with a short plane ride from San Jose Airport to Seattle where, due to a 4½ hour layover, we decided to give the magazine credit card a tryout by joining our friends, Dave and Roxanne, for lunch and a couple beers at the Roanoke Inn on Mercer Island. After relaxing on the deck on a beautiful sun filled day, it was back on a plane for an eight ½ -hour flight to Heathrow Airport in merry old London, England.Sunday –Upon arrival and checking our bags at the hotel, our first sleep deprived stop (after some light shopping at Harrods) was to a wonderfully authentic Chelsea pub called Churchill Arms. Later that evening, we had another beer at the Lion & Staff, followed by a satisfying classic fish n' chips dinner at Brew Masters in the Piccadilly Circus area (London's version of Times Square). Thanks to my iphone notes app, I was diligently logging in all of our stops because the memory app in my brain is forever crashing.
Monday – Bright and early, we boarded a Trafalgar coach (fancy English term for bus) and headed north into the English countryside. Upon arriving in Stratford upon Avon, birthplace of Shakespeare, we made our way to the Yard of Ales. From there we made a three-hour drive to the Golden Fleece (often seen on English TV's Most Haunted) in the town of York. I think the ghosts drank some of my beer because three pints later, I barely had a buzz. Dinner that evening was at a beautiful little establishment known as the Pine Marten Pub & Eating House in Harrogate, which also had 12 rooms available for weary visitors. Apparently, we weren't weary enough because we stayed at a fancy hotel adjacent to the Harrogate Convention Center, some 15 miles away.
Tuesday–We traveled through the Lake District of northern England and stopped in a charming lakeside town for lunch. We dined at a delightful little café across the street from a 300 year old cemetery, however, my chicken-pot-pie tasted like it was 300 years old. Later that day, as we crossed over to Scotland, we sampled some Gretna Green whiskey at the rest stop distillery. Highway rest stops are a somewhat unusual location for a whiskey distillery, but being a foreigner I wasn't judging the Scots. At sunset, we toured Stirlin Castle and the William Wallace Memorial. For dinner, we strapped on our kilts to enjoy a traditional haggis dinner at MacDonald-Crutherland, a restaurant located at the base of the castle. Personally, I prefer my haggis served with secret sauce between two lightly toasted buns – like every other McDonald's meal, but it wasn't all that bad. It reminded me of a soggy meatball.
Wednesday–What a wonderful day we had touring Edinburgh, starting with another castle and ending with a cup of coffee at The Elephant House. This is where J.K. Rowling penned her moderately successful novel series, Harry Potter. Perhaps you've heard of it? Prior to our mid-afternoon caffeine fix, we enjoyed lunch and a pint at the Malt Shovel, and another pint at Deacon Broadie's Tavern. It was very warm that day. There might also have been a scotch stop somewhere in there.
I'm told that night we dined at The Corinthian Club in Glasgow, but for the life of me I don't remember it. This either means I was blacked out drunk from all the drink in Edinburgh, or I went into a food coma from the heaping helping of haggis, smoked haddock, and porridge we apparently ate. I'm told that I especially liked the blood pudding for dessert. I think I had seconds.
Thursday/Friday–Perhaps the coolest bar we visited the entire trip was The Crown in Belfast, Ireland. This ornately decorated bar had so much character, so much history (established in 1848) and so many beers to choose from while we relaxed in a snug (small enclosed booth) with some of the locals. If The Crown was my favorite watering hole, Searsons of Baggot Street in Dublin, Ireland that night was my favorite meal. I had a lamb shank and Shepherd's pie that brought me to tears. Not to mention, an Irish coffee (in Ireland) that was to die for.
Friday – On our second day in Dublin, we visited the impressive Guinness Storehouse located in the St. James's Gate Brewery district of downtown. The tour started in the Gravity Bar on the seventh floor of the massive beer distribution facility and we worked our way down to the ground floor gift shop, sipping numerous pints along the way. The Guinness Storehouse is the most popular tourist destination in all of Ireland. Kiss the Blarney Stone? I was kissing the Guinness tap as we were taught how to draw the perfect pint of dark stuff.
Fortunately for us, Guinness was a short stumble to the Teeling Whiskey distillery. The Teeling Whiskey Distillery is Dublin's newest destination for whiskey fans and anyone with an interest in Dublin's long association with Irish whiskey. Located in the heart of Dublin's City Centre, Teeling is the only operational distillery in the city.
Several dozen whiskey samples later, I swear I saw two leprechauns making-out in the parking lot. We finally stopped for a little food at the Blarney Inn, just to let the fish n' chips soak up some of the alcohol. Did you know, the rock band Thin Lizzy (The Boys are Back in Town, Jailbreak, Whiskey in the Jar) was from Dublin? There is a bronze statue of the late lead singer, Phil Lynott, in the city square.
That night, we enjoyed a wonderful cabaret show at The Castle Arms, a thatched roof restaurant and playhouse. Admittedly, I do enjoy me some good Celtic river dancing, but it was an 80-year-old comedian who brought the house down. He did a solid 45 minute set that killed. We ended the evening in the hotel bar singing Van Morrison songs and enjoying another Irish coffee until wee in the morn.
Saturday– We migrated south toward Waterford, Ireland, where, after storming another castle in Kilkenny, we lunched at Kyteler's Inn—established in 1450. Apparently the original proprietor was burned at the stake, presumably due to assumptions that she was a witch, although it could also have been due to incredibly slow service. Touring the Waterford Crystal factory was a lot cooler than I anticipated. Good thing I was sober when we toured the gift shop.
Dinner that night was at the lovely Saratoga (seaside) Inn where we were treated to some authentic Irish folk music performed by four old Irish guys—a geriatric version of U2, if the Edge could only remember two chords and Bono was extremely overweight and toothless (but still wearing designer shades). Our travel companion Alex proposed to his gal, Kayla, on the shore of the Irish Sea that evening.
Upon returning to the hotel, we discovered that there was a street festival going on, hosted by five local clubs, and featuring a cool techno band fronted by twin sisters who were obviously the love children of Bjork and the band Devo. Given that the sun doesn't set until 10:30, this was a great way to wrap up a quick stop in Waterford.
Sunday proved to be a long day of coach and ferry travel as we crossed from Ireland to Wales. Dinner was at the scenic Llamerch Vineyard in the countryside of Pontyclun – Hensol. The wine wasn't anything to write home about—too sweet for my sophisticated palate—but the setting was beautiful and they poured a mean Fuller's lager.
Monday – Our first stop of the day was Bath, England and a delightful lunch at Sally Lunn's Buns. I believe there we enjoyed a pint of Diet Coke in our efforts to dry out a bit in anticipation of our visit to Stonehenge. Stonehenge, for those unaware, is a rock formation undoubtedly assembled by a group of inebriated aliens. It's actually very impressive given the engineering and slave labor involved if you don't buy into the extraterrestrial conspiracy theory.
We ultimately arrived back in London, England just in time for a final couple of pints, and another amazing lamb dinner at the Rose Pub. The Rose is located on the bank of the Thames River. After dinner, we walked past Big Ben, the Houses of Parliament and Westminster Abby, enjoying a beautiful London evening on our way back to the hotel.
Tuesday was our departure day and the first day of rehab. I watched several historical movies of the countryside we had just toured during our flight home. First, Braveheart for Scotland; next was Michael Collins for Ireland; and finally, Bridget Jones Diary for England. All and all, our international pub crawl and tour of the United Kingdom was a wonderful experience.
This article could not have been possible without the contributions of the following people. I would first like to thank our amazing Trafalgar tour guide Gino DiLulio from Wales. Next, I would like to credit our travel companions Kim and Craig Nunn, Kyle and Emily Nunn, Kayla Nunn and Alex Johnston. Additionally, gratitude goes out to our international travel group including Craig and Jodi Miller from Bundall, Australia, The Van Der Merwe Family from Johannesburg South Africa, Jeff Lyddon and Renita Elzinga from Ontario, Canada and George and Lillian Payne from Lusake, Zambia.
Best wishes and safe travels to all on your next adventure.