I recently saw the movie, A Dog's Purpose. It follows a dog as he is reincarnated as different breeds belonging to various owners. Over the course of several lifetimes, the dog's existence intersects with that of a young boy who rescued him in 1962. Yes, it did make me cry, but that's not the point. The thought of dog reincarnation got me to thinking. What if a human was reincarnated as a dog? Could we live the life and be content? Given the dogs I know, I'm pretty sure a dog's life would be just fine by me.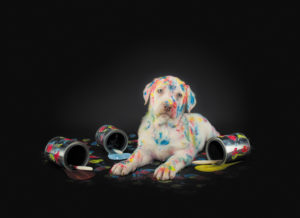 We are a two dog household. Trudy is a 13 year old Terrier mix and Molly, soon to be five, is a Rhodesian Ridgeback. For those of you unfamiliar with dogs, they are a carnivorous domesticated mammal, also known as a canine, pooch, hound, or mutt. Trudy spends most of her time napping and Molly, being more active, spends her days running around the back yard barking at birds, the wind, squirrels, undetectable sounds or the subtle shift of the earth's axis. She eats everything she encounters (i.e.; dried animal poop, dead lizards and discarded Kleenex), in addition to some gross stuff. In Dogville, life is pretty much a revolving cycle of eat, drink, lick, poop, sleep, repeat. That is the life.
The closest resemblance to a dog's life that we humans can relate to is probably that of a rock star. I bet Justin Bieber, Beyonce, Lady Gaga and Pit Bull (see what I did there?) all spend their days much like Molly when they're not in the studio or on the road touring.
If I was reincarnated as a dog, I could scratch myself, clean myself, pee and poop wherever I wanted, drink from the toilet, sniff human crotches, sniff my friend's behinds (it's like shaking hands), bark/howl/growl until my throat hurt and sleep, sleep, sleep. Did I also mention that dogs don't get married? That's right, they "hook-up." I don't judge them. In fact, I appreciate their animalistic approach to relationships. They take care of their primal instinct/physical urges and yet don't feel the need to comply with the institution of marriage.
That's not to say that if I were a dog I would forgo my fatherly duties. I would undoubtedly want to be there for the delivery of my litter and would stick around to help raise my pups, but that whole marriage thing just isn't part of dog's life. In this dog fantasy world, I would have a neighborhood full of female "dog friends with benefits." That is until my owners took the responsible action of having me neutered. Oh, the shame. Come to think of it, once that happened, I would probably settle down with a nice Collie.
If I was a dog, I would like to be a German shepherd. Not because I'm of German decent. If human heritage was the determining factor in breed, I would be an Irish Setter/English Bulldog half-breed. German Shepherds are by nature, protective, strong, brave and intelligent. All of those qualities are admirable if you're describing a dog or fraternity brother. Growing up, my family had a pure white German shepherd we named Snowy. I have so many good memories of times spent with that dog. Summer sleep outs in the back yard, playing fetch (him not me) at the park and long walks where we would talk about girls, baseball and girls. Snowy was deep, yet simplistic. He assessed everything he came into contact with as Friend, Foe or Food. I try and do the same in my line of work as a writer. Food is pretty easy to identify, however friend or foe can be tricky sometimes.
History is filled with famous dogs in every form of art, athletics and literature. The painting of dogs playing poker is a masterpiece. While dog fighting makes me sick, dog racing has been around since early Egyptian times. Racing the incredibly fast and agile Greyhounds is immensely popular while watching dachshunds (aka wiener dogs) is just delightfully amusing. Since 1974, there have been 62 movies, grossing over $2 billion dollars, with a dog as the central character. Dog actors, such as Lassie, Old Yeller, Rin Tin Tin, Toto, Benji, Air Bud and the Shaggy D.A. haven't won any Academy Award (yet), but they have made significant contributions to some wonderful movies.
There have been dogs on television going back 50 years, starting with Pete, Spanky's Pit Bull on the Little Rascals, Tiger, a sheep dog who lived with the Brady Bunch, Buck, also a sheep dog who housed with the Bundy's on Married with Children and finally Eddie, the cute little Jack Russell terrier on Frasier. Many of us can all recall commercial pitch dogs like Loren Green's dog, Duke, chasing sticks for Alpo as well as The Taco Bell Chihuahua and Budweiser's Spuds Mackenzie. There are also the always entertaining comic strip and cartoon dogs including Marmaduke, Scooby Doo, Under Dog, Lady and the Tramp, Clifford – The Big Red Dog, Bolt and, of course, Snoopy.
Finally, in literature, who could forget Shiloh, White Fang or Cujo? However, to truly understand dogs, take the time to read the beautifully crafted book, "The Art of Racing in the Rain" by Garth Stein. The story is told in the words/thoughts of Enzo, a Golden Retriever. If you ever wondered what a dog was thinking, this book provides you with an enlightening notion.
I'm not saying everything about a dog's life is ideal. Dogs can't get a job, pay bills, drive carpool, vote, invest for retirement, clean the house, "Tweet", shop, mow the lawn or dance. Who am I kidding? I don't like to do any of those things. Dogs don't need materialistic possessions or stressful responsibilities. Sure, they might bark from time to time, but that's just to be heard and acknowledged. Similar to when I raise my voice (aka bark).
Given the possibility of reincarnation, maybe I should request to be a dog in my next life. Years from now, hopefully many years from now, I could see myself as a happy little mutt living with a nice family in the suburbs. My name might be Buddy or Champ and I'll wag my tail, sit and even learn how to shake my paw. If someone will occasionally throw me a Frisbee and rub my belly this dog's life would be good.
Sidebar: If you're considering adding a dog to your family, visiting the local area animal shelters in hopes of finding a compatible canine is actually quite enjoyable. We found Trudy at the SPCA in Dublin. The SPCA has a beautiful facility, qualified staff, educational classes and a very nice collection of mature adult dogs. Our area also supports other organizations such as ARF and East Bay Animal Shelter. Adopted dogs are wonderful in large part due to their appreciative attitude having been given a second lease (or leash) on life. I suppose knowing that if you aren't adopted you may be chasing Frisbees in Heaven makes rescue dogs inherently grateful.