More than 415,000 men and women lost their lives on the lonely battlefields of the world during WWII. Quite literally, a dying breed. Now our WWII veterans are almost gone, but certainly not forgotten. This review offers up a movie that runs the gamut of emotions for me—at times it was sad; at times it was funny, but mostly, it was just precious.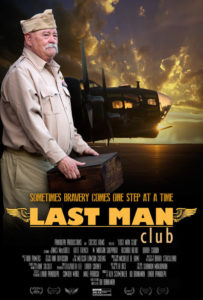 Last Man Club is a glimpse of getting old through the eyes of four war heroes. WWII veteran, John "Eagle" Pennell, is a day away from being sent by his well-meaning family to a retirement home. He escapes in his late wife's 1958 Ford Fairlane, in spite of not having driven since his wife died, some ten years earlier. "Eagle" embarks on a cross country journey to find the last surviving members of his B-17 crew with the help of Romy, a young woman he meets on the way running away from a dangerous relationship. The fulfillment of an oath is "Eagle's" goal, but what he discovers along the way is a life affirming view of himself and forgiveness for his family who is trying to stop him.
Once reunited with his remaining crewmen, they venture through the backroads of America, in a race to complete their mission as the police, the FBI, a dangerous gangster and "Eagle's" family try to figure out this band of "old dudes'" next move. (Scene Stealer: it involves an old airplane and a runway!)
The cast of Last Man Club includes well known faces, if not names. Their acting is good, if not great, bringing an almost childlike (or elderly) performance to the film. They unpack the story of once proud and brave beyond measure men who manage on their own terms to regain their dignity. As it was in their "glory days," they find that sometimes bravery comes one step at a time and that triumph conquers fear.
If you've read my reviews before, you know me as a Patriot. I can't say I have sacrificed for my country as many have, but I do try to do what's right. If all I can do is honor those who have, I will do it to the best of my ability. I believe in standing for my flag and yes, putting my hand over my heart, where it belongs, when I'm pledging my allegiance. I owe my life and the lives of my children and grandchildren to those who have fought our nation's battles!
Watch Last Man Club. Whether you're 19 or 91, I believe you'll enjoy this glimpse into the heart of our brave men and women in uniform. By the way, even the elderly who didn't serve have a valuable story to tell. If we'll just pause and listen, there are lessons to be learned. So next Independence Day or Memorial Day, if you find yourself watching a parade or barbecuing a steak on your day off… thank a Vet!
This film is definitely worth watching. It's PG-13, so appropriate for most families. I look forward to your comments at chastings@rockcliff.com.