For the first few weeks of this month, a towering pile of cookbooks and glossy magazines is never far from my reach. And once I tire of flipping pages, I turn to Pinterest and other trusted web sites for inspiration. It becomes a part-time job. Thanksgiving is coming, and I seek perfection. A kind of Norman Rockwell-meets-Martha Stewart affair.
Unlike other holidays that drag us into debt, Thanksgiving celebrates the simple basics in life: nourishment, sharing, and gratitude. Preparing a thoughtful meal shows how much you care….about your friends, your family, and California's bountiful resources.
I do the bulk of my Thanksgiving shopping at the farmers' market—where the food is fresh, healthy, and locally grown. It's also the most meaningful way I know to show my gratitude to the people who grow the food we eat throughout the year.
As I navigate my way through the market in the crisp morning air, I look for freshly-harvested walnuts and almonds to enhance everything from appetizers to desserts; plump raisins, dried apricots, and other dried fruits; just-picked lettuces; pure fruit juices; sugar pumpkins and crisp apples for pies; acorn and other winter squash; artisan breads to serve as is, or to cut into cubes for homemade stuffing; aromatic extra-virgin olive oil, yellow onions, celery, parsley, and garlic to enhance that stuffing; tender young carrots; broccoli; Brussels sprouts; sweet potatoes; locally-produced honey; russet potatoes and Yukon Golds for mashing; pomegranates, pears, persimmons, and all other matter of fall flora, fauna, fruits, and veggies to make a spectacular yet affordable still-life centerpiece for my table. Thanksgiving comes but once a year, so this is no time to scrimp.
To lessen the odds of a family uprising, I plan the menu around tried-and-true old standards that simply cannot be messed with: roast turkey, creamy mashed potatoes, giblet gravy, herbed bread stuffing, cranberry sauce, and pumpkin pie. But just to keep things interesting (for myself), I go rogue with some of the appetizers, remaining side dishes, and/or desserts. Sometimes these new additions are met with great enthusiasm. Other times, not so much.
Brussels sprouts roasted until lightly charred, then topped with a hailstorm of glistening pomegranate seeds, was a winner. Ditto for Thanksgiving slaw—finely shredded green cabbage, a bit of shaved red onion, toasted sliced almonds, and dried cranberries tossed in a mustardy apple cider-maple vinaigrette—expertly assembled by my 12-year-old grandson while I fussed over something else. Those are the good memories.
At the other end of the spectrum, there was last year's mashed sweet potatoes with chipotle chiles. (Can you say, muy caliente?) I am still haunted by the sight of five grandchildren frantically reaching for their water glasses, desperate to cool the fire.
Undeterred, I still like the idea of serving mashed sweet potatoes– primarily because they can easily be made in advance and reheated just before serving. This year's version is also refreshingly low-fat, making a good foil for the many rich dishes served that day. The fresh ginger adds spice with just a hint of heat, and is tamed by the sweet tang of orange.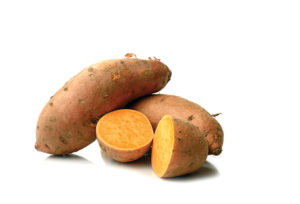 You may notice the conspicuous absence of marshmallows, puddles of melted butter, booze, pecans, and molten brown sugar in this recipe. (I've saved you a couple of hundred calories here.) If your family has a collective sweet-tooth, you can always add a tablespoon or so of honey. But that's it. This is a vegetable. Not dessert. And it won't scare the children.
MASHED SWEET POTATOES WITH ORANGE & GINGER
4 pounds (about 4 large) red-skinned sweet potatoes (yam variety), scrubbed but not peeled, patted dry
2 medium oranges
3 tablespoons finely grated or minced fresh peeled gingerroot
Fine sea salt
Honey, to taste (optional)
Preheat the oven to 425 degrees. Place the sweet potatoes on a foil-lined baking sheet, spacing them at least 2 inches apart. Prick the skins 2 or 3 times with a fork. Bake until a knife slips easily into the center of each potato, 50 to 60 minutes. Set aside to cool.
Grate the zest from 1 orange and chop finely. Halve and juice both oranges, straining out any seeds. (You will have about 2/3 cup fresh orange juice.)
When cool enough to handle, peel the sweet potatoes and cut the flesh into chunks.
Working in batches if necessary, combine the sweet potato chunks, orange zest, orange juice, ginger, and 1/4 teaspoon salt in a food processor. Process, pulsing the machine on and off and scraping down the sides of the bowl as needed, until smooth. (Alternatively, the mixture can be beaten with an electric mixer.) Taste, adding more salt to taste, or honey, if using. Serve at once, or cover and refrigerate for up to 2 days. Just before serving, reheat gently in a double boiler or heavy saucepan, or in the microwave. Makes about 5 1/2 cups, to serve 6.
The Danville Certified Farmers' Market, located at Railroad & Prospect, is open every Saturday, rain or shine, from 9 a.m. until 1 p.m. For specific crop information call the Pacific Coast Farmers' Market Association at 1-800-949-FARM, or visit their web site at www.pcfma.org. This market is made possible through the generous support of the Town of Danville. Please show your appreciation by patronizing the many fine shops and restaurants located in downtown Danville. Buy fresh. Buy local. Live well.