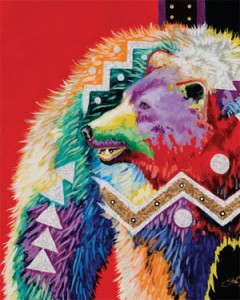 California artist John Balloue will be featured at the Alamo Native American Art Show and Sale coming May 19th and 20th to theAlamo Women's Club (1401 Danville Blvd. Alamo).  John's works have been shown in galleries and museums across the country and have been included in many published illustrations. Inspired by a photograph by John Choate (1848-1902) at the Carlisle Indian School in Carlisle, PA., John created "Delegates for Peace," a painting depicting five Sioux Indian Chiefs from the Rosebud Reservation in South Dakota. This painting was chosen for the commemorative poster for the world famous Indian Market in Santa Fe, New Mexico in 2001. John was awarded the honor of being named artist of the year by the Indian Arts and Crafts Association and is listed in Who's Who in the West, Marquis Publication, Providence, New Jersey.
Born in 1948 in Richmond, California, John is the son of a Cherokee father and a mother of English and Irish descent. He is a registered tribal member of the Western Band of Oklahoma Cherokee. After returning home from Vietnam, he attended California State University at Hayward graduating with a B.A. in art in 1975.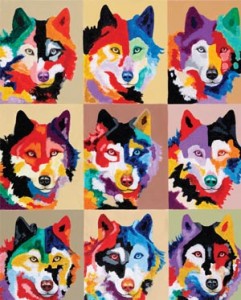 Although he began his career painting abstract canvases, he was gradually drawn to creating more realistic paintings that reflect his Native American heritage. "Not being raised on a reservation," he says, "art is my way of understanding, keeping alive and honoring my Native Ancestors." After painting in a realistic style for over 30 years, in 2003 he needed to try something new. He began experimenting with color and texture to create a more contemporary look and feel to his work.
"Now my work is more innovative and experimental in nature," John explains, "Color is the primary means in which the change has occurred. Color is said to be a barometer of emotion and the strong use of color is reflective of a passionate approach to painting. Besides it just looks cool!"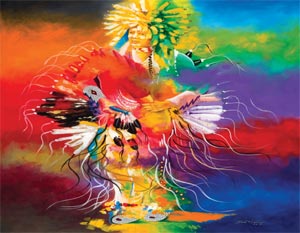 John's passion for his work and subject matter is evident in all his pieces. Many paintings will be available for sale and viewing at the Alamo Native American Show in May. John is looking forward to meeting the young and old and to share his experiences as a Native American artist.