If the man pictured with Pat Boone in the previous story looks a little familiar, he just may have sold you an ad. Joe Redmond had been a Northern California resident since 1979, and after 20 years as a motion picture exhibitor and distributor, he worked as an advertising representative, mostly in the East Bay. Joe represented publications in the Alamo / Danville area, including for the magazine you are now reading—ALIVE.
Joe considers working at ALIVE, some of the best years of his life. "It was exciting to see the start of what I believe is the region's most unique and yet, perhaps, underrated publication."  We asked Joe to tell us about his previous sojourn in the movie business:
"This is far from a success story, but I wouldn't trade my starving days in the movie / theatre world for anything. The only modicum of success was in the 70′s when I was a film booker and publicist for a major theatre corporation.
My dad, Joe Redmond Jr. was the real item. After acquiring a movie contract with Paramount Pictures in the early 1940′s, he also acquired a contract with Uncle Sam–dad got his draft notice the same week, which ended his aspirations of becoming the next Bing Crosby or Dick Haymes. After the war, he returned to the Midwest Kansas City, Missouri, where after 20 years, he became Vice-President in charge of Advertising for Fox Midwest Theatre Corporation.
I was hooked on the movies for as long as I can remember. When dad came home from work, I would race to his brief case to find the latest trade magazines that featured the news of the film world. Comic books took second place to Motion Picture Herald and Boxoffice Magazine. After two years of college, and at the ripe old age of 20, with the bewilderment of my parents, I took the train to Los Angeles with about $250 in my pocket, along with  a couple of letters of introduction to some film acquaintances my Dad knew. Amazingly, it worked, for within a few nervous weeks, I was gainfully employed.   I worked as assistant to the manager for the Alex and Glendale Theatre in Glendale and soon after part time in the publicity department at Warner Brothers in Burbank.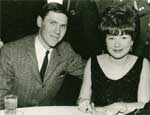 This was a real coup, for there was a waiting list a mile long for the lowest job there. An old buddy of my Dad's worked in the advertising department and I got on. It paid practically nothing, but it was a job everyone wanted because it was at a movie studio.  Actors, particularly would sell there soul for it. My ambitions were never the performing end of the business—I wanted to be the guy that came up with the way to sell the movie, after it was made.
Working there was akin to being a page at NBC. I was trained to give tours (mostly the TV part of the studio) to visiting VIPs.  But in the short time that I was there, I encountered some people and experienced some things that I will remember all my life.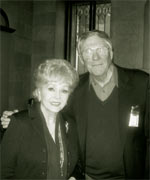 As I said, most of the tours I gave had to do with the television productions that were being shot at the studio. The major feature films being shot were on closed sets, not open to visitors and quite restricted. The TV shows I visited with my audience of ten or twelve, were delighted to watch such shows being filmed like " 77 Sunset Strip "  Maverick"  (sorry no James Garrner, as he had already departed from the series, but Jack Kelly was there as brother Bart), Hawaaian Eye, with a young Robert Conrad, (who I later ran into in a grocery store in Arnold, California where I reminded him of our first encounter almost 50 years ago). All of these shows are now pretty much forgotten, but some show up on TV Land, from time to time.
Some of the real gems that I did on my own were really something….and with-out being too dramatic, were kind of historical…like having ice cream and cake with a six year old named Ronny—the  future award winning director, Ron Howard, at a birthday party for director Morton Da Costs, on the set of The Music Man.
During the Thanksgiving holidays in 1960, I was sent from the Alex Theatre in Glendale do be the temporary assistant at the famed Grauman's Chinese Theatre—Fox's flagship theatre, and still today, Hollywood's number one tourist attraction. Everyday was a joy for this star-stuck kid—a far cry from my routine duties in Glendale. Besides my regular assignments, I had to police the famous courtyard, with its constant flow of camera- carrying tourists.
The holiday attraction was a film called, "Let's Make Love." On the opening day of this attraction, for the first showing, I was asked to personally escort a very nondescript woman to a seat in the back of the theatre. I was told, at the risk of losing my job, not to breathe a word of who she was. I had no idea of who she was! It turned out that the woman was, none other than…Marilyn Monroe—with no make up, wearing denim overalls and scarf around her head. She hadn't seen the picture she was the star of. It was the second to last movie she ever made.
On The Music Man sound stage, I watched Buddy Hackett, in rehearsal clothes, do the SHopoopie number, and Robert Preston and Shirley Jones in the cake walk dances. Best of all was two weeks later from a great vantage point , I actually watched the filming of the Seventy-Six Trombone-Parade.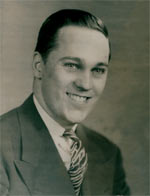 During my time at the studio, I saw quite a few films being shot, but it's very true it's almost boring to spend anytime watching what's taking place—first you don't know what they're doing and everything takes hours. One of the films I do remember was a highly publicized movie from a best selling book. It was called The Chapman Report. It had an all-star cast: Jane Fonda (then only 22years old), Shelley Winters, Claire Bloom, Efrem Zimbalist Jr. and a slew of other well known people. Well, this all-star classic was so bad, to this day, no one will dare show it on television. I met practically everyone in it.  If it was any good, I'd be bragging about it today…come to think about it, I guess I am!
Because I now came into contact with a lot of people that worked in the industry, I was able to attend parties—not exactly the ones for the rich and famous, but fun to be sure.  I wrote home that I was hob-nobbing with the stars.  My mother responded by telling me to behave and stay away from wild parties. In reality, they were pretty tame, but exciting none-the-less. This was the early 60s, and pretty much before the sexual revolution (as they say), and drugs was not the norm The parties were on the week-ends and in apartments in the Hollywood hills and off Santa Monica and Sunset Blvd.
I pretty much met the 'second tier' of film people in the business. Some of the people I remember have maintained a career, even up to today. Most everyone was usually on their best behavior, because if they were working they had to be up at the crack of dawn.
I met people that only film buffs might be familiar with, and they would all be over 50 years old today—no superstars, but established actors, like, Jim Hutton (father of Timothy), John Saxon, Connie Stevens,  Dalores Hart (now, not only a nun, but a Mother Superior), Michael Callan, Fabian (Fabian Forte—then an Elvis hopeful), Duane Hickman (Dobie Gillis ), Nick Adams and many more. I'll never forget talking to Johnny Mathis, in somebody's kitchen—probably the most famous person at this particular party and too shy to go and mix with the other guests
When fate had me back in the mid-west, I was employed as a film booker for National General Theatres (formerly Fox). Oddly enough, I dealt with more film stars in Kansas City, Missouri, than all the time I spent in southern California. As a part of the film department, one of my duties was to take care of movie executives and celebrities at the theatre owners' conventions. In Kansas City, at a convention called Show-A-Rama (today it's known a s the National Theatre Owners Convention—NATO) the most popular motion picture stars receive awards voted by the theatre owners—the most promising new-comers, tributes to veteran luminaries, and most important, the male and female "Star of the Year."
My duties at the conventions were to baby-sit, or better stated, see to the needs of the vip's and celebrities, facilitate interviews (radio and television) and transport them from airport to hotels, etc.  It was at such conventions that I handled stars with which, even after 40 some years, most young people today would be familiar with. From the mid to late 60′s, I worked many of these events that put me with some of the biggest stars of the day.  Some were a bit difficult and a few were out and out stinkers, but for the most part, I met some terrific people that made it to the top of their profession.
Jack Lemmon was one of the 'Star of the Year" recipients that stands out. Of all the big names I met, he, along with Pat Boone who I was with recently, are definitely two of the nicest. To use a line from Lemmon's classic, "Some Like It Hot," 'Isn't he a little bit of Terrific?' Lemmon didn't want people to make a fuss over him and seemed genuinely apologetic when people were nervous meeting him.
One year, I worked with Shirley MacLaine and at first was very intimidated because I heard she was a bit difficult and demanding, but after a few awkward hours, she turned out to be very nice and a lot of fun. Being very young, I was a little nervous around her, but she was very funny and candid and told some stories that were very surprising, like the fact that Dean Martin was more the family man and Jerry Lewis, was the real 'ladies man.'  She even invited me to tag along with her entourage, to go see jazz great, Betty Carter, who was appearing locally.
The beautiful Natalie Wood, was sort of an enigma—shy and quiet, extremely polite and not a bit animated like some of her film roles. She was very sweet, but also kind of distant.
I then spent some time running guns in Ethiopia, fought in the Spanish Civil War, on the losing side…WAIT A MINUTE, that's not me! I didn't do that! That's Casablanca!
Sorry, I've seen way too many movies.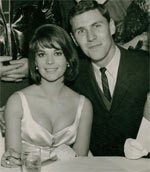 Joe and America's Sweetheart
If anyone was to ask me what was my most memorable time working and assisting the stars, it would have to be being assigned to take care of, at the time—America's Sweetheart—Miss Debbie Reynolds.
In 1967 the 'Star of the Year' was Miss Debbie Reynolds. Reynolds was already a film veteran of over 15 years in Hollywood and most recently an Oscar nominee for one of her signature films, "The Unsinkable Molly Brown."
The convention always lasts from Monday morning to closing ceremonies on Thursday afternoon. Reynolds was scheduled to arrive Wednesday morning and was originally scheduled to receive her award that evening at the Muehlebach Hotel's banquet ballroom.
Somebody goofed up the agenda, big time, and the Wednesday evening banquet had such a full program that the Reynolds 'Star of the Year' ceremony was pushed back and now scheduled for the following day at the closing luncheon. The film company, Columbia Pictures, and the people representing the film that Reynolds was there to promote were livid—upset that they and Miss Reynolds were stuck in Kansas City a full 24 hours, before the presentation. Everyone was mad—everyone, that is, but Debbie Reynolds. Professional that she was, she told everyone to cool it, and stated, "Hell, I've never seen Kansas City before."
I was scheduled to pick up various film people as early as seven in the morning that Wednesday, and after picking up Mike Frankovich, then president of Columbia Pictures and depositing him at The Muelbach Hotel, I was then told to pick up the Reynolds party at the airport next, which I did.  It was when they arrived at the hotel that they learned of the one-day-early mistake.
I thought that was the end of my participation with the Reynolds situation,  but no,  the frantic convention people passed the buck, and wanting to distance themselves from the problem, simply said, "Have Joe Redmond entertain Debbie Reynolds, what else can we do?"
When I was informed of what they wanted me to do, I said, "Sure," but in reality, I was scared to death. At the time, I was pretty capable in my work, but I was very young, star- struck and naïve—to put it mildly, I was petrified. What was I to do?
Among the Reynolds' entourage was an advertising man from Columbia Pictures, (the film being promoted was, Divorce American Style, co-starring Dick Van Dyke), along with Reynolds and thankfully for me, and a celebrity in his own right, Sidney Guilaroff, MGM's chief hair stylist, who was there as a traveling companion to Debbie (they were close friends).
As it turned out, Sidney Guilaroff was an antique and history buff and fascinated with the architecture and buildings in the Midwest. This was my hook. I took that knowledge and ran with it. So not knowing what I was really doing, and certainly making it up as I went along, I drove the party to every antique store I could think of, and toured Kansas City's most attractive real estate (after Paris, believe it or not, it's called the Second City of Fountains), and also a trip to the Harry S. Truman Library in Independence, Missouri.
Being a native of KC, I was able to pull this off and they must have thought I knew what I was doing because they were genuinely interested and told me no one had ever done this for them before. Most of the time there was laughter coming from the back of the Cadillac all afternoon. I was either very entertaining or so odd that this was all very amusing for them. I like to think it was the former.  I'll never forget the reaction of so many Missouri retailers when we walked in to all the places with 'Tammy' herself.
After returning to the hotel, some three or four later, I said good-bye and thought I had done my duty.  Exhausted, but at the same time a bit exhilarated, I planned to relax and enjoy the convention with my wife, who was there as a guest. Flash forward to 7:30 pm.  I'm sitting at a table, preparing to have dinner along with a ballroom full of people, waiting for the evening's entertainment and the Wednesday banquet, I referred to earlier.
All of a sudden, I heard my name being paged to go to the convention headquarters table.
Debbie Reynolds and party were about to leave for dinner at Kansas City's most elegant restaurant, Putch's 210, on the Country Club Plaza. I was informed that she (Debbie), would not go unless 'that nice young man' would drive them and dines with them. I went back to my banquet table, and a little dazed, say good-bye to my wife and friends, and returned to the lobby to leave for the restaurant. Then Debbie said to me, 'Where's your wife you've been talking about so much?  What's wrong with you? Go right back and get her!'
So, my wife now retrieved, we piled into the limo and were on our way to dinner with Debbie and company. After driving for about 10 minutes from downtown…I'm out of gas. Oh no! Incredible as it seems now, I ran out of gas right in front of a service station. With the help of an attendant, I proceeded to get some gas—I was only a few feet from the pump. After this near disaster, there was again more laughter from the back seat, and again, Debbie was as sweet as can be. A few years later, Debbie was to make a movie with James Garner called, 'How Sweet It Is.' It should have been called 'How Sweet She Is.' We arrived at the restaurant and I recovered a bit of my wounded dignity by having the violinist at the establishment, play us in to the strains of the song 'Tammy' –a little corny, to be sure, but it worked.
After a wonderful meal, wine and laughing, of course, (Debbie even danced to 'Zorba the Greek') with the amazing coincidence that she and my wife, Annette, had the same gym teacher in high school in Burbank and who was also married to a friend of hers. This coincidence made the evening even more memorable.
Over the years when I was near a Debbie Reynolds appearance, whether in Las Vegas or other venues, I've wanted to try and see her and possibly visit. She has appeared in places close to me, but I never got the chance to make the event. I never got the chance, that is until recently, when I got my 'second date' with Debbie.
She was in Omaha last year for a showing of one of her milestone films, 'Singing in the Rain.'  We had that visit and she certainly remembered that 'nice young man who ran out of gas," so many years ago in Kansas City, Missouri.
As far as I'm concerned she's still "America's Sweetheart".