I'm sitting here at the Danville Brewing Company, waiting for a few friends to arrive for a much needed Guys Night Out (and Uber ride home), when I realized that I've written over 200 articles for Alive and not one has been about beer. This is an interesting fact because I really like beer. Truth be told, I've always liked beer, especially with pizza, but over the last couple of years I've grown to really appreciate a finely crafted brew. I'm mostly a wheat beer Hefeweizen kind of guy, but as a side effect of my mid-life crises, I'm starting to challenge my taste buds and venture out to try and enjoy an IPA, lager, pilsner, stout, and pale ale. I feel so mature.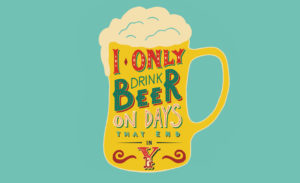 My friends are such beer snobs. They tell me they'll only drink craft brews. I said to them, "If you like Kraft beer you'll love their mac n' cheese." ~ Tony Camin, Comedian
While recently moving our daughters out of their freshman dorm rooms at the University of Colorado, a friend and I found an inviting food and libations establishment called Murphy's Tap House in Louisville, Colorado. While engaged in a stimulating conversation with Matthew, the Master Brewer, we came to the realization that the brew pub has in some respects become a late afternoon/evening extension to the popular coffee establishments (Starbucks, Peet's and Tully's) as a trendy place to hang out and socialize with friends, neighbors and business associates. You need not look any further than Starbucks recent experiment adding beer on tap to their menu. Ultimately, either the idea of a wide-awake drunk or the Sumatra IPA didn't pan out. Starbucks has more recently announced an end to the pilot program.
The emergence of new beer emporiums is predicated on the demand from beer-happy patrons, anxious to experience the latest and greatest bold Belgians or Saisons, while others might prefer the hoppy greatness or dark and malty boldness of a flight or pint of ale from the states or abroad. Let's not forget the light and refreshing options of an occasional Sourhouse. If I come off as a beer aficionado, it's because I am considering becoming an uncertified beer cicerone, the equivalent of a wine sommelier.
My husband and I love visiting breweries and tap houses because they are a great place to socialize with friends and you get to try new beers. I don't think the appeal will fade out as long as the brewers don't run out of ideas/recipes and continue to brew high quality beer. ~ Michele Milz, Livermore.
If you're a statistics nerd like me, you'll appreciate that the National Brewers Association (the other "NBA") reports that the U.S. consumed approximately $107.6 billion of beer last year of which $23.5 billion was craft beer. Overall craft beer consumption is up approximately 6.2% in the United States.
The Home Brewers Association ("HBA") states that there are over 1.2 million home brewers in the United States. According to HBA statistics, two-thirds of the 1.2 million started brewing in 2005 or later, the average home brewer is 40 years old, 78% are married or in a domestic partnership, 68% have a college degree, and collectively, they produce over 2 million barrels of beer annually.
Geographically home brewers are spread across the country as follows; 31% in the West; 23% Midwest; 26% South; 17% North-East Coast. (For more information check out Hop Tech Home-brewing Supplies in Dublin.)
I like the science aspect of brewing beer and the social aspect of drinking beer. ~ Craig Nunn, home brewer.
Beer played an integral part in my social maturation in high school, er…I mean college, once I turned 21, of course. A Friday afternoon brew at the campus pub was a great way to wrap up an exhausting and stressful week of lectures, assignments, homework, essays, group projects, exams and pursuing coeds. I spent many a Sigma Chi fraternity party hanging around a keg, collaborating with my brothers on the merits of abolishing pledge hazing, the importance of themed sorority mixers, and the constant need to update our CSUN test and essay library. I was convinced that beer consumed responsibly and in moderation can be a great source of carbohydrates and nutrients. I don't however recommend it as a substitute for meals.
Sadly, my limited college budget regulated my beer choices to Hamm's, Pabst Blue Ribbon (aka "PBR") Meister Brau, Schlitz, Olympia, Miller, Keystone, and Old Milwaukee. Splurging for the expensive stuff (to impress a sorority girl or her father) meant coughing up several more dollars a six-pack for the golden tastes of Lowenbrau, Molson, Fosters, St. Pauli Girl, Lone Star or the premium name at the time, Heineken. I do find it amusing that several of my high-fluting bowling buddies casually refer to a few of the above mentioned brands as Satan's urine. I bet they weren't so pretentious when they were young, dumb and broke.
My introduction into a new form of "craft" beer began in the late 80s. These ales, were heavier, richer and a lot more flavorful than was my naïve palette had ever experienced. A variety of brands that included Sam Adams, Sierra Nevada, Rolling Rock. Anchor Steam, Redhook and Pete's Wicked Ale brightened my previously dull beer-drinking repertoire. In 1987, the Tied House opened in downtown Mountain View, my hometown. The brainchild of Lou Jemison and Andreas Haller, it was fashioned after a microbrewery in Andreas' hometown of Beden, Germany. It took a little while to catch on, but once it did it became, and continues to be, the "go to" place by locals and visitors alike. Sometime later, Stoddard's Brewery in Sunnyvale opened, followed by Gordon Biersch in San Jose.
Today, the choice of specialty and craft beer is almost immeasurable. Visit any BevMo or Trader Joes and your head will spin upon viewing the humongous selection.
As I am always open to trying something new, recommendations and/or gifts are encouraged. Please feel free to drop off a growler or six pack of your preferred brew at the Alive world headquarters in Alamo. Until then, I think I'll work up a plan to plant my own beer garden. Octoberfest is right around the corner.
Favorite Home Town Brewery: The Tied House, Mountain View. I drop by whenever I'm in the old neighborhood.
Favorite Brewery Visit When Traveling North on I-5: Fall River Tap House, Redding, California. I drop by whenever I'm in the neighborhood.
Favorite Local Brewery: Danville Brewing Company – try the Poke Nachos with any beer on the menu. DBC is in my neighborhood.
Favorite Tri Valley Brewery: Altamont Beer Works, Livermore. Somewhat in the neighborhood.
Favorite Hole in the Wall Brewery: Schubros Brewery, San Ramon. Neighborhood.
Favorite Brewery Vacation Spot: Bend, Oregon. Over 27 brewpubs are sprinkledthroughout the town. A bit of a drive to be in that neighborhood.
Favorite Six Pack for Parties: 805 by the Firestone Walker Brewing Company. A welcome addition to our neighborhood parties.
Favorite Beer Publication: THIRST, published and distributed in Colorado.