Have you ever tried a wine from the Rhone Valley? If not, put it on your list of things to do this year. The wines of the Rhone Valley, located in southeastern France, are gorgeous, distinctive wines with savory aromas and flavors of what the locals call "garrigue," a blend of wild thyme, rosemary, lavender, and juniper. Imagine these flavors in your glass! I love these wines and seek them out every chance I get.
The singular red wine grape of the northern Rhone Valley is Syrah, which is also known as Shiraz in other parts of the world. All of the red wine produced in the northern Rhone Valley is Syrah. By French law, winemakers are not permitted to produce red wine from any other grape in that region. The dominant white grapes in the region are Viognier, Marsanne, and Roussanne.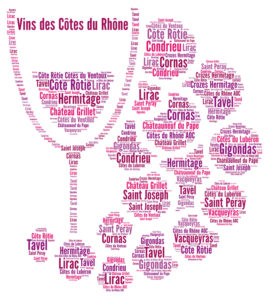 Down in the southern Rhone Valley, blends are the name of the game. While any of the grapes produced could easily be made into a 100% varietal wine, the philosophy in the southern Rhone is to blend. The locals firmly believe in taking the strongest qualities of each grape and marrying them together.
Some of the red wine grapes grown in the south are Grenache, Syrah, Mourvedre, Cinsaut, and Carignan. The white grapes include Grenache Blanc, Piquepoul, and Roussanne, among others. While Grenache tends to be the predominant grape in the red wines, winemakers have recently been experimenting with using larger percentages of Syrah and Mourvedre, creating bigger, more powerful wines.
If you've never tried a Rhone Valley wine, start with a good, basic Cotes-du-Rhone and then move on to the decidedly more glamorous and expensive Chateauneuf-du-Pape. Chateauneuf-du-Pape includes red and white wines and can feature up to 13 different grapes in its cuvée. As always, flavors and quality vary from producer to producer. Try a few different bottles to find your preference. Some of my favorite producers are Perrin & Fils, Chateau Beaucastel, Chateau La Nerthe, and Vieux Telegraphe.
The wines of Chateauneuf-du-Pape, or "New Castle of the Pope," were developed and named in honor of Pope Clement V when he relocated the papacy from Rome to the seaside town of Avignon, France in 1309. "Chateauneuf-du-Pape" is both the name of a small village outside Avignon and the celebrated wine produced in the region. Traditionally, Chateauneuf-du-Pape comes in a heavy, dark bottle with an embossed papal insignia above the label.
Considered some of the greatest wines in the world, Chateauneuf-du-Pape truly lives up to its lore. Elegant, rich, concentrated, and high in alcohol, the wines of Chateauneuf-du-Pape are a perfect reflection of their warm Mediterranean climate. The white wines are full-bodied with heady aromas of the garrigue, strong minerality, and flavors of ripe citrus and honey. The reds boast a refined and complex nose with a palate of fresh strawberries, tangy herbs, leather, and wet earth. Chateauneuf-du-Pape is indeed fit for a king – or even a pope!
Chateauneuf-du-Pape is best enjoyed with a few years of aging under its belt. A very youthful Chateauneuf-du-Pape may be highly tannic and difficult to drink. Red Chateauneuf-du-Pape can easily be cellared 10-15 years, acquiring notes of tobacco, spice, game, and dried leaves with time. Collectors revere these wines for their amazing potential to age.
The white wines of Chateauneuf-du-Pape wines are best enjoyed within 1-3 years from the vintage although a small number can age gracefully and take on interesting flavors of ginger, spice, and orange zest with time. Basic Cotes-du-Rhone wines are not intended to age and should be enjoyed soon after purchase.
The wines of Cotes-du-Rhone and Chateauneuf-du-Pape are delicious paired with cheeses such as Camembert, Brie, or Roquefort. The earthy flavors of the cheeses complement the savory quality of the wines. The wines also pair beautifully with a variety of main courses, the herbal qualities of the wines matching the herbs used to season the food. From game and hearty stews to roast lamb or chicken, Rhone Valley wines are a welcome addition to any table.
Explore the wines of the Rhone Valley with your family and loved ones. There's a reason why people have cherished them throughout the centuries. These wines are true crowd pleasers. Treat yourself to a bottle, or buy one for a friend. Like a quick trip to France in a bottle—enjoy the journey. Cheers!