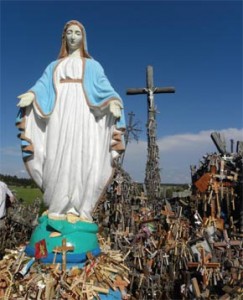 While traveling around the back roads of most nations, one often comes across hidden jewels – those treasures scattered about like oases in a desert – that are often ignored by major tour companies. Certainly main attractions such as historical buildings and wide, expansive vistas are on the itinerary of these agencies. But some out-of-the-way, often hard-to-find sites are overlooked.
During the years, I've stumbled on a number of these locations which have proven to be highlights of my travels. Let me share one of my favorites with you.
We left Helsinki, Finland by ferry and headed almost due east. It took only a few hours of sailing until we found ourselves docked at the colorful wharf of Tallinn, Estonia.
Estonia is now, as it was for years before Soviet domination, a free and prosperous nation. It is the northernmost country of the three which are usually bundled together by the term "Baltic countries." The other two are Latvia and Lithuania. It was our intention to explore these three often-overlooked nations.
We spent a few pleasant days in and around Tallinn. The people there are extremely friendly and very open, teaching us a great deal of history about this area. Interviewing a number of tourist agents we eventually negotiated a deal with one for a car and driver who spoke the various native languages as well as English. It was our hope that he/she would know the three counties well enough to give us a history lesson along with our tour. We found our match in a jolly local who drove like the wind and talked incessantly.
Our travels began south out of Tallinn, traveling mostly along the coast. Latvia was next, with again great results, including some time spent in Riga, the capital. Topography was generally flat, with agriculture and fishing carrying the load.
As our guide drove south into Lithuania, he smiled and said, "I have a pleasant surprise ahead for you. Let me tell you the story about our next stop."
"There is a gentle hill about twelve kilometers ahead, just outside the city of Siauliai which has been considered a holy place dating back to the early eighteen hundreds. I do not know that much of the hill's early history, but I have been a witness to its recent past.
"Between World War I and World War II this area was invaded by the Russians and incorporated into the nation then known as the Union of Soviet Socialistic Republics. As part of the occupation, the Soviet regime discouraged any form of religious activity. The hill at that time contained a number of religious symbols, but the local Russian commander had it completely bulldozed – thereby destroying any remnants of religious life.
"One year, and I'm not sure which one, as Easter approached three white crosses appeared on the hill. In keeping with the current law, the Soviet military commander sent a squad of soldiers up to remove the religious symbols. The next morning, when he awoke, he saw not three, but three sets of three crosses. Once again, the area commander had the offensive crosses removed. And, you've guessed it by now! On the third day there were twenty seven crosses. Out of frustration, the commander placed a squad of soldiers on the hill overnight, but no one or nothing appeared. After several nights of this he hoped his point was made. He gave up, and removed his guards.
"The next morning almost fifty crosses as well as many flower arrangements greeted him.
"Figuring it wasn't worth the effort, he surrendered, but we did not. Each night the display grew larger and larger. More and more crosses appeared, now taking on some artistic license. Different types of wood appeared, stone mounds and flower arrangements were added, and on and on it went."
His story ended here, and our visit to the Mount of Crosses began. On the day we visited the site with our guide, there were almost seventy thousand such displays. Giant crucifixes, statues of the Virgin Mary, and hundreds of tiny carvings and rosaries were placed all over the hill. The Soviet Socialistic Republic has been disbanded with only Russia remaining. Estonia, Latvia, and Lithuania, as well as the other countries which were once under one rule, are now free. Perhaps one of the most prominent reflections of the individual spirit lives on here on this mound. By the last count, there are over one hundred thousand crosses on the hill. It has become a magnificent symbol of freedom for these people.
Off the beaten path – somewhat difficult to find – not on most tour agendas. Yet visited regularly by people of faith, including the pope and other religious leaders. A place well worth seeking out.
P.S. The three little white crosses near the stairs, at the top of the mound, are my contribution.