Country singer-songwriter and yoga instructor Suzanna Spring strongly believes that there is a definite connection between her two passions. "In every element of life there are moments of unpredictability. Music and yoga are harmonious, combining elements of breathing, movement and focus," Suzanna states. "They are both a dance of grace and strength that unexpectedly brings the mind in tune with the heart," says the charming green-eyed red head I initially met through a mutual friend.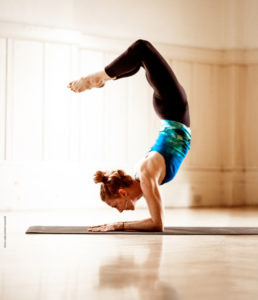 Born in Oakpark, Illinois, Suzanna moved around a lot as the daughter of a commercial pilot. The family eventually settled in the Livermore Valley where she graduated from Livermore High School before attending U.C. Davis, studying fine art and design. She began playing the French horn at the age of eight, but it was her mother, a member of a three-piece country band, who taught her to sing and play guitar. "Stylistically, it was my mother who exposed me to the classic country singers." Suzanna's style, in songs and voice, trended more toward the likes of Lucinda Williams, Emmylou Harris and Townes Van Zandt as she played in a series to bands during her college years.
After graduation, her graphic arts career kept her busy and moving around the country, however performing was still a big part of her life. By 1987, she relocated to Los Angeles to pursue a graduate degree at Cal Arts when an opportunity presented itself to join an all-female band called The Mustangs, a country version of the successful alternative band, The Bangles.
During their seven-year run, The Mustangs toured extensively in the western United States, and toured Europe and Scandinavia. Highlights of her tours included appearances at the famed Palomino Club, Los AngelesCountry Fest, SXSW (South by Southwest), the Powerhaus in London, the Roskilde Music Festival in Denmark, and the International Country Music Festival in Zurich.
Nominated by the California Country Music Association as "Vocal Group of the Year," the Mustangs were featured performers at the Jimmy Dale Gilmore & Friends Show in Austin. Suzanna says there are talks going on currently about a possible Mustangs reunion.
As one of the primary songwriters for the band, Suzanna submitted several songs to a Nashville music magazine as the band was starting to come apart in the mid 1990s. The magazine's editor forwarded the songs to a music producer who encouraged Suzanna to move to Nashville and record with Cary Richard Beare of Riverdogs. Suzanna later secured a publishing deal with EMI as a staff writer before ultimately finding a home at Bluewater Music as a writer and artist. "I loved writing songs, knowing that my job was to let my imagination soar and play music. The time in spent in recording studios was just magic. All of us who lived that lifestyle felt the camaraderie, the mutual appreciation that comes from recognizing a great song when you hear it."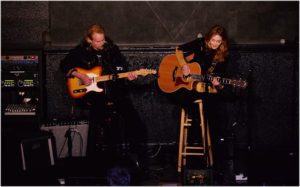 Her first solo CD, She's Got Your Heart, won Music Row's DISCovery Award and her performances have included Nashville's legendary Bluebird Café, NPR's World & Music Program, Nashville Folk Festival, WPLN's Songwriter Sessions, Nashville's Independent Music Festival, SXSW Music Festival in Austin, and shows in Boston and New York City.
"Suzanna has a beautiful voice, a quick wit and is a gifted songwriter."~ Paul Jefferson, Nashville recording artist and acclaimed songwriter.
It was during this period in her life when she also discovered yoga at a Nashville gym frequented by many musicians. "Yoga gave my life balance," says Suzanna. After studying at studios around town she was one day asked to fillin as an instructor, which turned out to be the beginning of a new love and passion. Today, she is a 500-hour certified E-RYT (Experienced Registered Yoga Teacher).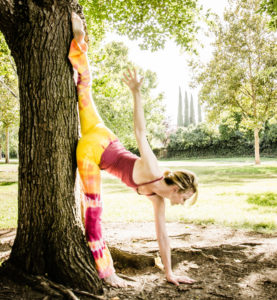 Following the release of her song, Time, as a radio single for country recording artist Doug Stone, she retuned to California in 2007 to find her home town of Livermore had become a popular wine region and burgeoning music/film community. She was introduced to vintner/musician Karl Wente who invited her to join in on jam sessions on the front porch of his home. After months of jamming with a host of talented musicians, together they formed The Front Porch Band, which played regularly at the summer Home Grown concert series along with a succession of club dates and local gigs. "Playing with a rotating collection of amazing musicians, eventually led me to start my own band, The South Livermore Boys Club band, aka The Surly Jackasses—a name coined by my band mates," Suzanna went on to explain.
Suzanna was again a featured artist at SXSW in 2013 and invited to play with her band on the Sony City Independent Artists Stage. The band also performed at Craneway Pavilion in 2016 for the Bay Area's largest yoga fundraiser, Yoga Reaches Out, benefiting cancer research and treatment.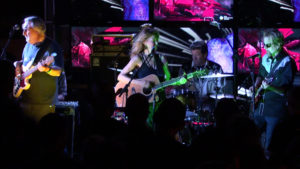 Around this same time, Suzanna also began teaching yoga at studios in the East Bay. Three years ago, she and two other yoga instructors, Laurie Johnson Gallagher and Stacy McGinty, teamed-up to open DragonflyYoga + Wellness LLC in Downtown Livermore. Suzanna and Stacy have continued as owners, while Laurie remains an active instructor. Their highly successful studio resembles a grand ballroom complete with large windows, high ceilings and good acoustics for music. "It has great energy," says the immensely popular instructor.
"When Suzanna teaches there is a magical calmness to the room. Her voice guides me into that peaceful place while her movement inspires fluidity and breathing to create a unique vibration. She cares about every person's comfort and has the skill to make adjustment suggestions without judgment. She is a true gift." ~ Pam Clemmons.
At present, Suzanna is on a hiatus with her band while she writes and performs acoustically. During the holidays, she was the feature act for a holiday showcase at Tommy T's in Pleasanton, performing an amazing acoustic set along with SLBC guitarist Art Thompson. She has also expanded her yoga to include a teacher's collective called the Tonic of Wilderness, the name inspired by a quotation from writer/naturalist Henry David Thoreau. The group offers yoga and nature retreats and has taken students on trips from Calistoga and New England to Costas Rica, Tuscany and Bali. This year she has yoga excursions planned to Yosemite and Spain. "Creating a yoga community has been such a gift. The practice of yoga gives people the tools to face life's ever changing circumstances."
Suzanna's path is limitless as evidenced by her legions of devoted music and yoga followers.