Many parts of the country are already dealing with fall weather, but here in California we revel in the luxury of an extended summer. While autumn's early crops begin to appear at the farmers' market, we continue to savor end-of-summer tomatoes, sweet corn, bell peppers, eggplant, zucchini, melons, and a decent representation of stone fruits.
This is an especially good time to load up on just-picked corn and vine-ripened tomatoes—sweeter than ever, with end-of-season prices to please your pocketbook. It's going to be a long, lonely winter without those beloved veggies, so plan on getting your fill this month. But that doesn't mean you should overlook the new arrivals! Look for a wide array of crisp apples and juicy pears to begin showing up each week at the market.
Bosc pears, one of my favorites, are some of the first to hit the market. Unlike most other varieties, these are best eaten while still slightly firm. For the next few months they will undoubtedly be part of every cheese course I serve—sometimes sliced and drizzled with a bit of local honey for added glamour. And Bosc pears will be my first choice whenever I reach for a piece of fruit to snack on, or something special to toss into a green salad.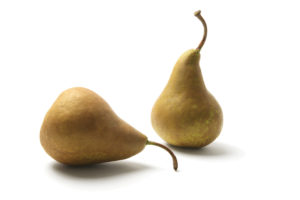 With their long tapered necks, russeted skin, and almost sandy-textured flesh, Bosc pears maintain their elegant shape when cooked, making them ideal for poaching in a spicy-sweet syrup; baked with a bit of butter and a sprinkling of sugar; or halved, brushed with olive oil, and grilled.For a different savory note, sauté sliced pears in butter, seasoned with salt and pepper and perhaps some chopped fresh rosemary or thyme, to serve alongside grilled or roasted pork or chicken.Pears also make an interesting twist on recipes that normally rely on apples—like bread pudding, clafoutis, pies and tarts, cakes, quick breads, crisps, and cobblers.
When the evenings turn cool, a warm dessert can be the ultimate comfort food. Place this crisp in the oven shortly before serving dinner so it will be ready when you are. (As an added bonus, you'll also enjoy an appetizing dose of aromatherapy as it bakes.) Serve with a scoop of cold yogurt, whipped cream, or vanilla ice cream. If you're lucky, there will be enough left over to eat at breakfast the next morning.
Pear-Ginger Crisp
For the crumb topping
3/4 cup coarsely chopped California walnuts
1/4 cup granulated sugar
6 tablespoons cold unsalted butter, cut in pieces
1/3 cup all-purpose flour
1/8 teaspoon fine sea salt
For the pear filling
1/4 cup (packed) dark or light brown sugar
1/4 cup finely chopped crystallized (candied) ginger*
1/4 cup all-purpose flour
1/8 teaspoon freshly grated nutmeg
5 Bosc pears, peeled, stemmed, cored, and cut into thick slices or coarsely chopped
Juice of 1 lemon (about 2 tablespoons)
Preheat the oven to 375 degrees. Grease a 9-inch square baking pan or a 9-inch round deep-dish glass or ceramic pie plate.
To make the crumb topping: In a food processor, combine the walnuts and sugar. Process, pulsing the machine on and off, until the walnuts are finely chopped.
Add the butter, flour, and salt and process, pulsing the machine on and off several times, until the mixture forms very coarse crumbs. Set aside.
To make the pear filling: In a large bowl, stir together the brown sugar, ginger, flour, and nutmeg. Add the pears and lemon juice, tossing gently to coat the pears with the dry ingredients. Scrape the mixture into the prepared pan.
Use your fingers to crumble the walnut mixture evenly over the top. Place the pan on a parchment-lined baking sheet to catch any drips. Bake until the filling is bubbly-hot and the topping is golden, about 1 hour. Let cool 5 to 10 minutes before serving. Serves 6.
*Cook's Tip: Look for crystallized ginger sold in bulk—often in plastic bins in the produce section of supermarkets. The tiny glass jars sold in the spice section can be prohibitively expensive.
_________________________________________________________________________
Pear Pointers
There are over 5,000 varieties of pears grown in temperate climates throughout the world. France is renowned for superior pears, followed by California and the Pacific Northwest.
Pears in the U.S. today date back to colonial times when French root stock was brought to Thomas Jefferson's Monticello.
Because they are extremely fragile and prone to bruising, pears are picked to arrive at the market when fully mature, but not quite ripe. Unlike most fruit, pears improve in both flavor and texture after being picked.
Look for pears that are free of blemishes and soft spots. To ripen, place them upright on a towel-lined tray at cool room temperature for several days, as needed. Refrigerate ripe pears, handling carefully to avoid bruising.
To test the ripeness of pears, use your thumb to gently press the neck of the fruit near the stem. When ready to eat, the flesh should give slightly. (Varieties vary. Bosc pears should remain fairly firm.)
-Pear arithmetic:
3 medium pears = about 1 pound
1 pound pears = about 3 cups sliced fruit
Pear skin is perfectly edible, but tends to toughen when cooked. For this reason, peel pears prior to cooking. (A swivel-bladed vegetable peeler does a fine job.) Dipping pears in lemon water will slow the browning of the flesh that inevitably takes place.
Errata
Last month's recipe for Boysenberry Crumb Bars says to beat in vanilla in Step 2. But there was no vanilla in the ingredient list. (sigh) That's because you should add the lemon zest in Step 2. (2 teaspoons lemon zest does appear in the ingredient list. Aaargh!)
How this happened: While developing the recipe I switched gears midway and decided to flavor the dough with fresh lemon zest rather than vanilla extract, to play up the fresh-fruit flavor.Unfortunately I neglected to make this change in the recipe text.
Mea culpa.
The Danville Certified Farmers' Market, located at Railroad & Prospect, is open every Saturday, rain or shine, from 9 a.m. until 1 p.m. For specific crop information call the Pacific Coast Farmers' Market Association at 1-800-949-FARM, or visit their web site at www.pcfma.org. This market is made possible through the generous support of the Town of Danville. Please show your appreciation by patronizing the many fine shops and restaurants located in downtown Danville. Buy fresh. Buy local. Live well.