Every Thanksgiving, I like to gather my loved ones around the antique Costco electronic keyboard to sing a few of the endearing Thanksgiving Day songs we sang as kids. You all undoubtedly remember those cheery carols that bring the holiday to life, feuding families together, and providea much needed break in the nonstop food consumption trying to avoid the dreaded food coma.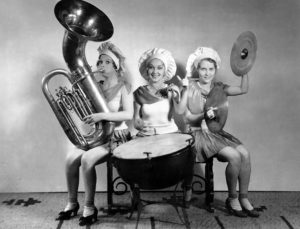 Unless you were raised in England and still harbor angry feelings toward the Pilgrims for moving away from home to a cool new land, you undoubtedly love all things Thanksgiving. I sure do. Should you be unfamiliar with the story, let me remind you that in 1621 the Plymouth colonists and Wampanoag Indians shared an autumn harvest feast that is acknowledged today as one of the first Thanksgiving celebrations in the colonies. For more than two centuries, days of thanksgiving have been celebrated throughout these UnitedStates. I should have been a history teacher.
Unless I'm mistaken, Thanksgiving carols were originated the evening of that first Thanksgiving. Granted, there was a slight language barrier, but both the Plymouth colonists and the Wampanoag Indians soon found common ground as they sat around the fire pit harmonizing and gorging on pumpkin pie with Cool Whip. I hope these traditional songs bring you the same joy that others get when I break into song and sing as loud as I can at the office, the grocery store or in the gym.
Tommy the Turkey (sang to Frosty the Snowman)
Tommy the Turkey, was a hearty healthy treat
From a corn fed ranch he loved to dance
On two drumsticks of dark meat
Tommy the Turkey, was a Butterball they say
If you liked a thigh or breast, you could never rest
Fighting all the hungry guests that day
There must have been some gravy on the stove yet to be found
For when Uncle Bob reached for the bowl
He began to dance around
Tommy the Turkey
Was as alive as he could be
Until the butcher came and he was slain
to make a family's feast complete.
In addition to eating, eating and more eating on Thanksgiving Day, my family enjoys the occasional break to digest, rest, and reset. This is when we typically watch a little football on the tiny 80 inch flat screen. I bet you didn't know that the University of Detroit Stadium hosted the first broadcasted Thanksgiving Day football game in 1934, pitting the Detroit Lions against the Chicago Bears and sparking a new holiday tradition. Currently, three NFL games are played every Thanksgiving. The first two are hosted by the Detroit Lions and the Dallas Cowboys; a third game, with no fixed opponents, has been played annually since 2006. I should have been an NFL history teacher. The next little ditty goes back almost as far back as that first game in 1934.
Football Games (Sung to Jingle Bells)
Rushing through the house
For the first game of the day
Over the couch I go
snacking all the way
Smells from ovens waft
making bellies growl
it's so much fun to cheer my team
while chugging spirits down
Football games, football games
Football games today
Oh what fun it is to watch
The Lions fade away
Football games, football games
Football games today
Oh what fun it is to watch
The Cowboys lay an egg
Once the traditional day of fun, family, football, and fowl (and foul) consumption is completed and the festivities are over, it's time to get back to a regular dietary routine, for a week or two until the Christmas and Hanukah parties begin. This delightful sing-along really sets the tone for the weeks leading up to the next caloric catastrophe.
Jenny Craig is coming to Town (sung to Santa Clause is Coming to Town)
You ate helpings galore
You reached for the pie
Buttered your bread
You thought you might die
Jenny Craig is coming to town
You devoured the bird
The stuffing was nice
She's gonna find out who ate gravy with rice
Jenny Craig is coming to town
She sees you when you are snacking
She knows when you eat cake
She knows when you sneak late at night
So be careful what you bake
You better work out
You better not lie
You better not booze
I'm telling you why
Jenny Craig is coming to town
There are obviously countless more traditional holiday songs that I could share with you, but I have an eight hundred word limit. Suffice it to say, any one of the following tunes could be your family favorite.
Do You Eat What I Eat? (sung to Do You Hear What I Hear?)
O Come, All Ye Hungry (sung to O Come, All Ye Faithful)
Joy to the Bathroom (sung to Joy to the World)
Oh Little Mall of Pleasanton (sung to Little Town of Bethlehem)
What Movie is On? (sung to What Child Is This?)
Regardless what songs you and your family or friends sing this Thanksgiving season, remember it's about the spirit of the holiday and sharing memories with loved ones because no one ever wrote a holiday song about Black Friday.