Our Beauty Staff Writer, Theresa Taylor-Grutzeck has been writing for Alive Magazine for over 10 years, while running The Rouge Cosmetics, a beauty business in downtown Danville on Prospect Avenue. Every month, we look forward to her impressive articles that share her extensive expertise in the beauty industry with our readers. She has helped thousands of women with make-up and skin care, guiding them in the right direction with the precise colors in cosmetics and advice on how to maintain and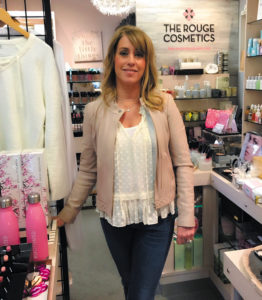 improve skin health.
Theresa's professional expertise in make-up qualifies her to be an expert in the art of beauty. She has dedicated her career to helping women achieve their beauty goals through healthy choices with over 25 years of education, knowledge and experience. She says, "In today's beauty movement, 'less make-up is more,' while using correct colors can help you look years younger—and more youthful than ever."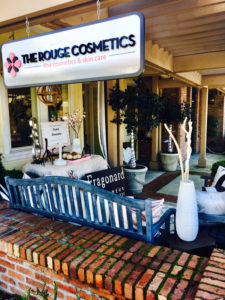 She loves the Fleur Visage Cosmetic line she carries, because she says, "it is so versatile and natural with all the on-trend styles and great classics." Fleur Visage Cosmetics updates their line four times a year, allowing customers to experience fresh new looks and stay on trend with the changing fashions. With their vitamin E based lipsticks, natural ingredients, and the custom foundations they have available, she is able to give her customers a network of safe products that their skin will love for years to come.
The Rouge Cosmetics she carries only the finest skincare products available today. With all the confusion in skin care products on the market today—knowing what works to reduce anti-aging and what doesn't—she "keeps it real" by choosing Ongrien Advanced Skin Care. Ongrien is a line that is all nutrient-based. They use pure antioxidants to improve the health and appearance of skin and to reverse and reduce the si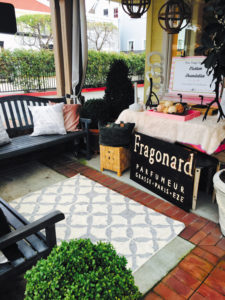 gns of aging.
Theresa says, "Ongrien Technologies uses only pharmaceutical grade ingredients at optimal concentrations with proven scientific results." She constantly researches skin care products and updates her own inventory of Ongrien Skin Care products. (Orgrien is one of the only leading skin care products lines that provides scientific evidence to support their product benefit in the industry.)
To keep her ahead of the curve she recently brought in an all organic facial masque collection infused with pharmaceuticals by Ongrien, including a highly nutritive exfoliator, Marine Peel and a Sea Kelp Masque for all skin types, to name a few.
While Theresa and her staff are busy doing make-up lessons, events, updates and skin care consultations, they are also experts in eyebrow shaping; they take great pride in shaping women's eyebrows "to perfection." Looking at the shape of each face, they design the brows to perfectly frame each client's look to be best it can be. More than a technical procedure, it's an art that Theresa and her staff take very seriously. Theresa says, "Doing brows is like a work of art. Everyone's brows are different and you cannot put them all in the same form and shape. Each client we work with requires very precise attention."
Theresa is well known for creating beautiful, natural, everyday "real-on-trend" looks by using precise color combinations to enhance the features of each woman. It's an art that is hard to find in the make-up industry today, but is the only way to achieve true beauty. Her dedication to beauty and in helping women through her beauty boutique is exactly where she wants to be. She enjoys the challenges of a woman in business and the constant changes in the beauty industry and in fashion. The entire staff at The Rouge Cosmetics are highly trained professionals in the "art of beauty."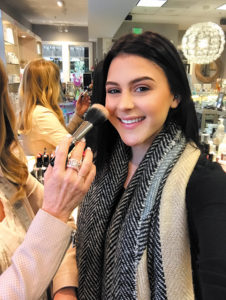 Every day, Theresa and her staff find more ways to improve their art and give their customers valuable information, trusted advice, and the finest in cosmetics and skin care.