Who would have ever thought that a virtual relic from the past would be coming back like gangbusters in the early years of the 21st Century? Yes, that's right—after all these years the phonograph record is again in the spotlight. Today's young people are very intrigued with record players and vinyl discs many of us remember from our past. It is indeed true what the adage says, "What goes around comes around."
All of my records from early teenage years in the 1950s and young adulthood from the 60s, have been stored in the garage. They haven't seen the light of day or been played in years. Does this phenomenon mean I should get them out again?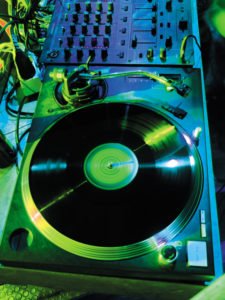 Our 14-year old granddaughter, Elaine Gerard, said, "All I wanted for Christmas was a record player. All the kids in my class have them and they are such a great thing!" She said the record companies are making new 33&1/3 albums featuring many of the latest popular artists.
"You can buy the traditional black vinyl or get them in all kinds of colors, including pastels and even clear. They are really cool," Gerard said. The price is not so cool, averaging about twenty dollars a record. Gerard noted she really wanted the album of the top musical, "Hamilton," which sells for a not-so-cool eighty dollars. Not just new recordings, but many of the old ones are available at record stores and book stores, including Barnes and Noble.
History
In 1877, Thomas A. Edison, the famous inventor of so many things, including the electric light bulb, invented the phonograph, sometimes called the Victrola. Edison's first goal was to produce a 'talking machine' capable of producing sound, not necessarily to reproduce music. The machine could record as well as play back sound. Edison's first success was recording his own voice reciting "Mary Had a Little Lamb." Early recordings were Vaudeville sketches and various monologues. The talking machine was manually run; definitely not electric.
His early method of recording was on a tin-foil cylinder, later changed to a hollow wax cylinder that proved to be superior to the tin-foil. Recordings were made by speaking, singing or playing music into a horn-shaped or megaphone-like receiver. This method was the standard in the late 19th Century and was used for many years. In the late 1880s, the hollow wax cylinder almost single-handedly brought the sound market into the economic fabric of the nation.
This invention revolutionized the whole musical and listening experience, from the concert hall or salon to the home. No longer did people have to venture out of their homes. They could listen to music in the comfort of familiar surroundings at a moment's notice. Obviously, the quality of sound they heard from the phonograph wasn't what they would have heard from the concert hall.
Emil Berliner produced a machine called a Gramophone. This was an improvement over earlier machines.
Records
Disc records were first marketed circa 1889. Hard rubber was used and later shellac-based compounds were the basis of earlier disc records. Early prototypes of the discs proved to be inadequate as they produced poor sound fidelity. They were also brittle and easily broken. Berliner then partnered with Eldridge R. Johnson, a mechanic from Camden, New Jersey. Johnson's factory produced the motor and later the entire machine.
They made substantially better records and improved the sound of the machine. Berliner and Johnson organized a company called the "Victor Talking Machine Company." This later became RCA Victor, which still exists today.
The flat disc record had a spiral grove that received the stylus or needle.
By 1912, ten-inch and twelve-inch records could play more than three or four minutes per side, whereas Edison's cylinders could only play for about two minutes. Various record speeds were tried and 78 revolutions per minute (RPM) was chosen. By 1925, 78 RPM became a standard speed for records. In 1930, the ten-inch disc was the most popular size and played about three minutes per side. Diameter size of the record determined how many minutes of music could be recorded.
Recording sound was an inexact science in early days. Early recordings were done acoustically, not electronically amplified, of course. For symphonic and operatic recordings, twelve-inch records were mostly used because they could hold four to five minutes of music.
The short limitation of recording space on records lasted for many years. It took many records to record a whole symphony or opera. In the 1920s, inventors were developing a way to record using a microphone rather than using the previous acoustic recording method. The first electronically recorded discs were released around 1925. This technology was recognized as a major development in the recording industry.
In 1948 the long playing record (LP) was developed by Columbia records and made its first appearance. It could play up to 30 minutes a side. At about the same time, RCA Victor released the first 45 RPM record—a seven-inch disc with a large center hole.
The major innovation from the old cylinder to the disc was the speed of the turntable from 78 to 33 & 1/3 or 45 RPM. A slower speed with more grooves on the record made possible around 20 to 30 minutes without interruption of having to change records.
After World War II, 78 RPM records were gradually phased out and replaced by the longer playing formats. In 1945, 33&1/3 and 45 RPM records took most of the market share. Eventually 331/3 formats prevailed over the seven-inch 45 RPM format.
Theoretically, vinyl records have the potential to last for many years, even though they may become easily scratched or warped. They don't break easily, but they attract dust that can cause pops or noise.
Record albums came into being to hold records of various sizes. The pages are of thick paper or cardboard sleeves, usually with a hole in the center so the record label can be read without removing the disc. The albums became a great sales tool with artistic pictures, graphics and information about the music and artists on the covers and inside.
The term high fidelity was actually used as early as the 1920s. It was generally used to designate better sounding products. Stereophonic sound was developed by Alan Blumlein in 1931. It was an attempt to provide the listening public with a more natural sound as heard in nature.
Stereophonic sound production was first used in 1957.Virtually all discs issued to 1958 were monaural, meaning "only one sound channel." Stereophonic sound was accomplished by combining two sound channels in a single recording groove on the record.
Compact tape cassettes were developed as early as 1963. Digital recordings and compact discs (CDs) appeared in the early 1980s. By 1991, the CD all but took over the market from vinyl records, but many disc jockeys were still using records and record players.
Mark Coleman, wrote in his book, Playback: From Victrola to MP3 100 Years of Music Machines and Money, "Before the 20th Century, listening to music was a temporal fleeting experience-and a rare treat." Thanks to the inventors of the past and modern technology we can have music whenever we want it, with exceptional fidelity and fantastic quality of sound.
Unbelievably the record has made a big comeback in the 21st Century, especially by young people who were not even born in the heyday of vinyl records. They are buying record players and records by the thousands. Is this new record rage going to be another "narrow tie, wide tie, short skirt, long skirt" phenomenon?
Guess I'll go get my old records out of storage in the garage. Like I said, "What goes around comes around."
Join the Danville Community Band as they present their annual concert, "A Day at the Museum," Sunday, April 2, 2017 at 2:00 p.m. 3700 Blackhawk Plaza Circle. Free concert with admission to the Blackhawk Museums. Free parking.
Please submit your questions and comments to banddirector01@comcast.net. Visit our website at www.danvilleband.org for up-to-date information about the Danville Community Band.