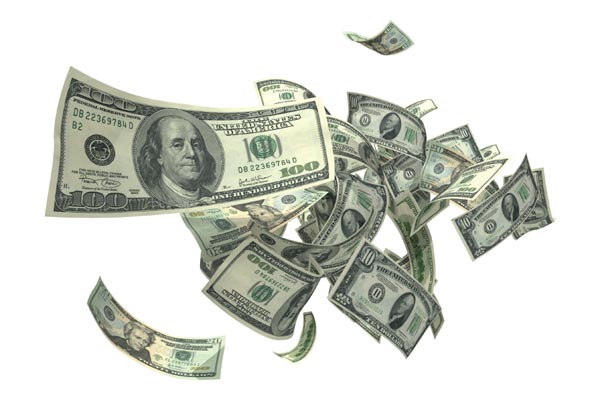 Given how the economy has devastated us financially over the past few years, with tax day right around the corner and because those *%)@!& Pittsburg Steelers didn't cover the point spread at the Super Bowl last month, who couldn't use a little money right now? By little, I'm talking about a round number like $1,000,000.00? Granted, a million dollars doesn't go as far as it used to, but it's not like any of us wouldn't bend over and pick up a $1,000,000 bill if we saw it lying in the gutter. It's a healthy enough sum that it would legitimately make a substantial impact in our lives as we scratch and claw our way of the pit of financial despair. In the 1967 movie, How to Succeed in Business without Really Trying, the opening voice-over states that if someone placed $1,000,000 in a standard federally secured bank savings account, the bearer would receive $50,000 annually. In 1967, at the financially savvy age of five years old (think E*Trade baby in kindergarten), I determined that if one could accumulate one million $1.00 bills one would never have to work or ever worry about money. So, I started collecting George Washington's and hoping that savings accounts would always pay a 5% interest rate. Sadly, somewhere along the way, (candy, baseball cards, comic books or girls), my plan was derailed. If only….
The popular musical artists, Travis McCoy and Bruno Mars recently wrote and performed the catchy little ditty called, "Billionaire," which to me seems a little greedy, but given that Mr. McCoy and Mr. Mars are likely already millionaires (thanks to that one song) a billion would obviously be the next goal. Me, however, I would be more than happy with a million smackers. The question is: How do I help me get a million smackers (or dollars)? Oh sure, I could work really hard, but I'm almost fifty. Let's face it my best days are behind me. The only people "killing it" at work are hedge fund managers and internet brainiacs. For me to accumulate real wealth in my career, I would have to work 26 hours a day in a real growth industry. Let's see, what's hot? Solar; cloud computing; social networking; electronic gaming and porn are probably my best bets. Just to be prudent, I better come up with a few more ideas.
Game shows: There are game shows that pay the contestants $1,000,000 if they win the grand prize. Who Wants to be a Millionaire is the obvious choice, but shouldn't it be called Who Doesn't Want to be a Millionaire? I've watched it a few times and can occasionally get some of the questions correct, but you have to answer all of the questions correctly if you want to be in the big money. They've got these things called Lifelines, Phone-A-Friend and 50/50 to help "hook a brother up," but some of the questions are really hard. How do I know who invented internet, Al Gore? Maybe I stand a better chance at Minute to Win It. I could totally rock those baby games. You know what else I could rock, Deal or No Deal. The objective apparently is to hook-up with one of those smoking hot models holding a briefcase and outsmart Howie Mandel and some anonymous banker? I would select case number one and start picking off briefcase-toting hotties, numerically, starting with numero dos. Maybe I could create my own game show, Mail Mike One Million $1.00 Bills or Else I Start Dancing. That show would have to be on cable. Truth be told, my game is really Wipeout.

Crime: Probably not. White collar crime maybe? I wouldn't want to actually hurt anyone or steal anything, but crime does seem like easy money if you have half a brain. The problem is, most criminals are idiots. Too many criminals use the "smash and grab" approach which never works. The movies such as Ocean's 11 and Sneakers, come up with incredibly complicated and complex crimes. That's way too much work. My Robin Hood crime spree would include getting really wealthy people to each give me just a little bit of money. It's a pyramid scheme essentially, where one million of the world's wealthiest people each send me $1.00. That's not really a crime and I likely wouldn't go to jail. I'm confident that I wouldn't like jail. Three squares and a cot is a nice concept (like camp), but in reality there's a lot more involved than just crafts and games. Besides, I've heard those prison jobs don't pay much.
Gambling: The World Series of Poker has a huge payday and a nice bracelet to boot. Guys like Phil Ivy, Johnny Chen and Annie Duke seem to be doing pretty well for themselves. I don't want to brag, but I've faired nicely at the annual Sycamore Valley Elementary School Texas Hold'em tournament. I haven't actually ever won, but I've finished in the top 25 (out of 25) every year. As alternatives, there's roulette, horse racing and I have heard there's an interesting line brewing on next season's Dancing with the Stars finale. Obviously, betting "sure thing" football games didn't work out too well for me.
Inventions: I've been noodling on a few ideas that might be patentable. People love their animals and hybrid vehicles, so I have this crazy idea about energy efficient cars for cats. The Catmobile is in its infant stages, but last I checked the former Nummi assembly plant is empty. There are obviously plenty of qualified auto workers looking for a job and I doubt if they care who the end-user is, they just want to work. There's also sure fire ideas like tuna-flavored chewing gum, bullet-proof hoodies and musical i-pod shoes (for spontaneous dancing). Brilliant, right? All of my inventions are available for sale at the low, low price of $1,000,000.00.
Writing: For Sale, one unpublished collection of children's bedtime stories written and autographed by a talented Danville resident. Price: $1,000,000.00. Additionally, for sale, one finished screenplay – script ready for big budget production by a major motion picture studio. Also written and autographed by an acclaimed Danville resident. Purchase price: $1,000,000.00. Finally, get your limited collection of humor lifestyle and personality profile articles written and autographed by a handsome and charming Danville resident. Purchase Price: $1,000,000.00. Did I mention I have a concept for a new autobiographical comic strip? Think Calvin and Hobbes meets Garfield and you'll love, The Adventures of Mike, Mr. Whiskers and Bobo. Purchase price: $1,000,000.00. Isn't this how Scott Adams started?
It's been said that money is the root of all evil. You know who said that? Probably someone who had a bunch of money and blew it all. If you read business magazines, listen to the business news stations, follow economic blogs or just have an inkling of common sense, you've probably figured out that the economy is going to remain stagnate for the foreseeable future. All we can do is keep working hard and hope we come into a little extra cash somewhere. As one of my friends likes to say, "I'm only six numbers away from retirement every Wednesday and Saturday. I'm playing the Lottery baby!"