Aww Shucks…or maybe just "I'm cool and I know it." That's always been how I see John Corbett. I've lived to watch him as the local radio host in small town, Alaska, Northern Exposure style.
Once again, as Michael Spurlock he takes up his character in All Saints, except this time he's a preacher! When I went to see this film, I literally had no expectations and knew nothing about it. I was more than pleasantly surprised. I loved this movie. It spoke to my heart.
It spoke to my heart about mankind. Secondarily, it spoke to my heart about God and who He wants us to be. Strangely enough, this Christian touted movie got very high review numbers, slightly higher than the audience ratings. This is almost unheard of, but having seen it I understand why. It's about flawed humanity, rising above a situation that called for extra understanding, pulling together and getting it done.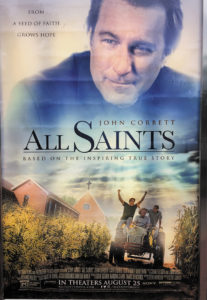 Did I mention, All Saints is based on a true story? Michael Spurlock is a 'hot shoe' corporate sales guy recently turned pastor of All Saints. His first church assignment is to close down the church and sell the property. How is that for cutting your teeth? He moves his family from the city to the country, full knowing the assignment is temporary. Declining numbers at All Saints just didn't warrant keeping the church doors open. Michael finds the faithful few sitting in the pew, mostly because they have been doing it all their lives.
While he's trying to go about his real purpose, closing and selling, he digs into the culture of this little community and finds there is still a beating heart. It just takes the right circumstance.
Ye Win (Nelson Lee) shows up at church one Sunday shortly after the Spurlock family arrives. He's a refugee from Burma in Southeast Asia. He speaks fluent English but the rest of the refugees that he brings back the next Sunday don't. Before you know it, Michael is preaching and Nelson is interpreting to a whole new congregation of refugees. All Saints is growing but the new group of refugees have needs; food, shelter and fellowship.
You can probably tell where this is heading. What you don't know is the story of how they, All Saints, both new and old, get there. I'll just say that seeds of hope are planted, nurtured and amidst incredible odds come to fruition.
It's an interesting cast. Even Barry Corbin who played the former astronaut and town celebrity in Northern Exposure does a wonderful job as the town curmudgeon in this film. Chonda Pierce, the top female comedian in the US has a small but endearing role.
This film nails it! It's a vanishing rarity! It's a film that explores Christian ideals in a way that is attractive regardless of the viewer's faith or lack thereof, while challenging believers to live up to that ideal. It's upbeat and inspiring, rated PG so the family can watch it together. Quite simply, it's about the Power of Community!
There is something you will want to know about this movie but you have to sit through the credits at the end to discover it. So, sit down with your family and your snacks and watch, all the way through to the blank screen at the end! I loved this movie and I think you will, too. As always, let me know what you think at Carolyn@carolynhasting