Without question, one of the most popular forms of contemporary music, from its beginning in the middle and late 1950s, is certainly country music. It is so popular that some FM radio stations specialize in playing country music almost exclusively. It is everywhere in American society. It permeates all media, including radio, television, and movies, and is featured in print media as well. For years its popularity has swept the country. Some country music musicians have actually eclipsed the fame and notoriety of today's mega rock stars. It has been called a "home-grown" American art form.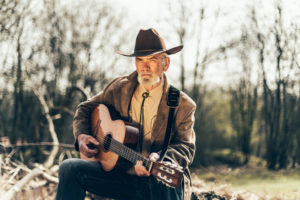 Country music came from unassuming and humble beginnings in America. Historians and musicologists tell us that some of the folk music traditions from England, as well as African elements brought by people on slave ships, contributed to the foundations of what became country music. Country music grew up in the mountains of Appalachia in the rural southeastern United States. From this agrarian, rural beginning, it eventually morphed into an urban, more sophisticated society setting. This music eventually spread to the plains and deserts of the southwest, all the way to California, covering the nation, coast to coast.
In the early days on radio and records, the music sounded a little different regionally, but it was definitely rural and reminiscent of the traditional past. In the 1920s, country music had roots in folk, blues and western music. Ballads and dance tunes with simple forms and harmonic structures were the basis for much of country music.
The basic instruments used in early country groups were string instruments: banjo; acoustic guitar; early electric guitar; steel guitar and fiddle. Harmonicas were also popular in these bands; usually they did not use any percussion instruments. Country music encompasses many styles and forms. From European immigrants came a blend of popular songs; Irish and Celtic folk songs; fiddle tunes; English ballads; cowboy songs from the U.S. and other musical traditions of working class Americans. This music was a real potpourri.
Jimmie Rodgers, in the early 1920s, was considered the father of country music and the premiere country singer and music composer of the day. He was well-known for his yodeling when he sang. The birthplace of country music recordings was in Bristol, Tennessee in the late 1920s; Atlanta, Georgia also became a major recording venue in the 20s. The first commercial recordings of country music, in 1922, were Arkansas Traveler and Turkey in the Straw.
Barn Dance shows in the 1930s and 40s were big on radio. They started in the South and went north to Chicago, and eventually all the way to the West Coast. "The Grand Ole Opry" was one of the most popular of these shows; starting in Nashville in 1925 and still going strong to this day. In the late 1940s, two noteworthy stars, who were very popular and had many successful hits, were Roy Acuff and Eddy Arnold.
Hollywood did not waste any time in getting into the country music scene. This was the age of the singing cowboys who popularized country music and western swing. The most famous of the singing cowboys were Gene Autry, Roy Rogers and The Sons of the Pioneers. Cowgirls also got into the act, many becoming popular country singers. Roy Rogers's wife, Dale Evans, was featured on Rogers' TV shows and movies, singing solos and duets with him. Their theme song, Happy Trails, was written by Evans.
Instrumentally, drums were initially omitted from country bands but by the mid- 1930s they were beginning to be accepted by some groups. The electric guitar was introduced to country bands by Bob Wills around 1938; one of the very first to add this instrument. Wills was one of the artists that played honky-tonk music. It had its roots in western swing and ranchera music of Mexico and some border states. Hits of the era were, Honky-Tonk Blues and Pistol Packin Mama.
Hillbilly boogie emerged in 1939 as did country boogie a few years later. Country boogie is a cross between blues and up-beat honky-tonk music. These innovations led to the movement, in the 1950s and 1960s, called rockabilly.
As a young teen, Jon Gerard, (my step-son) taught himself to play the acoustic guitar, (later learning the electric guitar) "I started playing with a rockabilly band after I learned my tools—my instruments," he said. "It was great fun and opened my understanding of many different types of music."
Rockabilly was an early form of rock and roll, with an upbeat version of blues and country music mixed. Noted musicians of the period included Tennessee Ernie Ford, a country boogie artist. Hank Williams led the way and inspired pioneers of rock and roll, like Elvis Presley, Jerry Lee Lewis, Chuck Berry, and Ike Turner. George Jones and Webb Pierce were two of the leading country artists of the 1950s.
Country boogie, western swing, honky-tonk and rockabilly were the leading music styles of country bands in the 50s and 60s. In 1954, Elvis Presley recorded, That's All Right, a song with country western and blues rhythms – and rockabilly was born. Leading artists and hits of the period were: Elvis Presley, Heartbreak Hotel; Johnny Cash, I Walk the Line and Carl Perkins, who wrote Blue Suede Shoes that Elvis made famous. The late 50s and 60s saw the rise of Buddy Holly; Loretta Lynn, Merle Haggard; Buck Owens; Porter Wagoner; George Jones; Sonny James and Patsy Cline.
In the 70s and 80s a genre called "outlaw music"—had its roots in western and honky-tonk music; it revolutionized country music. Its well-known artists were Willie Nelson, Hank Williams, Jr., and Waylon Jennings. The youth of America were drawn to it as it really caught on and had many avid listeners.
Country pop, derived from folk and soft rock roots, was popular on Top 40 Radio. Popular artists include Glen Campbell, John Denver, Linda Ronstadt, and Anne Murray. Denver merged country and folk rock in his repertory including Rocky Mountain High, Sunshine on My Shoulders, Thank God I'm a Country Boy, and I'm Sorry. Dolly Parton, an all-time favorite country star, also crossed-over to some pop music. Kenny Rogers, a star in his own right, often appeared with Parton in concerts.
In the 80s, "Countrypolitan,"—known as the Nashville sound—was brought about by Chet Atkins, the head of RCA Records County Division, to attract a broader pop audience. It combined the elements of western swing, country, and some bluegrass characteristics, avoiding the hillbilly and honky-tonk music. In this era, Johnny Cash and The Sons of the Pioneers were inducted into the Country Music Hall of Fame. In the 1990s, honky-tonk, bluegrass, pop, and country all contributed to cross-over popularity in the U.S.
Not only in the U.S. but internationally, country singers enjoyed world-wide fame. It is said that Garth Brooks is largely responsible for this international acclaim. This fame, mainly in America, was brought about by FM radio.
The onset of the 21st century saw the meteoric rise of many country and pop artists. In early 2000, Rascal Flatts released their first album. Carrie Underwood became famous in 2005; she was the first female country music singer with the most number one hits on the country airplay charts. Taylor Swift had an album of hits including her debut album in 2006; Teardrops on my Guitar in 2007 and Love Story in 2009. Many country, pop performers, and groups became famous during this decade – too many to list here.
A genre called Bro-country, that based much of its music on themes of partying, drinking, girls and pick-up-trucks, became popular with the youth of the country; not so with the parents. Emmy award winner, Blake Shelton, of the TV show, The Voice, was a performer in this style.
In a 2012 survey, country music surpassed classic rock as the most popular music in America and continues to enjoy great popularity today. I can foresee no reason why it won't continue to be a favorite form of music, for decades to come.