I loved the '80s and '90s. I'm not sure what it was, but those years produced the best romantic movies of all time. I can't actually choose the one I love the most, but it would have to be one of the many written by Nora Ephron. Aha! Maybe she's responsible for the Era!
She comes from a rather illustrious family. Her mother and father were stage and screen writing team Henry and Phoebe Ephron who wrote Three's a Family, Take Her She's Mine, There's No Business Like Show Business, Desk Set and last but certainly not least, Carousel. Nora had three husbands who wrote; Dan Greenburg, a novelist, the Pulitzer Prize winning Carl Bernstein, and Nicholas Pileggi, a crime journalist and screen writer. (While other families are watching football after Thanksgiving Dinner, wouldn't you love to know what this illustrious family did?) Rounding out the literary circle are her sisters and sons, but none could write romance like Nora.
As you can clearly see, I'm a huge fan of Nora Ephron (1941-2012). Her writing is amazing. She brought us films such as You've Got Mail and Sleepless in Seattle both with co-stars Tom Hanks and Meg Ryan. She also wrote Julie and Julia about Julia Childs, and the acclaimed Silkwood.
Having a more comedic script, When Harry Met Sally paired Meg Ryan with funny man, Billy Crystal. One of the notoriously famous scenes is Sally trying to convince Harry that women fake. . . well, you know. While eating in a deli, Sally breaks out with her version just to prove it. By the time she finishes her little scene, everyone in the restaurant is staring at her and then a woman at the next table says to the waiter… "I'll have what she's having."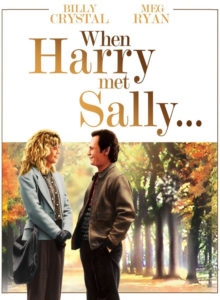 They drive cross country together as strangers after graduation from college. They can barely tolerate each other and are glad it's over when they arrive in New York. A few years later their paths cross again, and then again until eventually they become good friends. Their feelings for each other eventually start to gel and then a big fight. Then the realization, I love it (remember, I'm a woman) when Harry says… I love it that you're the last person I want to talk to before I go to sleep at night.
I want to give a "shout out" to my friends at Orinda Theater. This historic theater has been in operation since 1941. It's a legend in its own right. I applaud them for their free movie night every month where they give back to all movie lovers. It's sweet, it's fun and it's local. I was so impressed when I took my grandkids there to see Polar Express. Guess what? Their movie for February is none other than When Harry Met Sally. You can figure out the rest of the details for yourself!
Okay, Guys. I've given you some ideas here for Valentine's Day. Before you say you don't have a Valentine, you need to know something about women. It's a rare man who doesn't have a "Princess" in his life. Princesses come in all shapes, sizes and age categories. Sometimes they are your mom, your grandmother, your daughter or even your niece. Women all love to be some man's Princess. So, here's a hint: start with the wife or girlfriends and work down the chain until you find the woman (or girl) you want to spend an evening showering with love. I'm talking a mushy movie, from today's choice, When Harry Met Sally to Cinderella or Beauty and the Beast (see, Disney understands women of all ages). Cozy up, turn the lights down, the fireplace up, and bring on the microwave popcorn and Milkduds! And, oh yes, let me know how your date night worked out at Carolyn@carolynhastings.com.