I always find it interesting that when a catastrophe hits we are inundated by prayers. I couldn't believe the first few days after 9/11; the church pews were full of Americans praying for the victims, their families, and the country. You can call it fear, concern or just getting back to our primarily-Christian roots, but it happens. Even our recent hurricanes and wild fires had Facebook and Twitter humming with prayers for the victims.
I am wondering if the answer to these phenomena could be found in the movie, The Case for Christ. Lee Strobel wrote the best-selling book of the same name, and this story is his story, well, his and his wife, Leslie.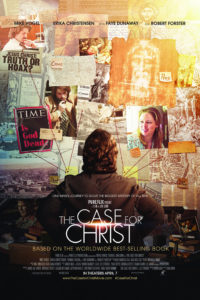 Lee (Mike Vogel) graduated from the University of Missouri and went on to receive a Masters of Studies in Law at Yale Law School…no lightweight. As an award winning journalist, he worked for the Chicago Tribune. He had "arrived," or was well on his way as an investigative journalist.
After Leslie (Erika Christensen) became a Christian, Lee almost walked away from their marriage. Instead, he was challenged to not prove her belief right but to prove her wrong. This investigative journalist and self-proclaimed atheist decided he would do what he was trained to do: disprove the existence of God.
He attacked this goal with the fervor of the pit bull investigator that he was. He left no stone unturned; no expert or worthy opponent not interviewed.
Lee has since written more than twenty best sellers and yes, he is on staff at the megachurch where Leslie found God when it was still holding services without even a building of their own in which to worship.They are happily married and Lee, as you might have guessed, is a believer.
Don't stop here!
The United States of America, as well as most European countries was founded on Judeo-Christian beliefs. Our very system of government reflects the depth of those very beliefs, despite some recent erosion. Most of us, when we reflect back, had parents or grandparents who were "believers." We can get all uppity and say that we've become more enlightened, but come on, really? It's more likely that we've become too busy and became detached from the question.
I met a lovely young woman the other day who shared that her father had been a pastor but her husband didn't like to go to church so they didn't attend as a family. She also shared that both of her teenagers not only attended a church youth group, but two different church youth groups—voluntarily. Hmmm.
I not only suggest that God is real but that Christ is real, and challenge you to watch The Case for Christ. Remember, the movie and the book it was based upon was written from the vantage point of an atheist—a place you might recognize. You might be surprised at which side of that argument you find yourself on. At the very least, it might clarify the argument in your head, when you do take the time to think about it.
As always, I welcome your comments or questions at Carolyn@CarolynHastings.com