One of the most popular, endearing and delightful things to do during the Christmas season, is attend a performance of Peter Ilitch Tchaikovsky's classic Christmas ballet, The Nutcracker. It is so popular it has become a traditional family outing for many devoted families and fans alike. In some cities it has become an annual affair not to be missed. Ballet companies around the country have this ballet in their yearly repertory.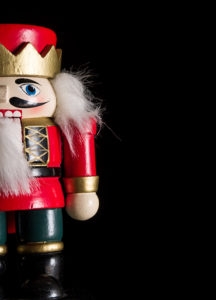 Alexander Dumas Pere's adaptation of E.T.A. Hoffmann's story, was the impetus for Tchaikovsky's setting. The Nutcracker is known as a Christmas ballet; as the story revolves around a German girl named Clara on Christmas Eve. She experiences a coming of age awakening. This encompasses an awareness of the world and visions of romantic love, beyond her own experience.
The ballet is a fairy tale setting in two acts based on a family celebration on Christmas Eve. It was commissioned in 1891 by the director of Moscow's Imperial Theatre, Ivan Vsevolozhsky. Tchaikovsky worked on it off and on and it was premiered in December, 1892, at the Imperial Mariisky Theatre in Saint Petersburg. The first performance outside of Russia occurred in England in 1934; almost 40 years after its premier in Russia. It wasn't until 1944 that the United States premier of The Nutcracker was performed by the San Francisco Ballet Company.
Before the first performance in Russia, Tchaikovsky did something unique and unusual. He made a selection of eight of the pieces in the ballet and called it, The Nutcracker Suite, OP.71a. Traditionally, a suite is a collection of short movements, usually contrasting dances with a pause between each one, played as one piece. This suite was meant for concert performance, not ballet; first performed in March, 1892, with Tchaikovsky conducting.
The suite was so popular and famous, it was featured in the Disney film production of Fantasia. This suite is not the complete ballet. The eight selections of the suite are: Miniature Overture; Marche; Dance of the Sugar Plum Fairy; Russian Dance (Trepak); Arabian Dance; Chinese Dance; Reed Flutes and Waltz of the Flowers.
In the Dance of the Sugar Plum Fairy, Tchaikovsky uses the celesta; an instrument consisting of steel bars that are struck by hammers controlled by a keyboard. It has a unique, relatively soft sound that is very appealing. This dance has become very noteworthy because of the inclusion of the celesta.
Tchaikovsky was born in Votinsk, Russia and died in Saint Petersburg. He was not born into a musical family; nevertheless he showed early talent for music. In early adulthood, age 19, he was a clerk in the ministry of justice.
Tchaikovsky did not plan a professional career in music. When he was 21 he began a serious study of music. At 23 he gave up his clerkship to devote himself 100 percent to a music career. His friend and colleague, Anton Rubinstein, whose brother, Nikolai, founded the Moscow Conservatory, hired Tchaikovsky in 1865 as a professor of harmony. He was not particularly happy teaching at the conservatory.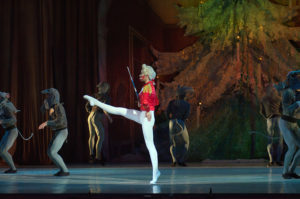 Around 1876 he had an unusual relationship with a generous benefactor, Madam Nadejva von Meck. She offered an annual stipend to him with a very strange stipulation—that they never meet—they communicated only through correspondence. This gift was enough to sustane him financially; as a result, he left the conservatory and was totally free to compose music. This allowance lasted for 13 years.
Tchaikovsky has been described as a romantic composer of Russian temperament. His music is largely based on Western European traditions mixed with some elements of his own temperament and Russian nationalistic traits. Generally, his music was considered as Russian as his nationalistic Russian contemporaries. His melodies are broad and sweeping and he occasionally used folk tunes, as in the 4th Symphony and 1812 Overture. He is known for sensational climaxes and violent contrasts of mood. His understanding of symphonic form was considered utterly masterful. Personally, Tchaikovsky was morbidly sensitive, very creative with bouts of depression and had an unhappy temperament.
His orchestration is characterized by strong, heavy brass and sometimes, use of string basses for somber melancholy effects. He wrote brilliant solo parts for various instruments. He also wrote rapid changes of texture (light texture uses fewer instruments, heavy texture uses many instruments) for the various sections of the orchestra, resulting in sharply contrasted independent groups.
Performances of his music are intended to be very emotional. Notable compositions are: six symphonies; The Nutcracker, Swan Lake and Sleeping Beauty ballets; Overture Fantasia; Romeo and Juliet; Piano Concerto No.1; Violin Concerto; Chamber Music; March Slav; 1812 Overture; Capriccio Italien and eight operas.
Tchaikovsky's gift for melody and inspired orchestration, plus the drama, excitement and emotional intensity of his music makes him one of the most popular of all composers. He was one of the first Russian composers to win world-wide fame. He conducted his works in major cities of Europe; and also conducted at the 1891 opening of Carnegie Hall in New York City. Tchaikovsky was honored by Emperor Alexander III in 1894 and awarded a lifetime pension.
One of his best known compositions is the Piano Concerto No.1. It premiered in Boston in 1875 and was an extremely popular favorite with the American public. It was so popular that Freddie Martin used it as his theme song for his band.
Due to Tchaikovsky's popularity, it is no surprise that two of the most famous ballets ever written–Swan Lake and The Nutcracker– became tremendous successes. What a legacy Tchaikovsky left for all to enjoy.
Don't miss the Danville Community Band's annual Christmas Concert, Sunday, December, 10, 2017, 3:00 p.m. San Ramon Valley High School, Danville, CA. Free concert and parking. New venue for this performance. Please submit your questions and comments to banddirector01@comcast.net. Visit our website at www.danvilleband.org for up-to-date information about the Danville Community Band.