Chances are you've already filed your income tax returns…or, at least, handed over everything to your accountant. This is as good a reason as any to pamper yourself.
If you're in a funk or simply feeling the financial pinch of tax time, a night on the town may not be in the cards. But here in California good food is always an affordable luxury, especially when you shop at the farmers' market.
Spring is here, and the market is abloom.After months of little more than juicy citrus to satisfy our cravings for fresh fruit we revel in early strawberries, with armloads of bright flowers to lift our spirits. Also look for locally-grown asparagus, squeaky-fresh artichokes, crunchy peas, fava beans, crisp celery, and young beets.Spring is short but sweet, so shake off the seasonal doldrums and make the most of it.
Often without ever having tasted them, beets are scorned by kids and grown-ups alike. You'll always find canned beets in lackluster salad bars, a jolt of color radiating from beneath the clear plastic sneeze-guard. A walk past the bussing station of any less-than-glamorous restaurant—where stacks of abandoned salad plates are dotted with slimy purple remnants; their shocking-pink juices bleeding into rivers of ersatz dressing—certainly does nothing to improve their image. But it doesn't have to be this way. The first thing to remember is that canned beets are about as sexy as canned peas.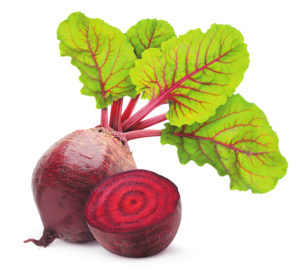 Available year-round, the best tender young beets—no larger than a golf ball—are now piled high at the farmers' market. Earthy, sweet, and delicious, with vitamin-packed greens that are not only edible, but downright tasty. For a change, try white or golden beets, or the candy-cane striped Chioggia variety. (But don't expect miracles. The Chioggia variety cook to a uniform color.)
A salad made from "real" beets is a thing of beauty, whether served as a side dish or—accompanied by a loaf of crusty artisan bread–a light meal on a warm day.
AND THE BEET GOES ON….
–Large beets tend to have a woody texture. Look for small, firm beets with crisp green tops attached. Perky leaves indicate they have been freshly harvested.
–To store: Cut off the beet greens, leaving an inch or so of the stems attached, as the leaves tend to draw moisture from the roots. Refrigerate the greens for up to 2 days in an open plastic bag. The bulb-shaped beet roots, when stored unwashed in their own plastic bag, will last a week in the refrigerator.(Any longer, and their natural sugars convert to starch.) Scrub beets well just before cooking.
–Don't get caught red-handed: Red beets bleed. Wimps like me wear thin latex gloves when working with them. For those who yearn for the more tactile approach, avoid unsightly stains by washing your hands, cutting board, and knife immediately after peeling and slicing. (If needed, scrub stubborn stains with coarse salt.)And wear an apron to avoid The Jackson Pollock Syndrome.
–Beets can be eaten raw: just peel and grate before adding to salads. (I once worked with an editor whose beet-loving husband regularly consumed them in their natural state, merrily eating them out-of-hand like an apple. But that's a whole other story.)
–Cooked beets can be peeled and refrigerated in an airtight container for several days, so it's smart to cook more than you'll need for a single meal.
–For the best flavor and least mess, roast beets with their skins and "tails" (root ends) intact. See recipe for details.
–Beets are done when the tip of a sharp knife can be easily inserted and withdrawn from the center. When properly cooked, their skins will slip off easily, using a paper towel or your fingertips.
ROASTED BEET SALAD WITH GOAT CHEESE & WALNUTS
1/3 cup California walnut halves and pieces
2 bunches (8 to 10 beets total) small-to-medium beets—any variety—with greens attached
1/3 cup California walnut oil or olive oil
2 tablespoons fresh orange juice
1 tablespoon California red wine vinegar
1 teaspoon chopped fresh tarragon leaves (optional)*
Salt and freshly ground pepper
1/2 teaspoon Dijon mustard
About 2 ounces soft California goat cheese, coarsely crumbled
Preheat the oven to 350 degrees. Spread the walnuts in a baking dish and bake until lightly browned and fragrant, 5 to 10 minutes. Let the walnuts cool. Increase the oven temperature to 400 degrees.
Cut off leafy greens from the beets, leaving about 1 inch of the stems attached to the roots, and set aside. Scrub the beets under cold running water. Put the damp beets in a small baking dish, add a few tablespoons of water, and cover the pan tightly with aluminum foil. Roast until the beets are tender when pierced with the tip of a sharp knife, 35 to 50 minutes, depending upon size.Set aside to cool.
In a small jar, combine the oil, orange juice, vinegar, tarragon, a scant 1/2 teaspoon salt, about 1/8 teaspoon pepper, and the mustard. Seal tightly and shake the jar until the vinaigrette is well blended. Taste, adding more salt or pepper as needed.
When the beets are cool enough to handle, rub off the skin and cut the beets into 1/4-inch thick slices. Combine the beets and about half the vinaigrette in a bowl, tossing gently to coat. Cover and set aside to marinate at room temperature for about 30 minutes, or longer if refrigerated.
Bring a large pot of salted water to a boil. Rinse the beet greens well and tear into large pieces. Add greens to the pot and cook until tender, about 5 minutes. Transfer the leaves to a colander and rinse under cold running water. Drain well and squeeze dry.
To serve, toss beet greens with the remaining vinaigrette. Spread the greens on a small serving platter and top with the marinated beets. Scatter the walnuts and goat cheese over the top and serve at once. Serves 4 to 6.
*If you don't have—or don't like—fresh tarragon, just omit it, or substitute fresh parsley or chives. Don't bother using dried tarragon. It can be nasty stuff.
The Danville Certified Farmers' Market, located at Railroad & Prospect, is open every Saturday, rain or shine, from 9 a.m. until 1 p.m. For specific crop information call the Pacific Coast Farmers' Market Association at 1-800-949-FARM, or visit their web site at www.pcfma.org. This market is made possible through the generous support of the Town of Danville. Please show your appreciation by patronizing the many fine shops and restaurants located in downtown Danville. Buy fresh. Buy local. Live well!