Anyone who has ever purchased an apricot at the supermarket has probably already learned an expensive lesson: don't bother. Occasionally, if you're fortunate enough to find fruits that are organically and locally-grown, they may indeed taste okay—but you will surely pay a premium for the rarity. This is yet another good reason to buy your produce at the farmers' market.
In order to develop their distinctive floral fragrance, sweetness, and velvety texture, apricots need to ripen on the tree. There is simply no other way. Unfortunately the tree-ripening process also leaves them soft and far too fragile to ship without bruising. This may be less of a problem for California locavores, but many of the apricot orchards that once blessed our state have been replaced by housing developments and high-tech office parks, seriously reducing sources for tree-ripened fruit. Due to increased land values and the related expenses, apricot growers who held their ground and stayed in business now must often rely on selling to large commercial canners, jam-producers, and other fruit preservers in order to remain solvent.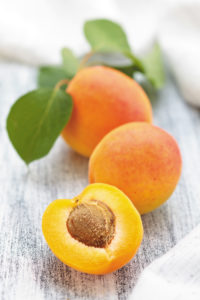 To meet consumer demand throughout the United States, scientists thought the answer was to develop bruise-resistant apricot varieties designed to appear picture-perfect for weeks at a time and withstand all sorts of abuse during shipping. Too good to be true? You bet. One bite into that tough, mealy little orb and you'll know you've been had. It's frightening to think there is an entire generation that assumes this is how apricots should taste
When you first encounter a golden pile of tree-ripened apricots at the farmers' market, no doubt you'll immediately want to eat your fill out-of-hand. Go ahead. Be greedy. Apricot season is short but sweet, making this a perfectly justifiable indulgence. But don't forget to purchase a pound-or-two more to incorporate into family meals for the week. Start the day with apricot halves topped with Greek yogurt, a few California almonds, and a drizzle of local honey. At cocktail time, tuck a spoonful of goat or blue cheese into pitted apricot halves. Make your own compotes and chutneys to serve with pork or poultry, or add apricots to a Moroccan lamb stew.
The following free-form tart is called a galette in France or a crostata in Italy. Regardless where you live, this rustic dessert is a winner. If making a traditional pie terrifies you, this easy preparation provides all of the flavor with none of the angst. And no peeling required!
Perfectly ripe fruit is arranged on a pastry round, then the ends of the dough are folded up and over to create an edge that holds in the juices. If you feel the urge to get fancy, top the fruit with some toasted sliced almonds or a splash of amaretto before baking…but simple is usually better. Once apricot season comes to a close, you can make this dessert with berries, peaches, nectarines, or plums.
This pastry is a dream to work with, but when pressed for time substitute a sheet of prepared pie dough.
APRICOT GALETTE
Buttery Pastry Dough (recipe follows)
1 pound ripe apricots (8 to 12 apricots), pitted and halved or quartered, if large
6 tablespoons plus 1 teaspoon granulated sugar
1 tablespoon cold unsalted butter, cut into bits
Prepare the dough and chill as directed. Preheat the oven to 400 degrees. Line a large, rimmed baking sheet with parchment paper.
On a lightly floured work surface, roll the dough into a 13- to 14-inch circle or oval about 1/8-inch thick. (It's fine if the shape is slightly irregular. There is also no need to trim the edges of the pastry; they should remain a bit ragged.) Loosely drape the dough around a rolling pin and transfer to the prepared baking sheet.
Arrange the apricots on top of the pastry, leaving a wide, 2- to 3-inch border around the edge. Sprinkle the apricots with the 6 tablespoons sugar and dot with the butter. Using your fingers, fold the pastry border up and over the filling, pleating the pastry as needed to fit. Brush the pastry edge lightly with water and sprinkle with the remaining 1 teaspoon sugar.
Bake until the apricots are bubbly-hot and the pastry is crisp and golden brown, 50 to 55 minutes. Let the galette cool on the baking sheet for 10 minutes, then use 1 or 2 wide spatulas to slide it carefully onto a wire cooling rack. Serve slightly warm or at room temperature, cutting into wedges with a pizza wheel or sharp knife. Serves 4 to 6. This is best served the same day it is made, with a scoop of vanilla ice cream on the side.
Buttery Pastry Dough
1 1/2 cups unbleached all-purpose flour
1 tablespoon granulated sugar
1/2 teaspoon fine sea salt
1 1/2 sticks (12 tablespoons) unsalted butter, cut into 1/2-inch pieces and refrigerated until firm
1/3 cup ice water
In a food processor, combine the flour, sugar, and salt. Process briefly to blend. Add the butter and process for 5 seconds.
With the machine running, add the ice water, processing just until the dough begins to come together. Form the dough into a smooth ball and flatten into a 6-inch disk. Wrap in plastic wrap and refrigerate until firm, at least 1 hour or as long as 2 days. Freeze for longer storage.
The Danville Certified Farmers' Market, located at Railroad & Prospect, is open every Saturday, rain or shine, from 9 a.m. until 1 p.m. For specific crop information call the Pacific Coast Farmers' Market Association at 1-800-949-FARM, or visit their web site at www.pcfma.org. This market is made possible through the generous support of the Town of Danville. Please show your appreciation by patronizing the many fine shops and restaurants located in downtown Danville. Buy fresh. Buy local. Live well.