Love's Last Ride–it has the ring of a romance novel, in the telling of a bitter-sweet, heartbreaking love story that's about to become undone, or possibly a steamy romance that's fallen to its own fiery, passionate flames. Well, in a sense, it is. But this last ride isn't fiction. It's about a true-life, love-infused romantic excursion of thundering motorcycle enthusiasts, rallying and riding together atop the dark, white-line-dotted matrix of Los Angeles freeways, in supporting a common cause that has gone on for the past thirty-one years.
The recurring rumble of high octane, chrome-emblazoned steel stallions has filled the Southern California black ribbons' air, by giving notice that something big and special is rolling in like heaven's thunder, riding into its forth decade of giving.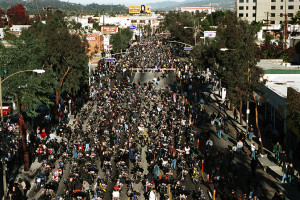 From the reverberating fervor of thousands of exhaust pipes that have trumpeted their supportive embrace throughout all these years, it's been led by a leather jacketed, oft times white bearded, kind-hearted soul, whose inner passion for a cause is always there, as is evidenced by the affable smile he wears, year in, and year out—one affectionately called "Ugly Oliver" Shokouh (Show-koo).
The long, rolling tribute in support of what matters most, has been rolling on two, three, and even four wheels since 1984, bathed in the radiant wash of the golden Southern California sunlight, or the occasional wispy rinse of cleansing rain throughout its storied run.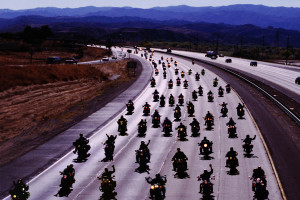 So what does rolling on two, three and even four wheels have to do with love? Because it centers around a one-of-a-kind motorcycle event that has inspired the hearts of its attendees to dig deep, showing their heartfelt love for those less fortunate, and in so doing, having raised over 24 million dollars in charitable support.
With the great support of motorcycle folks coming in from all over the country — and the world to attend, and with the celebrities that have shown up in support of the Love Ride… It just shows how much Oliver is loved. —Jay Leno
Sadly, the event will culminate with an epic, grand finale, when some estimated ten thousand plus leather clad, boot wearin', tattoo sportin' revelers, roll out under the Southern California sun, saddled astride their iron horses or in old school custom hot rods, when as one, they head down the black ribbon highways of Southern California, on Sunday, October 18th. It doesn't matter what you ride or drive—just show up. It's for a great cause!
Oliver has a big heart. He also knew that most of the motorcycle community has a big heart, and realized he could blend their passion for motorcycles and giving. The idea behind the "Love Ride" is great. Put a ride together, throw a rock 'n roll party, and raise money. It is fun, and a great way to do something positive in our community. Oliver has done so much for the motorcycle community in SoCal. I am proud to be on the Board of the "Love Ride" and to be Oliver's friend!" ~ Robert Patrick
The world famous Love Ride, will find the end of its glory days of charitable giving, when staking its last, marking signpost #32, at the end of its treasured highway — when the kickstands fly up at Glendale Harley-Davidson on that final Sunday morning in October, and for the last time, hit the asphalt at Castaic Lake, marking the end of the ride and the end of its great legacy of open-handed support that's been felt throughout Southern California, and the country.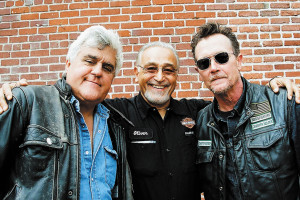 What is, the Love Ride?
The Love Ride has been my dad's shining, life's jewel.
—Emily Shokouh: General Manager, Glendale Harley-Davidson
It is the single largest, one day, charity fundraising motorcycle event in the world, and one that has been held annually in Southern California, and in Switzerland, too. As its founder, "Ugly Oliver" tells it, "Love Ride became a labor of love." It sprang from an inaugural event that began in 1981, partnering with the local Glendale Jaycees (Junior Chamber of Commerce) and Oliver's Glendale Harley-Davidson, when setting out to organize what ultimately rolled out of the shop as the first of its kind event called Biker Carnival. Says Oliver, "Harley wanted to create a better image by distancing its brand away from the 'biker' mindset, so in 1984 we renamed it The Love Ride."
The Love Ride has fundraised for organizations such as the Muscular Dystrophy Association (MDA), United Service Organization (USO), Autism Speaks, the LA Times Reading by 9 Program, and offered long term support for Glendale Community College. This year, it culminates its mission of giving and support with its selected beneficiary: Wounded Warrior Project (WWP).
Entertainment industry celebrities and recording industry rock icons have come out in support of the Love Ride since its inception, scribing their names to a list of caring support.
Oliver, My Friend… I want to praise you, for all your dedication in helping others. For all the wonderful years that you have brought many of us together with open hearts in making "The Love Ride"— not only one of my favorite rides of the year, but one of the most important… benefiting so many causes. It's been an Honor assisting you over the years. You have a heart of Gold. Love you Brother! Till next time, I'll see you in the wind… ~ Emilio Rivera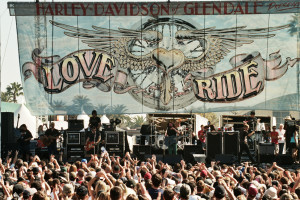 Easyrider legend Peter Fonda came on board in the beginning. Standup comedian, motorcycle, and car enthusiast, Jay Leno of The Tonight Show fame, saddled up as Grand Marshal in 1985. Ladies heartthrob, and Renegade television star, the motorcycle-riding Reno Raines, aka Lorenzo Lamas, rode in alongside the thundering roar of bikes early on. He was joined by The Doors lead guitarist, Robby Krieger. Terminator 2: Judgment Day, The Unit and current CBS hit show Scorpion co-star Robert Patrick rode along with Sons of Anarchy co-star Emilio Rivera, who portrayed the feared Mayans president, and Buffy the Vampire Slayer film/TV actress and model, Kristy Swanson, has attended several Love Ride events as well. All of these, riding in on a mix of scoots, will share the platform with other celebrities supporting this year's grand finale.
I've attended several Love Ride events, and have always applauded what Oliver and his dedicated volunteers have done. Their givers hearts and hard work, has rallied support from the SoCal motorcycle community, and beyond, and helped so many. I just can't believe this is the last one! I know it will be a great time for all, as it always is, and sense how bitter-sweet it must be for Oliver, too… and how his emotions will find their tears. Thank you for what you've inspired, Oliver! What an honor it is to be a part of Love Ride 32! And thanks, for having me along… for the last ride! ~ Kristy Swanson
Amid the escalating hustle, bustle and agonizing organizational uncertainties of bringing to a close the final roundup of The Love Ride, Oliver graciously spent the time to answer some questions about the storied legacy his labor of love leaves, and supporting luminaries that have been involved throughout the years.
ALIVE: How did Love Ride find its wheels, which has made it such a wonderful labor of love in your life?
OLIVER: It was like driving a nail, when you hit it right on the head! Love Ride, was the event the baby boomers that fueled the whole Harley-Davidson success story needed during the mid-eighties. That, along with the new evolution engine Softail models, helped increase our sales to a new plateau. Events such as the Love Ride, prospered. In our case, the fact that we had Hollywood celebrities in our back yard who were buying Harleys, and attending positive events like the Love Ride put us on the map, and got our wheels rolling. Our first year, Love Ride raised forty-two thousand to support MDA. With Harley we said, "We're going to get out there and ride so that one day these MDA children that are not so fortunate and healthy, can one day get out and ride, too!" Glendale Harley-Davidson doesn't benefit as much as folks would think. It's not about profit for the dealership, but raising money and giving to the charities we've been involved with over the years. The Love Ride has never been about the dealership's financial gain.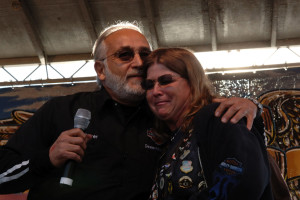 ALIVE: How did Easyrider's Peter Fonda and you meet, and what enticed him to get involved, and how has he supported Love Ride throughout the years?
OLIVER: We asked Peter to do our very first television PSA (Public Service Announcement) to support The Love Ride. He did, and it came from his heart. He won the PSA award of the year. Since then, he has supported our efforts, as well as becoming a good friend. I think in all the years we've done The Love Ride that Peter has only missed a few, due to his work obligations.
ALIVE: How did Jay Leno become involved with The Love Ride? How did it all begin, and what has kept him involved?
OLIVER: Jay was a standup comic then, who made an appearance on the Johnny Carson show. Now and then, we needed someone good on stage, and he kindly offered to help us out. Jay is the one who brought the Hollywood contingent to support Love Ride. He has been our grand marshal ever since, and plans to join us again this year.
It's been a great honor, and a lot of fun, to have been involved with The Love Ride for all these years being Oliver's Grand Marshal. It's a great cause, for the various charities that The Love Ride supports, and ending it with another great cause, Wounded Warrior Project. I'm proud to say that throughout all this time with The Love Ride, there have not been any incidents that have put a black eye on the event. This is a nice family community of motorcycle enthusiasts, and I have been surprised and amazed at their dedication. It's been great getting to know Willie G. Davidson — he has his name on the bike! And who would have thought that Larry Hagman rode a Harley? With the great support of motorcycle folks coming in from all over the country –and the world to attend—and with the celebrities that have shown up in support of The Love Ride, it just shows how much Oliver is loved." ~ Jay Leno
ALIVE: Throughout the years with Love Ride primarily supporting MDA, you've had different ambassadors. There are several photos on the Love Ride website of MDA Love Ride ambassador, Christopher Houle. How special was your relationship?
OLIVER: I got to know the Houle family pretty well, and witnessed firsthand, how difficult it is for these families to cope with a child suffering from MDA. We became good friends, and Christopher looked forward to the Love Ride every year. He started Love Ride 9, in 1992, when he was eleven. His last Love Ride was in 2005, ending with Love Ride 22. Christopher lost his battle, and passed in 2006…
ALIVE: The Love Ride appears to have been a family affair with your kids, and grand kids seeing photos placed on the website. How has Love Ride impacted your family over the years?
OLIVER: It has been a double-edged sword. I'm glad that my family members are involved with the Love Ride… but, it also kept me away from home and family a lot, as it is a lot of hard work with many evenings spent visiting various clubs or groups to invite them to ride. My daughters, Emily and Suzanne, became involved with Love Ride 15 by helping me turn all the nuts and bolts. That year, with Love Ride 15, we became a foundation.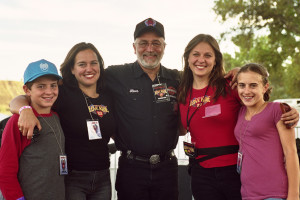 My dad is a hard worker with everything he does. He has been a great mentor, and instilled a good work ethic in all us kids at an early age. He has a wonderful spirit, a generous heart, and possesses natural charisma and charm. He's also a very modest man. Dad made sure that we always gave to charity, even if we didn't profit a lot with the dealership. The Love Ride has been my dad's shining, life's jewel. It's a family affair, and a good family time spent together doing something so positive. It's really bitter-sweet, because this is the last one. I know this year will be very emotional for him. I am seeing it in his eyes. After 32 years… it's been wearing, but so enriching as well. ~ Emily Shokouh
ALIVE: How did actors Robert Patrick, Lorenzo Lamas and Emilio Rivera become involved with Love Ride?
OLIVER: They have all been customers, who got behind the idea and became some great disciples of Love Ride. Lorenzo saw the Renegade TV show custom bike on our showroom floor, and he knew it had to be the bike on the show.
The Love Ride has, and always will be the best example of the generosity of the people I call my brothers and sisters in motorcycling. Oliver Shokouh has been a friend to me and pioneer of charitable giving for over 30 years. He has set the standard in motorcycle charity rides for decades – changing the 'biker' stereotype – and remains the leader in money raised for so many worthwhile organizations. I'm going to miss those early October mornings, getting my bike gassed, and ready for the special kickoff at Glendale HD—and the ride with thousands out to Castaic Lake. The rock stars, celebrities, law enforcement and the great folks all giving their time and passion for this ride, isn't just for the charity, but for its founder as well. What a legacy Oliver has left with his motorcycle community. It's a mix of emotions for me this year. I'll obviously miss The Love Ride, but so thankful for all it has done for so many needed charities over the years. ~ Lorenzo Lamas
ALIVE: Robby Krieger, former lead guitarist for The Doors, seems to be a constant shining rock star of support with Love Ride. Tell us about your friendship, and how it came to be.
OLIVER: I got to know Robby a few years before the Love Ride got started, and when I asked him if he would support us, he was quick to agree, and has played in some thirteen Love Ride events since. The Doors have always been my favorite rock group, and to become friends with Robby has been fun!
ALIVE: This year's Love Ride grand finale support goes toward Wounded Warrior Project. Why them?
OLIVER: We have supported many charities, and our board of directors makes a decision on the beneficiary once a year. It was brought to our attention how important the Wounded Warrior Project cause is, due to the devastating number of home side veterans who have problems coping with their lives after they get home. With twenty-eight Iraq-Afghanistan veterans committing suicide every day, it is a big problem that needs awareness and help.
ALIVE: Harley-Davidson design icon: Willie G. Davidson, appears to have had longstanding involvement with Love Ride. What keeps him coming back? Is it mostly about company goodwill for Harley-Davidson, or is it really about something more?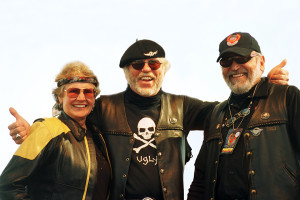 OLIVER: Willie is the best ambassador for Harley-Davidson. He likes attending events, and listening to customers. He is a good listener, and is most gracious. I was a relatively new dealer (I opened Glendale HD in 1976), and hardly knew him. I called Willie, and he agreed to join us. Since then, we have become good friends. Willie has been very instrumental in support of Love Ride. I know it comes from his heart.
Oliver — Love Ride. Two inseparable names that created help for many through charities. Nancy and I were proud to participate; enjoying the great rides, music and camaraderie. Thank you very much, Oliver. You did a hell of  a great job!                                                                                                                                    ~ Willie G. and Nancy
ALIVE: Is this really going to be the last Love Ride? The legacy building of outreach and charitable support ends here?
OLIVER: Yes, the last Love Ride as we know it. We asked around, and couldn't find any young folks to take it over. They're just not into it. We do intend to keep the foundation alive, and find some sources of revenue to fund it so we can always be here to help those less fortunate. Putting on the Love Ride every year, truly is, a labor of love. After 32 years of doing this—my group of volunteers and me are worn out. We are proud of our 32 years, and feel it has been a good, long run.
ALIVE: Now that you're staking up that #32 signpost, can you tell us how this is hitting your heart, and tell us about some special moments you experienced?
OLIVER: It is a bitter-sweet decision, calling this the end. I made some lifetime friends during Love Ride, which I cherish, the most—some famous; some infamous! Knowing that we are raising money for some great causes we believe in, and creating awareness, feels great. And seeing a smile on one of our beneficiaries faces… makes all of it, worth doing.
ALIVE: So what comes next? Will there be a Love Ride reunion ride in the future, or will the kickstands stay on the concrete?
OLIVER: Kickstands should NEVER stay on the concrete! I intend to continue riding, and hope that after we catch our breath, there will be a Love Ride reunion, or remembrance of some sort. And hopefully, we will once again find a way to raise funds for those less fortunate.
As one love-struck by the allure of twisting the throttle on his Harley, hitting the open road, and feeling the wind's rush of purifying redemption in my face, I too know the infectious, down to the bone, love effect of riding a motorcycle, so I also know why Oliver found his path of destiny in creating the world's premier, one of a kind, motorcycle fundraising event benefiting so many over the years.
"Ugly Oliver," may God Bless you for your fervent, passionate giver's heart, and for putting so much joy into the lives of those you've touched along the way. But most of all, thanks for giving and caring so compassionately about what matters most: Love!
Emilio's rolling sentiments that rest with everyone, conveys it best: "Love you, Brother! Till next time, we'll all, see you in the wind…"
It has, been a good, long run. Well done, Oliver!
To secure tickets for Love's Last Ride, visit: www.loveride.org
Or at http://www.specialcarstore.com/content/olivers-love-ride-2015-primer