The motto of the USS Hornet Museum in Alameda seems straightforward. People often think it applies only to the venerable World War II aircraft carrier itself, since it had fought in many famous WWII Pacific Ocean battles and did three tours of duty in the Vietnam War.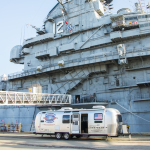 However, of equal importance, is hearing stories and learning lessons from people who served on the ship or were involved in its historical actions. In July 1969, the USS Hornet (CVS-12) recovered the Apollo 11 lunar landing mission. When Neil Armstrong and Buzz Aldrin stepped onto the moon's surface, it was the first time in history that humans had set foot on a heavenly body other than earth. This epic event will be remembered for the rest of mankind's existence.
In order to "transfer" some of that 1960's excitement, knowledge, and inspiration to young Americans, the museum holds a special event every 5th year on the anniversary of the Apollo 11 flight. A moon-walking astronaut always attends as the keynote speaker, augmented by a more recent member of the NASA astronaut corps.
[<photo 1> Pier view of Hornet]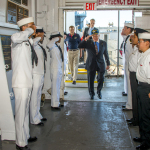 This year, on July 26, Buzz Aldrin was the featured Apollo guest at Splashdown 45. Bay Area residents enjoyed a once-in-a-lifetime opportunity to meet, listen to, and even get a book signed by the second of 12 men who walked on the moon. This popular event was also graced by the presence of Bay Area shuttle astronaut Yvonne Cagle. Both astronauts were former members of the US Air Force and were "piped aboard" in a traditional Navy welcoming ceremony with local Navy League Sea Cadets acting as sideboys.
[<photo 2> Buzz saluting cadets]
Months before the event, the Hornet Museum had teamed up with the Alameda school district to hold a space-related essay contest. The question was "Why I want to be an astronaut when I grow up". The age bracket winners were Grace Tauscher and Khushi Randev. Each was personally introduced to Buzz Aldrin and had their photo taken with him during Splashdown 45.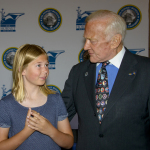 [<photo 3> Grace & Buzz]
Many organizations brought educational exhibits or interactive displays, ensuring a large Science, Technology, Engineering, and Math (STEM) component. Hornet's youth programs have always augmented normal classroom teaching with tactile activities whenever possible. With great support from many sponsors, partners and participants, visitors of all age groups and various socio-economic backgrounds had a memorable experience. The robotics club from Bellarmine College Preparatory was a big hit!
[<photo 4> Robot & Toddler]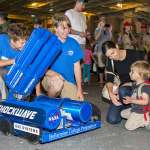 Upon arrival, astronaut Yvonne Cagle headed straight to the STEM education center to observe the various classes being given. With great enthusiasm, she jumped into an interactive session being run by GoldieBlox, a local company whose mission is to inspire the next generation of female engineers. A willing co-conspirator, Yvonne definitely inspired a number of youngsters during this visit to the Hornet.
[<photo 5> Yvonne & GoldieBlox]
In the early afternoon, Yvonne introduced Buzz with a few personal remarks about her childhood dreams of going into space. Buzz gave his keynote presentation to an enthusiastic crowd of 3,000 people on the aircraft carrier's huge hangar deck. Everyone listened intently, as he spoke about his experiences on the Gemini 12 and Apollo 11 space flights – especially walking on the moon's surface. He then articulated his vision for future human space exploration, with a primary focus of landing on Mars within the next 2 decades.
[<photo 6> Crowd & Buzz in HB]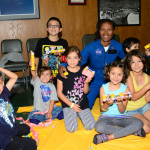 Afterward, the audience was able to get their Mission to Mars books signed by Buzz (who autographed 719 copies in just two hours) and/or interact with the many members of the NASA and Navy Apollo 11 Recovery Team who were present. Julian Cruz was a lucky youngster who managed to collect an autograph from the Apollo 11 flight surgeon Dr. William Carpentier. The doctor actually spent more time in the NASA "moon germ" quarantine facilities than the astronauts!
[<photo 7> Bill & Julio]
After a long yet enjoyable daytime event, most visitors left the ship as it was being transitioned over to the evening cocktail reception and gourmet dinner. All hands – young and elderly – agreed that history is much richer than what is gained by just reading a book and, that learning can be fun. Proving the point are these two Sea Cadets from the Diablo Squadron, Aidan Mone and Jarod Whitman. Along with many fellow cadets and Boy Scouts, they provided great volunteer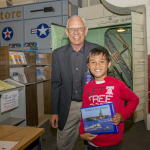 assistance, including passing out programs to arriving guests.
[<photo 8> Two Cadets & pgms]
I thoroughly enjoy chatting with people who have made history. Few of them protect their fame – most simply say they were "just doing their job." Given my membership in the baby boomer generation, those individuals are often participants in major world events of the World II or Korean War eras.
However, it's very clear to any historian alive today that a major shift in "demographics" is well underway. This was clearly demonstrated by our two featured astronaut speakers at Splashdown 45.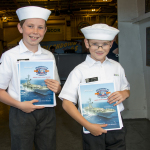 Buzz Aldrin is an alpha-male reflection of his generation. In that timeframe, positions of power and responsibility were largely held by Caucasian men, with a majority having had military service and some level of combat action. The primary metric for becoming a hero within the Greatest Generation was military-oriented achievement. But, as shown by the trials and tribulations of the Tuskegee Airmen or the 442nd Regimental Combat team, it was difficult for minorities to break into the ranks of those who were publicly recognized for high achievement.
Buzz was a graduate of the US Military Academy at West Point. As a USAir Force fighter pilot, he shot down two MIGs in combat over Korea. He earned an advanced Sc.D degree from MIT by writing a thesis on Manned Orbital Rendezvous, which became extremely useful to NASA's upcoming lunar landing program. When he joined NASA in 1963, he was in the right place with the right training and knowledge. He performed well during the Gemini 12 flight, which placed him in position to became world famous as the second human to ever walk on the moon during the Apollo 11 mission. Even at age 84, Buzz continues to be a major voice for expanded US manned space exploration.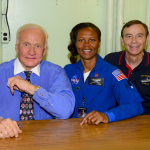 Yvonne Cagle is an African-American woman who was born at West Point because her father was an officer in the US Air Force. Yvonne earned her BA in biochemistry from SF State University, and an M.D. degree from the University of Washington. She received a certificate in Aerospace Medicine from the USAF School of Aerospace Medicine in 1988.She was actively involved with aircraft assigned to provide medical support and rescue in a variety of aero-medical missions.
Selected by NASA in April 1996, Yvonne completed two years of training and evaluation, and is qualified for flight assignment as a mission specialist. Her initial assignment was at the Astronaut Office Operations Planning branch, supporting the Space Shuttle Program and International Space Station, followed by a special assignment to NASA's Ames Research Center. The shuttle program was terminated before she was assigned a spaceflight mission. Yvonne continues a significant role with NASA and is also a practicing family physician.
Both of them are a credit to their generation and a reflection of the times and needs during which they served America's space program. They, both being highly educated, possess keen intellects and are interesting to talk to!
Would one have been the "better astronaut" than the other during their years of top physical and mental performance? Well, it depends on the mission! If we needed to launch a hazardous mission to lasso a killer asteroid that was bearing down on earth, Buzz would be the better choice. But, if we needed to launch a mission to Mars to study its potential habitability, Yvonne is clearly better suited. Americans are very lucky to have such a diverse group of heroes who answer the call of national service throughout many generations.
ALIVE East Bay magazine was an important Media Sponsor of Splashdown 45.
More event photos can be found on this website: http://susanwoodphotography.com/Splashdown/Splashdown-45