Bless Santa's heart for choosing such an obscure location for his world headquarters, but he's got to have a few neighbors who don't work for him at the North Pole. There's probably a Farmers Insurance agent, a cop and fireman, maybe even a CVS store manager. If somehow I ended up living in the neighborhood, I might also be a bit concerned about my Wi-Fi connectivity for Skype, my Dish satellite reception to watch my programs, our access to a Peet's Coffee and how far away is the nearest Crunch Fitness facility?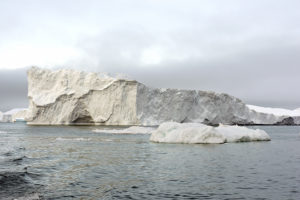 If I lived at the North Pole, I would get a job at Santa's factory. Tyler H., Age 6
If I lived at the North Pole, I would run away. Colton M., Age 8
Similar to the civic courting Amazon has recently received (238 proposals) for their second headquarters site, the Economic Development Department at the North Pole City Hall must have put together one heck of an impressive economic incentive package when swaying Santa from his previous location. There must also have been perks galore from the North Pole Chamber of Commerce and the North Pole Owner's Association, because why else would you choose such a challenging place to set up shop…a work shop? Employee retention could be one reason, perhaps the only reason. I don't mean to be politically incorrect, but where else does a large population of elves reside? In the big picture, it does make sense to locate close to your employee base and unless I'm mistaken, I don't think there's a big magical elf population in Texas, Nevada or Michigan, just to name a few of the other potential suitors for Santa's Apple-like campus.
If I lived at the North Pole, I would visit Santa every day and I would give him presents to give to the kids. Justin L., Age 6
If I lived at the North Pole, I would find Santa and build ice sculptures. Lucus T., Age 7.
If I lived the North Pole, I would go see Santa and help him make presents. Caden R., Age 9.
If I lived at the North Pole, I would help the elves make toys and then help deliver them and then I would do it again the next year and the next year and the next year. Ava A., Age 5
If I lived at the North Pole, I would find Santa's castle and ask him to make me an elf. Maddox G., Age 7
I've been enjoying some pleasant late fall weather the last few weeks of November. Chilly mornings, comfortable afternoons and cool evenings are indicative of this time of year. Some (me) say autumn is the nicest time of year to visit the greater Bay Area. Rumor has it that Santa and Mrs. Clause were seen in Walnut Creek around Thanksgiving. Granted we don't get to experience the delightful seasonal weather changes of places such as the Rocky Mountains, the Pacific Northwest, or the East Coast, but we get more variety than the North Pole. Can you imagine spending 365 days a year living at the North Pole? Well, 350 days given two weeks for vacation and one very busy workday of travel. I think the term "white-out" was conceived in the North Pole when a local mommy went to pick up the kids from school and couldn't find the school because it was covered in snow.
The North Pole is located in the middle of the Arctic Ocean amid waters that are almost permanently covered with constantly shifting sea ice. Winter temperatures at the North Pole can range from about −50 to −13 °C (−58 to 9 °F), averaging around −31 °C (−24 °F) and summer temperatures (June, July, and August) average around the freezing point (0 °C (32 °F). I could be wrong, although I rarely am, but I doubt there's a lot of variation in the temperature during the spring or fall.
If I lived at the North Pole, I would freeze to death, Grayson G., Age 9
If I lived at the North Pole, I would build a fire every day. Pierce B., Age 6
It's said, home is where the heart is, but wouldn't my heart be mighty cold at such a desolate snow-centric location? Housing might be inexpensive, however can you imaging what my PG&E bill would run every month? I doubt solar is an option. It must be murder (6-9 month wait) to get an appointment with a furnace and insulation contractor.
If I lived at the North Pole, I would make an igloo house. Caleb S., Age 8
If I lived at the North Pole, I would make friends with the animals and the Elves, Zoe O., Age 7
On the positive side, my sock and sweater collection would undoubtedly be impressive. I like socks, but sweaters make me look a little bulky. By bulky, I mean that visually I appear to weigh about 350 lbs. in a nice cardigan. If I grew a white beard and wore a red sweater, the big man might have a doppelganger roaming the streets of the Pole.
If I'm getting technical, and I do like to get technical, the North Pole, also known as the Geographic North Pole or Terrestrial North Pole, is defined as the point in the Northern Hemisphere where the Earth's axis of rotation meets its surface. The South Pole on the other hand, lies on the opposite side of the Earth from the North Pole. Now I don't know if the North Pole and South Pole relationship is quiet as contentious as North and South Korea or North and South Dakota, but for the purpose of this article I'm going to assume it's all cool between the two Poles. See what I did there? "All cool," get it? That said, there's got to be a little Santa envy coming from the south. There's no real government faction that rules the South Pole, largely because there's no indigenous peoples and no one lives there permanently, but somewhere there's a lonely scientist in a remote South Pole artic research station pissed off because he can't hang with Santa and the elves at the local sports bar like his northern counter-part.
Should we one day look to downsize and relocate, the North Pole will not likely be one of our potential senior community destinations, I really like Bend, Oregon personally, however, I will keep an open mind. It will ultimately depend on where our kids end up settling and if that turns out to be the North Pole than anything is possible.
Have a happy holiday season.