While it was not officially branded as such, our February 2014 issue was a "special" edition of ALIVE—at least to me it was. If you're a regular reader you may remember; it was our ALIVE… for the love of chess issue, and most of the editorial in the magazine that month had something to do with the game of chess.
Now I realize not everyone loves or even plays chess, so let me be clear—this article isn't really about chess at all, it's about people, and how playing the game has afforded me the opportunity to connect with players all over the world.
Prior to the internet, if you wanted to play chess with someone far away, your only option was to play chess by mail, via the good old U.S. Postal Service—but those games could easily last months or even years. Then, in about 1990, email was introduced and you could play using one of the few email services like AOL. While that moved things along at a much better pace, you were still limited in terms of who you could play with. The fact was, unless you belonged to a chess club (something few and far between) one's entire chess-opponent-universe consisted of people you already knew; those friends and relatives who just happened to enjoy playing chess too. In my case, that meant my dad, my younger brother, one friend, and one cousin that I only saw at family get-togethers a couple of times a year.
Of course by then there were chess programs that allowed you to play against your computer, but computer chess just wasn't the same experience as playing with another person. It was like dancing in a mirror—dry, cold, and unsatisfying.
By the time I graduated from high school, chess had moved pretty far into my life's rear view mirror. In the years that followed, every so often I'd encounter someone who played, but it was pretty rare.
Then came the iPhone.
I was a Blackberry user until about 2008 when I switched to my first iPhone. I used it primarily for business, so email and calls were about it for me. I had little use for apps, and while I knew there were chess apps, I assumed they were all just mobile versions of computer play. For several years, I never really thought about my iPhone in terms of playing chess (I know, pretty dumb of me).
Then, in 2012, something clicked in my head. I had the urge to play chess but had no one close by to play with, so I began searching the app store to see what was available. I discovered several different apps that facilitated live play and after trying out a few, I settled on an app called Social Chess. There was a free version that allowed you to play up to five games at a time, which I tried for a month or so, but soon decided that the enhanced benefits offered in the paid version were well worth the $9.95 price.
Now, five years later, I have to say that the real benefit of the Social Chess app has less to do with the chess and more to do with the "social" than I could ever have imagined. I have played chess with people in nearly very state in the U.S., as well as countries all over the world, including Russia, Australia, Germany, France, Indonesia, Cuba, India, Mexico, Iran, Ukraine, Malta, England, Spain, Brazil, Japan, and many others. All totaled, since July 2012, I have played a total of 2,185 games (1,138 wins, 953 losses, 94 draws).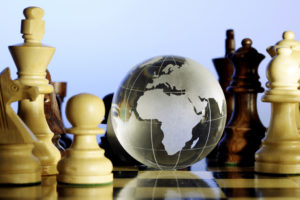 The best part of this system is that alongside your chess games, you can converse through a text add-on function, enjoying conversations with your opponents. I've made some very interesting acquaintances, learned a lot about much more than chess, and best of all, have made some wonderful friends that I never would have met, if not for our mutual interest in chess.
Today, I typically have anywhere from a dozen to thirty games going at any one time, so it's not uncommon to have an amazing geographic cross section of conversations happening all at once. For example, right now I have 18 games going with two different players in Mexico, two in Russia, one in India, one in Germany, one in Michigan, two in New York, one in Florida, one in Berkeley, one in Louisiana, and one in Los Angeles. Another five of my current games are with players who prefer to play without revealing their location.
Of course, just like anyone you meet in life, not everyone who plays wants to connect much beyond the game itself. Some partake in the app for the game alone, and while I'm fine with that, I much prefer playing with the people I've met who have become friends.
Take the last two I listed of my current games for example. The player in Louisiana, Matt, is a husband and father who works on a barge that travels up and down the Mississippi River and into the Gulf of Mexico for extended periods. We've been playing for about four years and have a game going almost all the time. He often has to work on holidays, so I know our games during those times become a good way for him to pass the time until he can reunite with his family. I've learned a lot about the work Matt does, but more importantly, about the kind of man he is. I have learned that his family has good reason to be very proud of him.
The player in Los Angeles, Felicity Ann, has become a very good, close friend. She has even become an occasional contributing writer in ALIVE (she's listed in our masthead), and had her first article in that special 2014 chess issue. Felicity currently works as a bakery manager, volunteers at her local library, and is multi-talented artist to boot. We exchange gifts at birthdays and holidays, and she is one of the brightest, most thoughtful people I've ever had the pleasure to know.
Who would have guessed that of all of that can be learned from playing lots of chess, and considering that chess was created as a substitute for war, isn't it ironic that the best thing about it would be learning about other cultures, other people, and most of all, making new friends.
Yes, I certainly do enjoy playing chess, but unlike dancing in a mirror, it really is the game's connection with people that makes it worthwhile playing at all.
Often referred to as "The Royal Game," chess is considered, by most accounts, the world's oldest game, having been played at least since the sixth and probably fifth century. The game is thought to have originated in India, although some argue that China was its true birthplace. The earliest known literary reference to chess was from India, in a Sanskrit romance called The Vasavadatta, in 590 A.D. Another, slightly later reference comes from Persia, from about 600 A.D., in another ancient romance called Kárnamák.
The Game of Chess is not merely an idle amusement; several very valuable qualities of the mind, useful in the course of human life, are to be acquired and strengthened by it, so as to become habits ready on all occasions; for life is a kind of Chess, in which we have often points to gain, and competitors or adversaries to contend with, and in which there is a vast variety of good and ill events, that are, in some degree, the effect of prudence, or the want of it. By playing at Chess then, we may learn: 1st, Foresight, which looks a little into futurity, and considers the consequences that may attend an action … 2nd, Circumspection, which surveys the whole Chess-board, or scene of action: — the relation of the several Pieces, and their situations; … 3rd, Caution, not to make our moves too hastily…
Benjamin Franklin, "The Morals of Chess" (article) (1750).