At our family White Elephant Gift Exchange this holiday season, I ended up with an actual white elephant. Excuse me, an albino pachyderm to be more politically correct. I was a little distraught to say the least when my name was drawn last and the only gift still under the menorah tree was a two-ton elephant calf. Who knew someone could actually buy a "white elephant" for a White Elephant gift exchange? That gift, that was apparently ordered through Amazon, came by way of my out of work, over tattooed, legalize pot voting niece. I thought we had a $50.00 limit? Now, in addition to a costly wellness visit to Blackhawk Veterinary, I should probably be expecting a hefty HOA fine next quarter for housing a pet the size of a recreational vehicle in my home.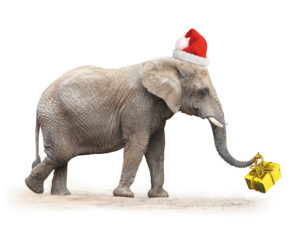 The folks at Wikipedia tell me the term "white elephant" refers to an extravagant but burdensome gift that cannot be easily disposed of, based on the legend of the King of Siam gifting rare albino elephants to courtiers who had displeased him, that they might be ruined by the animals' upkeep costs. Last year, my White Elephant present was a gift card to Fuddruckers. I love Fuddruckers! What are the chances I can re-gift my elephant between now and Christmas? I do have an office party coming up.
Our family transitioned to a White Elephant gift exchange format after years of going into debt buying presents for every niece/nephew, brother/sister, aunt/ uncle, grandparent, grandchild, step child and second cousin twice removed by a divorce or annulment. I was buying gifts for relatives I never knew I had, assuming they were actually my relatives. I once bought a tie for a guy who was either my half brother-in-law or the young man who delivers our Contra Costa Times paper in the morning. Why do we do this? I don't see a lot of these family members except during the holidays and I certainly don't feel overly close to most of them. To be totally honest, I'm more emotionally connected to Hazel in the Costco photo-mat, Rob, a teller at Wells Fargo, and Donna, my favorite checker at Draeger's, than I am to my sister's third boyfriend (following her legal separation) and his five children. Granted, it's the spirit of the season and it's better to give then to receive, but do we need to "give"ourselves into the poorhouse?
I don't want to come off as a more handsome and athletic version of Ebenezer Scrooge, however, it seems to me that families should place more emphasis on connecting throughout the year and not stress so much about what to get each other on this one specific day. I truly don't need any of my friends or relatives spending their hard earned money on another gift basket from Cost Plus World Market, complete with an inexpensive red wine, assorted international cheeses and chocolate covered expresso beans simply out of obligation. It's bad enough that every gift our privileged kids want today is a real life adaptation of the popular Dr. Suess novel, The Grinch that Stole My Holiday Paycheck. There's no such thing as an inexpensive i-anything. Even elephant toys are grossly overpriced.
Getting back to my pachyderm predicament, here are some of my concerns when it comes to raising an elephant in my suburban enclave;
Apparently elephants love to cuddle. My Lazy-Boy recliner isn't that big or that sturdy.
Apparently elephants have bad eye site, but a keen sense of smell. Great, I can hide the peanut butter cookies, but he'll probably sniff them out.
Apparently elephants can live to be 70 years old. That's 70 people years. I'll be lucky if I live to be 70 given that I have an elephant to take care of now.
Apparently elephants laugh, cry, play and have incredible memories. So do my neighbor's kids, less the includible memories.
Apparently elephants love to swim and use their trunks like a snorkel in deep water. What's the leash policy at Oak Hill Park in Danville?
Apparently elephants are herbivores, spending 16 hours a day collecting plant food. Their diet is at least 50% grasses, supplemented with leaves, bamboo, twigs, bark, roots, and small amounts of fruits, seeds and flowers. Great, there goes my newly landscaped backyard. If only she just liked an occasional sandwich, our neighborhood has enough wild turkeys and gophers to last her a few years.
Apparently elephants are one of the few four legged animals who can't run or jump. That must explain the weight issue. Scratch the Frisbee idea.
Apparently an elephant's trunk has more than 40,000 muscles in it and no bones, which give it the flexibility. However, the trunk can get very heavy at times. So, the elephants are seen to rest it on nearby objects. I better not catch her resting that big old thing on our horribly expensive BBQ Island or she can spell home, S-P-C-A.
If any of my loyal readers thought I actually got a real live elephant at a White Elephant holiday gift exchange then we'll have to ask your attendants to take away your paste and crayons for the day. You know how I like to tease. The annual White Elephant family, friends, neighbors, office, club or cellmates gift exchange is a delightful holiday tradition. Sadly, now that I'm finally out of Alive and Chillin' books, I may actually have to go out and buy something this year. Maybe I can find a white elephant carved out of actual ivory? Something about that idea doesn't sound ethical, but it's a start. Happy holidays.