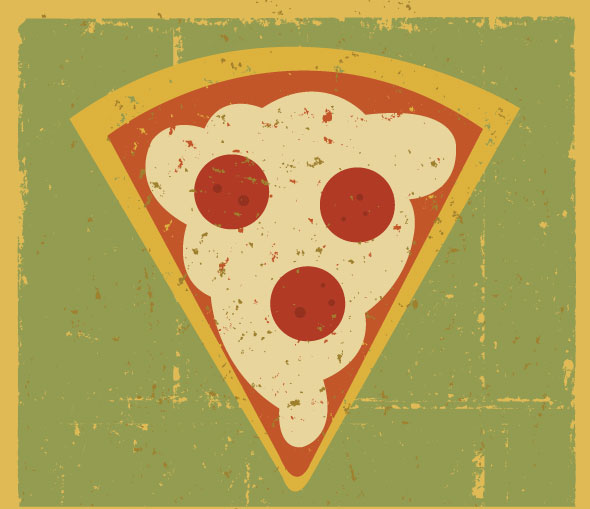 By-in-large, and by that I mean a large sausage, black olives and mushroom on thin crust, American's love pizza. Pizza has become an American staple similar to bottled water, mobile phones, coffee drinks, and GPS devices. American's spend approximately $39.8 billion on fresh and frozen pizza each year. From the chain pizza parlors such as Round Table, Pizza Hut, Straw Hat, Little Caesars, Garlex, New York, Godfather's, Domino's, Z Pizza and Papa John's to the higher-end pizza establishments such as Amici's, Ascona's, Skipolini's, Gay 90's, Zachary's and California Pizza Kitchen, pizza is everywhere. Costco even sells pizza for gosh sakes. Every supermarket in the country carries a full line of frozen pizza including Totino's, Red Baron, DiGiorno, Freschetta's, Healthy Choice and Stouffer's. Pizza is big business and I for one contribute to the great pizza economy every chance that I get.
Based on rough calculations, I have determined that in my lifetime I have consumed approximately 3.2 tons of pizza. If you lined up every pizza I've eaten side-by-side, you could create a walking bridge from Danville to Australia. If you balled up the equivalent of just the dough and cheese base from these subject pizzas, scientists and engineers might have a reasonable cap for the BP oil leak in the Gulf of Mexico. Needless to say, I, like a majority of the American public, love pizza. My mouth waters just thinking about a piping hot pie made of a rich tomato sauce, melted mozzarella cheese, a perfectly baked crust, the right combination of garlic and herbs and a collection of delectable toppings. Whether you like a traditional cheese or pepperoni or a unique combination such as Canadian bacon and pineapple, thick or thin crust, cheese in the dough or one that's glutton-free, the beauty of pizza is that you can get it made-to-order. If the government really wanted to reduce our country's growing deficit they would get into the pizza business. The tips alone could fund national parks system.
Thanks for my friends at Wikipedia, it was learned that pizza dates back to the 16th century, where in Naples, Italy it was flatbread covered in a white sauce. Pizza was considered a dish for poor people and not thought of as a kitchen recipe. It was kept warm in copper cylindrical drums with false bottoms packed with charcoal from the ovens and sold on the street. Pizza made its appearance in the United States with the arrival of Italian immigrants in the late 1800's where it was sold at neighborhood cafés and grocery stores in Italian-American communities. The location of the first U.S. pizzeria is disputable, but it was believed to be in the Little Italy section of Manhattan. An entire pizza sold for $0.05. The modern pizza industry was born when troops who had fought in Italy during World War II returned home with a new appreciation of the delicious treasure they had discovered. Pizzeria Uno, in Chicago, opened in late 1943.
Personally, my relationship with pizza dates back to my toddler years. I was often served Gerber's Creamed Pizza baby food from a jar. I just couldn't get enough strained pepperoni and pureed bell peppers, but I never did acquire a taste for the beer flavored formula. As a child growing up in rural Mountain View, Round Table was one of the first local pizza parlors in our area and a trip to that wonderfully edible paradise was better than any meal my mother slaved hours over. Sorry mom. To watch the minimum wage pizza cooks work their craft of spinning a wad of dough in the air was magical. Especially when I would drop a quarter in the jukebox and play the song Dream Weaver by Gary Wright and fantasize about one day being a minimum wage pizza man. When we didn't eat in we would bring our pizza home on a square piece of brown cardboard covered with tin foil – that was long before the elaborate pizza boxes of today. Monday nights during the fall were a special "pizza time" at our house. My family would all sit around the huge 17-inch black and white television screen to watch an important football game between powerhouses like the Los Angeles Rams, Baltimore Colts, Houston Oilers and St. Louis Cardinals. Howard Cosell, Frank Gifford and Dandy Don Meredith would broadcast the action while we eat our triangular slices of heaven off a stand-up TV tray while guzzling RC Cola. Those were good times.
By the time I got to high school, and then on through college, pizza became as much a social networking medium as it was a meal. Pizza was our Facebook. Back in the olden days, people actually met face-to-face to talk and find out about each other. Pizza was an affordable, delectable, plentiful food source used to nutritionally enhance a group gatherings or an inaugural romantic interlude (aka, first date). You don't have to be a rocket scientist to know if you locate a pizza joint anywhere close to a high school or college you'll probably be printing money assuming the pizza you cook up doesn't taste awful. Come to think of it, we even frequented the awful tasting pizza places too if they had a large screen television programmed to a sporting event and cold/cheep beer.
Today, as a mature adult and responsible father, I still consume pizza approximately 2.5-15.75 times during any given month. Pizza is an easy dinner decision after a long week of work. Pizza is a logical meal choice to serve at a birthday parties or when the kids have friends over to the house. Pizza is too convenient to not pick-up following a mid-week school function and how many times do we grab a pizza on the way home during a typical suburban weekend day spent racing around the greater Tri-Valley attending a variety of sporting events such as little league baseball, softball, soccer, football, lacrosse, swim or track. It's not documented anywhere, but my rough guess is that my family has celebrated 132 youth sports season ending parties at one local pizza parlor or another around the Town of Danville. If a simple slice equaled a share of restaurant stock, I would be the controlling partner of both Garlex Pizza and Primo's by now.
It's funny how reliable we can become upon something like pizza. Sadly, I can admit that I've eaten cold pizza for breakfast, heated up pizza for lunch and gone out for pizza for dinner…..all in one day. Added to the traditional pizza options, there are a quandary of pizza type products such as, pizza pockets, pizza rolls, pizza bagels, pizza flavored Doritos and Jamba Juice's new pizza flavored smoothie. OK, I'm kidding about the smoothie, but obviously the pizza industry continue to thrive and for good reason. Pizza has become an American staple.