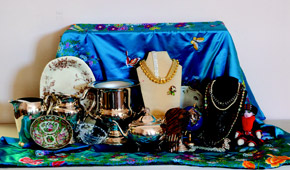 The Blackhawk Museum Guild of Danville is sponsoring their Second Annual Bargain Basement Sale that begins with a first-choice buying opportunity at a wine tasting and hors d'oeuvres preview on Friday Night September 9, from 5 to 8 pm for a $20.00 per person donation. Admission to the weekend Bargain Basement Sale is free to the general public on Saturday September 10th and Sunday September 11th from 9 am to 5 pm.
Donated items from the East Bay community, including Danville and San Ramon, will be offered for sale at bargain prices. Items that were generously donated for last year's blockbuster charity event raised funds for the Blackhawk Museum Children's Education and Transportation Fund. Many objects that were purchased for extraordinary bargain prices at the last event included antiques, collectibles, oil, acrylic and watercolor paintings, a Remington equestrian bronze recast, sets of Lenox and Wedgwood dinnerware, sterling silver flatware, table linens, Royal Doulton and Lladro porcelain figurines, Baccarat and Waterford crystal, jewelry, watches, furs, vintage and designer clothing, kitchenware, toys, sporting goods, camera equipment and thousands of books. Furniture and electronics are not being accepted for donation.
To guarantee that the 2011 Blackhawk Bargain Basement Sale event will prove to be even more successful than last year, the public is invited to donate tax deductible items to the 501c (3) non-profit charity. Items suitable for the sale may be dropped off at the Blackhawk Museum from Wednesday to Sunday or call 925.736.2277 Ext. 651 for pick up or more event information. Blackhawk Museum, 3700 Blackhawk Plaza Circle, Danville, California.