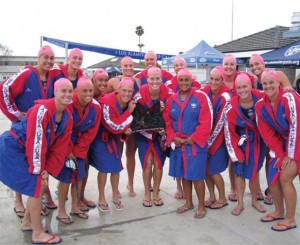 "The future belongs to those who believe in the beauty of their dreams" – Eleanor Roosevelt
Excitement buzzed through the gym as Melissa Seidemann shared her gold medal and spoke to the College Park High School community about her Olympic debut in women's water polo. Her message? Set goals, work hard, and never stop believing in yourself! As Team USA's second highest scorer at the London Olympics, the CPHS alumna helped her team make history with the USA's first ever Olympic gold medal in water polo.
Melissa began training with the National Team in 2010, splitting her time between the national team and Stanford.  She took the past year off in order to compete at the Olympics. Adam Krikorian, head coach of Team USA's women's water polo, said he is thankful to her for making the commitment and for pushing through the hard times for the team. "It came with a lot of difficulty for Melissa in the beginning," said Krikorian, "She struggled with her decision about making the commitment – mentally more than physically. I told her I would love to have her on the team, but that it would be the hardest thing she would ever do in her life. However, in the end, it would be the most rewarding. When forming a team you need understanding, respect, and trust. And it all starts with communication. Mel and I have a very good relationship. She is open and able to communicate, and she is rarely afraid to have a discussion. We have had many respectful discussions over the past couple of years that have been important for me to get a good sense of where not only she is, but where other younger players are coming from. And, behind Mel's strong opinions is a huge, huge heart, and she cares deeply about everyone on the team."
When asked about Melissa's future with the national team, Krikorian replied, "I sincerely hope she continues. She is a big part of the team, in and out of the water. Ultimately, it's her decision. It would be another great four years for the team, with a large impact on how the team performs in the future."
Melissa started playing water polo in the 7th grade and has had positive role models along the way. Now, as an Olympic Gold Medalist, she is "paying it forward" by sharing her story of success and inspiring younger kids to set their goals high. "I've always been very competitive and I've always wanted to be the best," said Melissa, "Now I'm working and playing with the best of the best."
Melissa shared some of her experiences in the following interview:
SW: What was the biggest challenge you faced getting to the Olympics?
MS: "Taking time off school was hard. I felt like I was missing out on my senior year. But looking back now, I know it was the right decision and I'm blessed with a second senior year at Stanford."
SW: Was being one of the youngest on the team hard?
MS: "I didn't feel like there was a separation. The older players shared their past experiences, which helped our team. We learned from their successes and their failures. We trusted each other and came together and played as a team."
SW: How did you stay focused at the Olympics?
MS: "My family was there. Seeing them when I walked out of the waiting area before games and spending time with them after games kept me grounded."
SW: What have you learned about yourself?
MS: "I used to be a more emotional player and it was hard to control my emotions in the pool. I check myself more now, which has come with maturity."
SW: Has water polo changed for you?
MS: "Before I only thought about water polo and just wanted to play. Now it is more about "the team". We are not just individuals playing. There's a major focus on team building."
SW: What advice would you give younger players?
MS: "Find a sport you love and remember to have fun. Get involved with the community of your sport. It could have a lot to offer."
SW: What advice would you give parents of younger players?
MS: "Be encouraging of their successes as a team. Be diligent about getting them to practice because we don't always want to go."
SW: What now for you?
MS: "It's too soon to commit 100%. I'm enjoying my freedom right now and I'm going to enjoy my senior year at Stanford. I was having fun being a kid and didn't really want to grow up. Traveling the world, I've had to grow up and become more responsible. I'm going to take a little more time now before growing up any more."
Olympic Development Program (ODP) National Technical Director Kim Everist runs the pipeline for USA Women's Water Polo. Everist (a Pleasant Hill resident) was a member of the USA Junior National Team in the late 80s and has coached and mentored countless girls and young women. She offered some advice to parents of young athletes:
Let your kids have the freedom to explore their own journey. It's easy to be protective and afraid our kids might fail. Trust that they will find their own way. Let them take risks. Once they step outside of their comfort zone, it will change them forever. It will start a ripple effect, planting the seeds for building their confidence and their belief that they can succeed. Let them fail. It's in our failures that we actually learn life's lessons, building character.
As they continue to grow up, don't stop letting your kids fall. When our babies are learning to walk, they fall and we pick them up. They fall again and we pick them up. Soon they stop falling, having learned how to stand on their own two feet.
When the Women's National Team failed to reach the medal round at the 2011 FINA World Championships, they learned from it, pulled themselves up and came back to change history with the Olympic Gold Medal. I work to help girls build their self-esteem and confidence so they can achieve their ultimate potential. And it always comes back to believing in yourself.
______________________________________________________________________________
 Twelve years ago, opportunities in girls' sports were extremely limited and it wasn't until 2000 that women's water polo first appeared in the Olympics. East Bay locals, Maureen O'Toole-Purcell and Heather Petri were both members of that first USA Olympic team. Growing up, no girl's water polo teams existed for them so O'Toole-Purcell and Petri played on boy's teams. Bringing home the silver medal from Sydney focused attention on the sport and more girls started playing. "Opportunities have expanded tremendously over the past 12 years," said O'Toole-Purcell, "With growing numbers of club, high school, and college teams, girls now have something to strive for. Now, with Olympic Gold, the spotlight will shine even brighter on the sport."
O'Toole-Purcell encourages her water polo players to constantly challenge themselves by getting out of their comfort zone every day. "If you want to get to the next level you need to go above and beyond what is asked of you," says O'Toole-Purcell, "You have to work harder, attend more practices, and be a student of the game." To parents she advises, "Be supportive of your kids. Be proud of them and get them to practices. Love them and then stay out of the way so they can learn for themselves. They need to learn responsibility all on their own."
______________________________________________________________________________
Danville's two-time Olympian, Jessica Steffens started playing water polo in 9th grade. "Any kid who plays sports dreams about going to the Olympics," she said, "When Maureen O'Toole-Purcell came back to town with her silver medal in 2000, it was the first Olympic medal I'd ever seen and it inspired me. When she told me she wanted to see me in Bejing, I knew it would be tough physically and mentally and, at that time, I didn't think I could do it. Then I made my first Junior National Team and got a taste of what it was about. That's when I realized I wanted it and that it was possible if I worked hard enough."
"Jessica has the fighting spirit," said Olympic team coach Krikorian, "After winning the world championships in 2009, she was forced (with shoulder surgery) to sit out all of 2010. Halfway through the Olympic cycle, when most people would probably have chosen the easy way out, Jessica showed her determination and deep competitive spirit and committed to her rehab. Watching her team continue to be successful and win in 2010, she must have had some doubt but her ability to handle diversity and overcome obstacles really showed her character, fighting back to play her best at the end of 2012."
Younger sister Maggie joined her on the 2012 Olympic team, making a big splash as Olympic MVP. "I've wanted it since I was five years old," said Maggie, "I played soccer and wanted to be just like Mia Hamm."
Being an Olympic athlete is a full time job and tough physically and mentally. "We worked HARD to get there," the sisters said, "You can't just 'be there to get there,' you have to take every opportunity and must be completely present at every workout, at every game. We were forced outside of our comfort zones every day, constantly being put into uncomfortable situations that we didn't necessarily want to be in. We finished swim sets that we didn't think we could finish. We carried chairs across the pool for eight minutes with our bodies burning. We had to go to bed early and were up at 6:00 a.m. every day to get in the pool. We had to watch what we ate because of the importance of good nutrition. We were in the sun during the worst hours of every day. Not doing these things was NOT an option. Normal life is put on the side."
"It makes you more aware of everything you do. Someone is always watching and we use that to inspire other people, other kids," he sisters added. It sometimes felt overwhelming to them but, looking back now, they both say, "It was so worth it and we were still having fun. Having your sister with you receiving the Gold medal made it even better. We were sharing not only our country's name but our family name too. We can't think of being prouder!"
"Put your full effort into whatever you do," they say, "It's all important – homework, friends, family, sport practices… If you have a dream and REALLY want something, go for it! It can happen!" Now, with the 2012 Olympics behind them, Jessica is taking some time to decide what she will do next. For Maggie, it's off to Stanford and college water polo with USA water polo on the side. She will continue working hard but is excited to start her college career and just be 19 again for awhile.
 ______________________________________________________________________________
 Four-time Olympian (and CAL alumna), Heather Petri understands the importance of "giving back." Since being on the National team, Petri has traveled the world, met three Presidents, worked out with the Navy SEALS, gone in the "O" Cirque pool and played water polo with their performers, hung out with the USA men's Basketball team and talked to coach K and lived in Italy and Greece. Now she spends her days "paying it forward" with a non-stop schedule of community events, parades, TV shows and charity appearances—sharing her medals and inspiring others.
Cancer charities are a passion of hers. Having watched her aunt and others in her life battle the disease, she is most frustrated at how helpless it makes patients and families feel. "As an athlete I know that I have complete control over many aspects of my life and training. I choose my attitude, how hard I work, what fuel I put in my body, what lifestyle choices I make, what physical therapy treatments I seek, how much sleep I get—all of these—if I do to the best of my ability, will put me in a good place to succeed," says Petri, "But a disease like cancer just does what it wants. While doctors and medicine are doing their very best to combat the effects of the disease and find what causes it, at this point it still is a disease that just keeps attacking no matter of age, race, or status."
Teaming up with former CAL water polo teammates, Petri took part in her first "Swim Across America" event in San Francisco bay four years ago after the Beijing games. "It was an incredibly inspiring event and I knew I wanted to do it again," she said. This year Petri joined another group of water polo players and her team, the Chemhoes, raised $24,640 toward the total $359,890 raised in this year's SF Bay swim. SAA raises money that goes directly to local hospitals and Petri got to visit those hospitals and meet children going through treatment, sharing her medals and bringing smiles to their faces. "It is real," said Petri, "What we do just swimming in the Bay can change the lives of these people."
Petri also organized a breast cancer awareness game for her National team during the Holiday Cup this year. During the game their team wore pink caps and presented a signed sports bra for an auction in support of breast cancer awareness.
In November, Petri will be off to Africa as an Athlete Ambassador for "Right to Play," a non-profit started by an Olympian to help give children the right to play sports in areas of the world where they are simply trying to survive. She's excited to be going to Rwanda and Uganda where she'll be playing with the kids, meeting the coaches, and seeing firsthand how the organization functions in the field.
Asked about the best advice she ever got, Petri responded, "My parents wanted me to try everything when I was little. If I wanted to paint I could try it. Wood shop, sewing, softball, volleyball, swimming, piano, basketball—I tried them all. But there was a stipulation. If I started something, I had to finish it. That meant I needed to go to every class, every practice. I couldn't skip one because I didn't feel like going. I would show up early and give it my full attention. Then when the activity ran its course I could re-evaluate if I wanted to do it again. If not, that was fine. No pushing to do it again. I needed to make the decision for myself."
"I realize now that they were instilling in me the need to be accountable for my choices and complete what I started. They were teaching me to respect the time I put into activities and have pride in my efforts. Some things I didn't enjoy as much as others and that was part of the process of learning who I was and what I truly enjoyed. I found myself gravitating toward the pool and poured all my energy into it, dedicating myself because I loved it rather than because someone told me to do it. At 34, I was still playing (in the pool) and loving it.  Sadly, I am now retired from the National water polo stage. I have loved every second of this 13 year journey, but now, it is time to search for the next adventure."
Olympic team coach Adam Krikorian said Petri will be missed. "If anyone was the glue that held the team together outside of the water, it was Heather with her unwavering support of her teammates. Heather is as decorated as anyone in the sport but behind it there is a huge heart and she provided a lot of love and support to the entire team throughout."
 ………………………..

STRIIVE
STRIIVE's Dr. Troy Chamberlin and his staff train adults and young athletes in weight loss and core development at their Danville studio. Maureen O'Toole Purcell is a big supporter of Dr. Troy and STRIIVE. In addition to working out with him personally, she encourages her players to work out with him too. "I think the program is fantastic," says O'Toole-Purcell, "They are hard, big energy workouts that get you in great shape." For more information on STRIIVE, go to www.STRIIVE.com