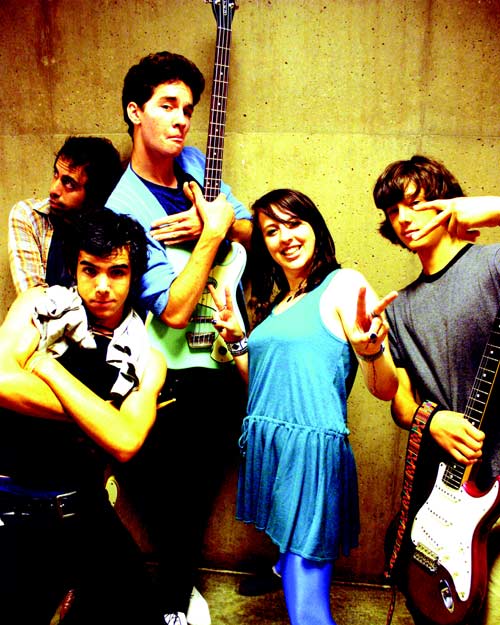 If you closed your eyes and just listened you would think, "Wow, Jimi Hendrix is still alive and well." The blazing guitar licks sounded dead on. However, the reality is that those guitar licks are coming from a gifted 13 year-old shredder from Southern California. This isn't 1967 in Golden Gate Park, it's just another day at Soundwall, the summer rock n' roll music camp founded 17 years ago in San Ramon, California.
In 1992, Jana Pantazelos, a Danville resident and former music teacher, was looking for a summer music program for her 13 year-old bass-playing son, Nick. She found lots of music camps, but not a single one that was rock-oriented. Private lessons were available, but lacked the well-rounded practicality of what musicians can expect in the real world of rock music.
The next summer Jana launched the first-of-a-kind Rock N' Roll summer music camp. With the help of music director, Mike Williams, they developed a program that stressed music fundamentals with an emphasis on rock music. Soundwall Music, the first-ever Rock N' Roll Summer Music Camp, was established in 1993 with 25 students enrolled for a 5-day summer session taking place at Cal High in San Ramon, CA. For the next four summers Soundwall continued to expand and evolve.
In 1996, thanks to continuous media coverage from the likes of CNN, Teen People magazine, local T.V. and newspapers, and due to a growing demand, Soundwall moved to the University of Santa Clara and started its residential (week long) camps. The camp offered two one-week sessions where the students stayed in the college dorms and worked on developing their musical skills in the university music building from 9am – 9pm. Soundwall attracted students from all corners of the globe including France, Spain, Chile, England, Mexico City and Japan as well as just about every state in the US.
In 2000 Soundwall suffered a great loss when its founder, Jana Pantazelos, lost her battle with cancer. Mike Williams took over as camp director and John Xepoleas, SF Bay Area drummer, educator and author, took over as music director. By 2001 Soundwall had outgrown the Santa Clara facility and moved to Santa Cruz. With its breathtaking view of the Pacific Ocean, rustic dorms and a state-of-the-art music center, the University of California at Santa Cruz became Soundwall Music's new home.
The Soundwall Summer Music Camps offer a unique music education program for young rock musicians in an environment not found in private lessons or school music programs. The program offers students a variety of courses to help them hone their craft including: instruction on their instrument of choice; vocal, song-writing and performance workshops; rock music history classes and music theory workshops.
In addition, the students have the opportunity to play a ton of music with other young musicians. On the first day of camp the students are assigned to bands based on their age, skill level and musical taste. The bands spend the week preparing for a Friday night concert for their friends and family in the University concert hall with a full-blown professional sound and light system. Each day the students rehearse with their band under the direction of pro staff members who guide them and offer tips on how to present the best possible performance. Each day the students also learn songs by AC/DC, Led Zeppelin, Green Day, Nirvana, Everclear, Sublime, Jimi Hendrix, The Beatles, Metallica and many other of their favorite rock artists. And, if that isn't enough, the famous Soundwall "Jam Room" is available to students throughout the day to jam with other campers, work on songs they've written or put in a little extra rehearsal time with their camp bands.
To facilitate the Soundwall curriculum a talented staff of experienced pro-musicians has been assembled. The majority of the staff members have been with the camp for 10 or more years. They include many of the San Francisco Bay Area's top musicians, some have which have performed and/or recorded with artists such as: Mars Volta; the Counting Crows; Joe Satriani band; 50 Cent's band; Pink's band; Montrose; Britney Spears' band and many others.
The Soundwall Rock N' Roll Summer Music Camps have often been copied, but never duplicated. Soundwall Music is a non-profit organization that has spent the last 16 years putting education before profit.
This summer Soundwall Music will hold its 17th session of rock n' roll summer music camps. They will be held at the University of California in Santa Cruz from July 18 – 23 and July 25 – 30. Enrollment is open to guitarists, bass-players, drummers, keyboard players and vocalists ages 12 – 17. If you are a young rock musician and want to have an experience of a lifetime, go to www.rockcamp.org and sign up.
Quotes:
"I just want to tell you what a wonderful experience this was for Peter. He has had lots of band experience with his own band and his school jazz band, but this camp added a whole new dimension for Peter. He is planning to play with a couple of the kids he met at camp and has a much better attitude about playing with other bands – formally and informally. Between the skills and technique workshops and the band experiences and the exposure to working musicians, etc, etc, he has come away with a much broader scope and a really inspired attitude towards music in his life. We plan to send him again next year. Thank you very much!!"

"I just want to let you know what a fabulous time my son, had at Soundwall. He came home feeling inspired and had nothing but praises for the instruction that he received while there. Friday's concert was amazing! It far exceeded my expectations. Nate is already talking about returning next year. Again, thanks for giving our son an excellent week of music!"

"We just wanted to say thank you again for Ryan's WONDERFUL experience at Soundwall. He got so much out of it, met so many nice people (students AND staff), and definitely wants to come back next year. You and the multi-talented staff did an incredible job of working with the kids so that they could perform as a team, and also provided some valuable life lessons. It was truly amazing to see so much talent last Friday, and it was a great experience that we'll be reliving for a long time to come!"