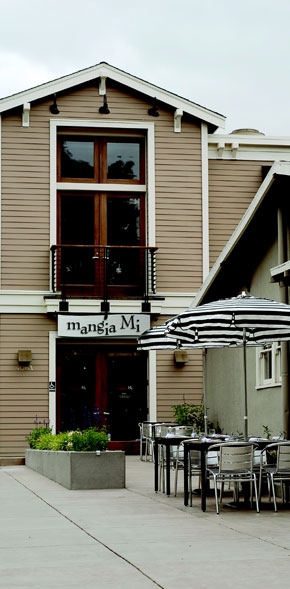 Warm, inviting, and executed with understated elegance, Mangia Mi is the hottest destination in Danville for those seeking approachable, quality Italian cuisine. From the moment you walk into Mangia Mi you are welcomed like family. The owner Peter Cedolini or General Manager, Jenny True attentively greet and seat guests as they entertain diners and get to know new faces. Most of the servers have been with Mangia Mi since they opened and speak highly of both their bosses and the clientele that come in. From the moment you are seated, Cedolini's meticulous eye is apparent. An open kitchen invites guests to take in the aromas and excitement of entrees, as they are prepared. Comfortable banquette seating as well as sleek aluminum chairs give the restaurant a modern, edgy feel. The carrera marble bar, wine bottle artwork and imaginative lighting further the modern flare of the dining room.
On a recent outing to Mangia Mi, Peter and Jenny took us through some of their favorite entrees paired with their wine recommendations. As the dining experience commenced, their attention to detail was carried through into each dish we encountered. We started our evening with their fresh bruschetta, made with oven roasted red and yellow tomatoes over a garlic rubbed crostini with balsamic dressing. We suggest beginning every meal you have here with this delightful starter. They paired the bruschetta with a sparkling wine they offer by the glass, which is the Astoria, Prosecco from Italy. The sweet of the Prosecco contrasting with the balsamic on the bruschetta was lovely. But just in case you don't like tomatoes, our second choice is the Assaggia di Salumi e Formaggi – plate of mixed artisan salami and cheese.
After that was the Kunde Sauvignon Blanc, reigning from the Sonoma Valley, which we enjoyed along side a fantastic fresh Insalata di Barbabietola, or beet salad including walnuts, tangerines, mint and citrus vinaigrette drizzled over fresh field greens—to die for! Keep in mind that you can't order wrong here, we are also huge fans of the Insalata della Casa, their wedge salad with Gorgonzola cheese, caramelized onions, and pan-roasted pancetta. Are you getting hungry yet?
The next exciting course brought glasses of the Cupcake Chardonnay, Mangia Mi's house chard, from the Central Coast. We put that up against the special that night, the Gnocchi Frittati teamed with the pesto/gorgonzola sauces and topped with sun-dried tomatoes. I think it speaks for itself- pesto and Gorgonzola. Realizing many people don't order three full courses, we recommend this satisfying dish to split with the table. Need other fun ideas for a third course? We suggest splitting up either the wild mushroom or pear and Gorgonzola pizza's.

For diners looking for something on the lighter side, we recommend the salmon topped with a mango Serrano salsa and served under a bed of their famous garlic spinach, we enjoyed this with the Taz, Santa Barbara, Pinot Noir. And while we highly suggest the salmon, some other main courses that we share an affinity to are as follows: anything with the Gorgonzola cream sauce, Pepperoni Farcito – stuffed bell pepper, Lasagne di Carne – homemade lasagna, and the Pollo alla Griglia – grilled chicken breast marinated in rosemary, garlic and extra virgin olive oil. Mmmmmmm. Here is the bottom line on Mangia Mi: No meal is over eighteen dollars with the exception of some large pizzas. All of the bottles of wine are spectacular and priced right, with most the assortment less that $60 a bottle. With the help of Chef, Chris Wilhelm, Peter and Jenny have built a space that encourages comfortable, quality food at great prices. They strive to build repeat customers and establish regulars. The casual atmosphere lends itself to true family dining. We were seated next to a family where the mom had ordered the lasagna so naturally we asked her what she thought. She had no idea we were reviewing the restaurant and said hands down, it was some of the best lasagna she's ever had. This is the essence of Mangia Mi; they have cornered the market on creative, delicious, cuisine that people can't stop talking about.