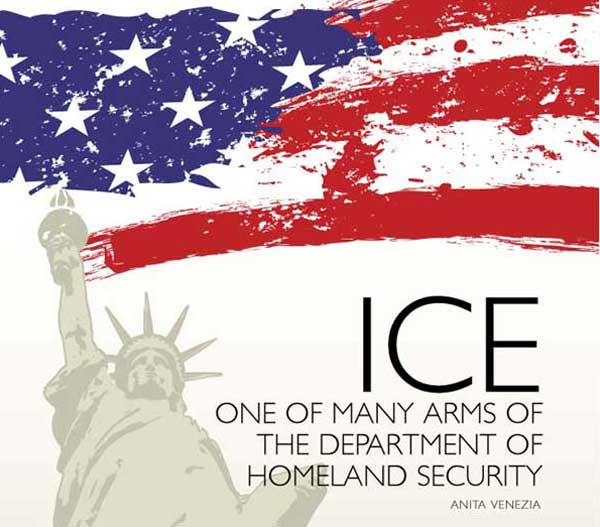 When my editor and I first discussed an article on ICE—Department of Immigration and Customs Enforcement— I was not quite aware of the scope of all the government agencies that fall under the broad umbrella of the Department of Homeland Security, DHS, the all-encompassing agency that handles the myriad protective security issues concerning our United States.
I soon became acutely aware of protocol and the intricate breadth and depth of networks connected to Homeland Security (an inside tip set me on track) and hoping for a one-stop-shopping solid lead— the Office of Public Affairs, OPA, seemed a good place to start.
During my telephonic enquiry for the media kit and search for a personal interview with an agent—the OPA rep turned the tables by interrogating me; such as the intended focus of my Department of Homeland Security story. Feeling somewhat castigated for my journalistic boldness, I returned to internet surfing. In short, I am in awe of the myriad agencies that fall under Department of Homeland Security and the vigilance in securing our borders from daily dangers, including threats from hostile nations.
While researching, I discovered spin-off agencies that reach out from the DHS Mother Agency—founded and reconstructed after 9/11. Many arms such as ICE fall under DHS with sub-groups falling under ICE like tiers within tiers of agencies morphing into bureaus. For example: the legacy Immigration and Naturalization Services, INS, is now under the Department of Justice, DOJ; United States Border Patrol, USBP, is now under Customs and Border Protection CPB; the legacy Customs Service is now under the Department of Treasury, which is under DHS.
Homeland Security Investigations, HIS, which falls under ICE, as does the Enforcement and Removal Operations, ERO, which falls under DHS, as do the Customs Immigration Services, CIS; Federal Air Marshals, FAMS, as well as a host of others that fall under the ever-broadening umbrella of DHS. Are you still with me?
To add to the confusion; agencies that fall under ICE—consist of more work-related agencies such as ICE's Mutual Agreement between Government and Employers, IMAGE, an outreach program for high risk industry and national employee concerns since the 9/11 Commission Report. Somehow, I had naïvely expected I could find all this explanatory rigmarole in a Media Kit, but now I understand the meaning of a focus story, which will be ICING.
ICE IN HOT PURSUIT
While reading the 2010-2011 ICE press releases, I was flabbergasted at the range of security breaches and criminal activities handled by ICE task forces within the DHS. The many agencies now sharing information; the Federal Bureau of Investigation, FBI, assists ICE with criminal investigations through vast banks of biometric systems IAFIS—integrated automated fingerprint identification system and since partaking in the programs, over 55,000 people were convicted as criminal aliens. The agencies are now "talking to one another" and have Facebook and Twitter accounts.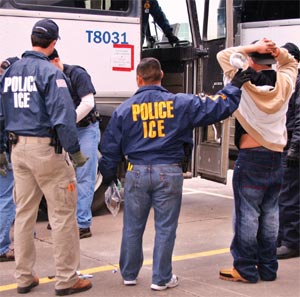 Crimes, other than immigration and customs, under ICE, involve murder, human trafficking and human rights violations, cultural patrimony property, weapons and drug dealing, smuggling, fraud, selling Department of Defense secrets, counterfeiting, intellectual and copyright properties, importing endangered animals, and agricultural infestations that could result in catastrophic crop destruction.
The most dangerous work done by ICE and CPB agents is the protection of our southern border. In the last five years, it is estimated that across the Texas-Mexico border 35,000 have died as a result of drug cartels. Recently two ICE agents were ambushed on the highway to Mexico City; one died and one was severely wounded in a rain of gunfire. Two missionaries were attacked; one died— a jet skiing couple was shot on a lake; only one survived. Two mass graves near the Texas-Mexico border were recently dug up; 145 corpses in one, 72 in another—many headless—the vengeful mark of narco-traffickers.
Monitoring global terrorism is an insurmountable job unto itself; every day reveals serious threats .Two brother 'sleeper-agent moles' working IT for British Airways, and having access to sensitive airline computers, were recently arrested for feeding information to an Al-Qaeda cleric in Yemen who targeted BA planes for 'a spectacular attack'. The same cleric has targeted Wall Street executives and banks with anthrax attacks and warnings were recently posted. San Francisco Bart trains have CAPT, the Critical Asset Patrol Team that monitors the stations on a regular basis to deter potential threats.

PSST! — I CAN SELL YOU A WATCH, SNOW OR AN AIRPLANE!
One of the most blatantly brazen offences pertaining to national security involved the attempted selling of Department of Defense secrets and a fighter jet. A California man, investigated by Homeland Security Investigations, HIS, Defense Criminal Investigative Service, DCIS, Secret Service and ICE, was arrested last year for attempting to sell a Fighter Jet and sensitive Defense technology to a hostile nation through HIS UC, undercover agents.
Two recent ICE arrests involved international situations; a Bosnian ex-soldier returned to stand trial for violations against humanity and a UK national was apprehended for allegedly hijacking the identities of dormant publically traded companies, causing the trading of virtually worthless stock shares to British investors with boiler-room telemarketing. The London ICE Attaché worked with the Securities and Exchange Commission, SEC, and the defendant was arrested in Florida for $130 million mail fraud and money laundering.
Drug smuggling is a multi-billion dollar challenge, and besides coming through labyrinthine tunnels from Mexico to the U.S., Canadian crossings, and ships and planes—drug-runners are getting more innovative. They have tricked-out vehicles; double-paneled trucks, false seats and floors, tires and dashboards and drugs in gas tanks and exhaust pipes. The most ominously dangerous being female carriers like the woman arrested at Detroit Metro Airport carrying 91 heroin pellets inside her body. Recently a 5,000 lb. marijuana load came through hidden in tomatoes, and in Valencia 103 lbs. of cocaine was concealed in romaine lettuce on produce trucks to Canada, along with $2.4 million in cash. ICE in tandem with Customs and Border Protection, CPB, and Intellectual Property Rights, IPR confiscated $4.4 million worth of 22,000 cartons of counterfeit Marlboro cigarettes, $4.7 million worth of ride-toys and $1.8 million in vehicles at Port of Miami. The IPR Center manages domestic and international law to stem counterfeiting threats and supports the ICE commercial fraud program, protects U.S. rights holders and copyright infringement on intellectual written materials such as software, novels and stolen songs.
The agents are everywhere; at a Florida flea market raid, a quarter of a million dollars' worth of 16,171 contraband products were confiscated, including Rolex watches, DVD burners, DVD movies, music CDs, NIKE, Ralph Lauren and knock-off Prada, Louis Vuitton and Gucci purses (warnings to home purse parties). In Chicago, an illegal Cuba cigar shipment was confiscated and in the Philadelphia airport sniff-dogs intercepted $43,000 in laundered currency en route to Jamaica.
Other areas that fall under the ICE multitude of agency responsibilities, in tandem with U.S. Fish, Game and Wildlife, are the exotic animals and hitchhiking bugs that come from abroad; destructive willow weevils were found infesting Italian ceramic tiles, Khapra beetles were at LAX airport, 55 exotic tortoises and turtles were seized from luggage concealed in Japanese cookie boxes, and at Dulles Airport, agents intercepted a suitcase with prohibited animals, blood and soil from Ghana, and an innocent-looking shipment of reindeer figurines were made from prohibited seeds and grasses.
In January, ICE agents confiscated 163 counterfeited NFL jerseys in Phoenix when a buyer complained of poor workmanship and fraying edges—a surefire indication that the merch was bogus. No matter how cagey the forgers, counterfeiters and smugglers are— ICE and CBP agents are giant steps ahead of them.
CULTURAL PROPERTY SEIZURES
As antiques and art are my interest, I researched how specialized ICE agents extricate info about artifact forgeries and the annual $6 billion global black market antiquities trading—third behind weapons and illicit drugs smuggling. Cultural art and antiquities, without legal provenance, are considered patrimonial artifacts belonging to the country of origin; sarcophagi, grave goods, temple fragments, amphorae, pottery, bronzes, paintings, sculptures et cetera, are objects deemed national treasures and cultural patrimonial heritage. Without provenance, articles are not permitted to be exported, traded or owned—period. Prime examples of high-profile purloined patrimonial treasures are exhibited in the British Museum and are presently in contention as belonging to their home countries.
As readers can see, I have only touched the tip of the ICE iceberg which may necessitate a trilogy focusing on the ICE odyssey; the DHS most powerful far-reaching investigative arm.