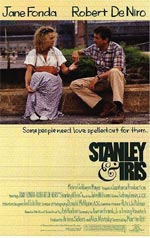 Stanley and Iris is a movie that sneaks up on you. While you may or may not be able to relate to middle America, most of us somewhere in our background at least had a taste of it.
This delightful movie puts you right there in the middle of it. Every day factory worker, Iris King (Jane Fonda) get ups, gets the kids ready and then rides the bus to her job mass producing bakery goods. One day while riding the bus her purse is stolen and she gives chase. Going toe to toe with the big bruiser, she is knocked down and he gets away with her purse and devastatingly, her paycheck. Stanley Cox (Robert DeNiro) pursues the two but arrives moments to late to save the day. This marks the beginning of a beautiful friendship. Stanley works in the canteen at the same company and has noticed Iris while dishing out mashed potatoes.
Iris is recently widowed, harried and trying to make ends meet. Her sister Sharon (Swoosie Kurtz) and brother-in-law Joe (Jamie Sheriden) have moved in with her, her teenage daughter has just found out she's pregnant and her son is still missing his dad.
Stanley is bright and kind and…illiterate. He rides a bike because he can't read. When his beloved father passes away he can't even sign the death certificate. He has lost his job because he's deemed a liability in the kitchen where he works. He digs ditches, cleans toilets and works in a car wash to support himself. The angst and humiliation are warring within him as he waits for Iris outside the factory in the pouring rain. He starts to ask, stops, tries again but just can't get the words out. Finally, through his pain as she starts to get on the bus, he blurts out his secret desire, teach me to read.
Thus, the journey begins. After many hours of sitting at Iris' kitchen table starting from the beginning, while the life of a family surrounds him, Stanley learns to read and write and a beautiful and steadfast friendship blossoms.

Stanley and Iris, often simplistic and perhaps even naïve, is a story that could be played out in any home in any industrial city. While it never saw an Oscar nomination this movie is honest and direct and entertaining.
Robert De Niro's gentle underplaying in the central role gives it believability. Jane Fonda brings a pent up desire for things to go back the way they were before her husband died, knowing that can't be, she is going through the motions of living. While this may sound like a "downer" movie it truly isn't. Stanley and Iris is about hope, friendship and finally love, abiding love.
I like this movie. I've watched it several times in the last 20 years and I am never disappointed. I've been privileged to live in an area where illiteracy doesn't often rear its ugly head and for that I am thankful, but it's out there and the fact won't be denied. I am blessed and if you are reading this, you are as well. As always, I welcome your comments at Chastings@rockcliff.com.