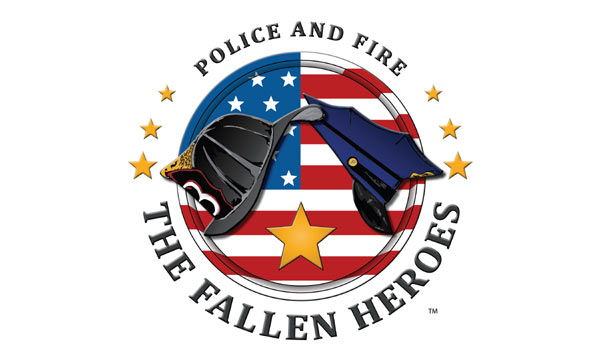 When an emergency 911 call comes in to the dispatcher, it is in most cases alarming, but our police and firefighters take it all in stride, as first responders, always getting the job done. The call can come any hour of the day or night, and within minutes, the police or firefighters are at the location of incident protecting their communities—always able, always willing, always ready to serve. We take it for granted that they will be there, on time, standing tall to protect us.
We may not always remember that the brave men and women who dedicate their lives to protect us place themselves in jeopardy almost daily. They are the law enforcement officers or firefighters, realizing in reality that they themselves could possibly be in danger, could possibly die in the line of duty on any given day—each incident cutting the odds closer.
Technology, intense training, stringent requirements and state of the art equipment, in most cases, has cut the number of deaths of officers and firefighters to the lowest in history, except for incidents of multiple losses in high-profile tragedies. In reality, about one hundred firefighters die annually in the nation in the line of duty; many die in accidents getting to and from fires, helicopter crashes and the most ominous of all, heart attacks. We mourn their deaths but may often forget those who are left behind. They are the families; mothers, fathers, brothers, sisters, spouses and children—and yes, there are many children. They are the ones who get the call—the knock on the door, that their loved-one has died—the police officer or firefighter who gave their life in the line of duty; bravely, selflessly as a hero.
We can only imagine the day, when on March 21, 2009, four Oakland police officers answering a disturbance, were gunned down by a parolee. We can only imagine the dread when breaking news hit the airways that four of Oakland's finest were down, shocking the sensibilities of Bay Area residents. We can only imagine when their families heard the news, heard that Oakland PD officers were down—then hearing it was their own husbands, their relatives and their fathers who were dead. The fallen heroes who met their deaths in the line of duty on that fateful spring day were: Officer John Hege, and Sergeants Ervin Romans, Mark Dunakin and Dan Sakai.
The horrific incident shocked Bay Area residents and sparked retired firefighter Tom Gallinatti to get involved, to add his efforts to other organizations that support families of Fallen Heroes and founded the organization Police and Fire: The Fallen Heroes that assists families in their hour of deepest need.
To honor and assist families of California Fallen Heroes, especially their children, Gallinatti founded Police and Fire: The Fallen Heroes, a 501 c (3) non-profit corporation; www.thefallenheroes.org, their slogan "Serving Those Who Served."
Gallinatti is a retired 30-year veteran of the Oakland Fire Department, who rose to the rank of Battalion Chief, assigned to the position of Director of Training and currently an adjunct instructor at the College of Siskiyous. The Fallen Heroes is committed to honoring the families of those law enforcement and fire service personnel who, in the performance of their duties, serving in a battleground workplace, paid the ultimate sacrifice while providing a secure environment for the community.
Their kick-off fundraiser this last April was very successful, The Fallen Heroes Celebrity Golf Tournament at Diablo Country Club attracted many golfers, among the celebrities; Eddie Money and Johnny Gunn who entertained guests, members of Tower of Power, Gregg Allman Band and Jefferson Starship. Ron Masak on Murder, She Wrote, Kathy Garver, 'Cissy' on "Family Affair, Jim Plunkett, Vida Blue, and Gary Plummer, the voice of the 49ers, added their celebrity status to the event. Tom Gallinatti also cinched a fundraising partnership with the Oakland Raiders, who gave a portion of their November 7th game to Police and Fire: The Fallen Heroes organization. In addition, Kinder's Meats and Deli has partnered with the organization by providing food on many events and is a generous leading sponsor. Danville's own Miss Teen California, 18-year old Ari Eastman and Captain Sully Sullenberger also give generously of their time and talent to this cause.
The celebrity golf tournament may not have been as successful if it were not for the many generous donors who provided for the event auction. Among the auction prizes was a Sicilian-style crab feed for twelve by Bay Area's own leading chef Russ Belleci of Forli's Ristorante in Alamo, and a Lunch for Four with Tony La Russa. The hot music items were Sammy Hagar's guitar—'the red rocker' from the band "Chicken Foot" and Eddie Money's signed Memphis strat electric guitar of "Baby Hold On" and "Two Tickets to Paradise" fame. Danvillian Randy Winn of the SF Giants donated his signed play bat and Talkin' Baseball donated a Pete Rose autographed bat. For eager women bidders, Amy Davazante donated a "Pamper My Party" Home Spa event for six.
The Celebrity Golf Tournament, with 150 golfers and the kind assistance of Diablo Country Club's Manager Larry Marx, resulted in the donation of $40,000 to the four Oakland Police Officers' families. Hopefully, the future Celebrity Golf Tournament planned for June 13, 2011 will pay tribute to the fallen heroes and top off this year's efforts by "Serving Those Who Served."
Police and Fire: The Fallen Heroes organization is recruiting volunteers to assist in this worthwhile cause and is seeking the use of donated storefront or office space in Danville, San Ramon or Alamo, suitable for administrative offices, fundraising and volunteer coordination.
As the Police and Fire: The Fallen Heroes organization is in its infancy, there is a need for volunteers to lend their talents in marketing and computer skills to assist in making this non-profit successful to support the families of California's finest; the Police and the Firefighters.
When I asked Tom Gallinnatti what he envisions for the organization he explained; "After an incident, when a police officer or firefighter loses a life, the investigation period is hardest on the children. I visualize getting the children to a change of scenery, a serene place—away from the glare of investigators and the media…"
"So, you foresee an emissary, an advocate—someone to comfort the children at the most difficult time?" I asked.
"I feel that this is where our organization can be effective, supporting the family, caring for the children in their difficult time…we are still working on how and where we are most needed…we must provide security for the loved ones, the ones left behind."
THOSE WHO PERISH
Considering the scope and landscape of this massive country, and all fifty states—there are only about one hundred in-line-of-duty firefighter deaths annually, many dying in accidents to and from an incident, helicopter crashes and fire-related injuries—but 60% of deaths are from stress-related heart attacks. Among police officers who perish in the line-of-duty, the national numbers are also relatively small, considering the danger of the calls; 24 so far this year 2010 to October—Texas in the lead, followed by Florida and California. National statistics for 2009 show 124 police officers in line-of-duty deaths; four in Oakland and four in Lakewood, Washington when officers were gunned down in a coffee shop. A startling statistic is that 23% of police perish while answering domestic disturbances. Among police officers, the leading cause of death is by gunfire followed by motorcycle accidents. In actuality, considering the danger of the profession, research statistics show that there were 1,216 police deaths in California during the past century—for an average of 12 a year.
The nation's deadliest, blackest day came on September 11, 2001 when we lost 60 members of the NYPD and Port Authority personnel, and 341 NYFD, 10 medics and EMTs—all fallen heroes who died doing their job and saving others. It is up to us, members of the community, to honor those brave men and women who have given their precious lives in the line of duty—the greatest tribute we can pay to their memory is to care for their children.
For more information visit www.thefallenheroes.org