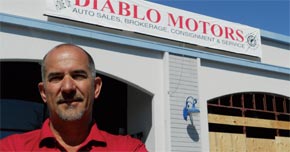 Greg Meier, owner and operator of Diablo Motors, grew up in Walnut Creek and graduated from Northgate High School. Greg's parents still reside in the house where he grew up. Greg started Diablo Motors approximately 17 years ago and has operated the business from a metal building on Fostoria Way in San Ramon. Diablo Motors recently relocated to the former Total Sports building on San Ramon Valley Blvd. to create a larger and more visible showroom and service area.
Diablo Motors sells pre-owned high quality luxury cars (mostly BMW, Mercedes, Jaguar and Land Rovers) and a wide variety of sports utility vehicles. Greg individually inspects and hand selects the inventory, and his in-house service department performs all safety and maintenance functions. All vehicles are CarFax certified, sold with a warranty and delivered detailed with a full tank of gas. Clients can even custom order at no extra cost. Diablo Motors can arrange financing, take trade-ins and process the DMV paperwork. Greg says, "I pride myself on having a nice local guy approach to business. I work hard to eliminate the nerve-wracking weekends of cheesy dealerships and classified ad shopping a lot of people go through looking for a clean and reliable car. At Diablo Motors we try to keep it simple, easy and honest."  Greg's reputation and his focus on customer service is refreshing and not taken for granted by his loyal cliental, many of whom have purchased several cars from him over the years.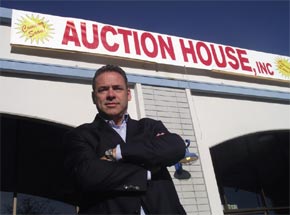 Damon Casatico, Partner and Co-Founder of The Auction House, grew up in Danville and graduated from San Ramon Valley High School. Damon and his siblings still own the house they grew up in. Damon and his business partner/father-in-law, Gary Gapp, started the idea of The Auction House approximately 17 months ago. Damon is the high profile owner of Charity Benefit Auctions. He is one of the most sought after auctioneers in the country primarily focused on raising money for charities. Damon and Gary liked the one-time Cartan's Baby Furniture store and connected with Greg to determine if a shared building arrangement might work.
The Auction House will be a unique blend of the old style auction format with a blend of Tri-Valley charm. Gary and Damon believe the focus will be on the sale of estate items including, but not limited to, antiques, jewelry, art, musical instruments and the obscure. The Auction House will be a place where the community can take advantage of buying or selling anything from a vintage juke box to an antique rug, a cigar store Indian to a diamond pendant. Gary says an auction is the most sincere and honest form of commerce known to man and he sees this venue as a gathering place on Wednesday nights where people can come and enjoy camaraderie, a little wine and cheese and an entertaining professional auctioneer who has the fast paced auction chant down to a science.  "An auction house should do well in a good and bad economy, but the community's support of local business is critical to a company's success," Damon says.