The Lamorinda Film & Entertainment Foundation Presents
An Exclusive East Bay Premier Film Screening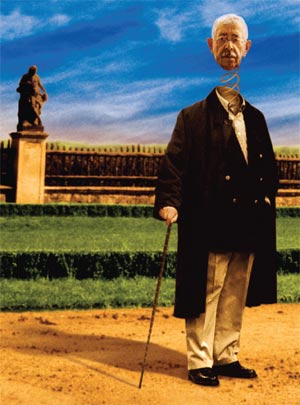 On the surface, the storyline of Autumn Spring seems simple enough—two older men, having some fun, being a bit naughty. A couple of pranksters with no intent to malign, they're not quite careful enough as their high jinks sometime backfire, creating problems they hadn't planned on. I couldn't help but thinking this would turn out to be a toned-down, lighthearted, European-flavored mix of "Dirty Rotten Scoundrels" and the "Bucket List," but this movie impressed me far more than either one—and I liked both of those movies.
The film opens with Fanda (Vlastimil Brodsky) and his close friend Eda (Stanislav Zindulka), touring a palatial estate with a realtor. On this day, Fanda is a wealthy "Maestro," the retired conductor of the Metropolitan Opera. With a dismissive air he notes a few "shabby" characteristics of the mansion, informing the realtor that he might purchase the property—if the owner considers lowering its multi-million dollar price.
As we discover, it's all an act of course. These guys are having just some fun—harmless fun, but expensive fun—as in; the realtor has shelled out money for a limo, lunch, wine and a suite at the Hilton for this esteemed, potential buyer.
Fanda trips up, accidentally revealing his true identity as nothing more than a retired pensioner. The realtor is not amused and demands repayment for his expenses. It is a considerable amount of money, so Fanda and Eda begin anew their shenanigans in an attempt to raise the cash. Of course, they are unsuccessful.
Enter Fanda's wife of 44 years, Emilie (Stella Zazvorkova). Disciplined, pragmatic and realistic to a fault, Emilie is Fanda's antithesis. They are well along in years after all, so Emilie is taking great pains to plan for the couple's eventual and certainly approaching demise. You could say she is obsessed with death, as she daily counts and divides their pennies, the major portion going into their "funeral account jar."
You can see where this is going, as Fanda "borrows" some of the funeral money to pay his debt. Ultimately however, Fanda is just too kind hearted to carry his deceptions to complete success and his "innocent" lies eventually catch up to him. The breaking point is reached and hell hath no fury like a "by the book" wife of 44 years. Emilie's had enough of Fanda's irresponsible ways and with the blessing of their conniving son, Jara (Ondrej Vetchy) who would like to send papa to the old folks home so that he can have their apartment, Emilie files for divorce. Fanda vows to change his ways, is forgiven, and this time keeps his word. Finally satisfied, Emilie's life is in order, just as she wanted it. She is happy, as they can now look forward to death together.
The story turns gently and subtly, eventually blossoming into a rich and poignant look at what it means to live and to love. Was Fanda's behavior due to an immature, irresponsible attitude, or perhaps merely a case of longing for some long-lost, youthful exuberance? We learn the truth as Emilie's eyes eventually open to see the man she has loved for so many years, as she understands that Fanda has had it right it right all along. He's been on a mission—to live life in the moment, quietly enjoying the experience, all the time wearing an "inner smile."
Autumn Spring's screenplay, by Jiri Hubac, is clever and engaging and the acting is superb throughout. This is a touching and meaningful film, well worth seeing.
Autumn Spring plays in an exclusive East Bay premier engagement at the Orinda Theatre, for one week only, beginning September 16th. The film was selected for this screening by the Lamorinda Film and Entertainment Foundation, whose mission, in part, is to bring "dynamic programming of popular and diverse films" to our region. For tickets, go to www.lfef.org, or www.orindatheatre.com. You can view a trailer of Autumn Spring on our website at www.aliveeastbay.com.