I like Dustin Hoffman. I like Emma Thompson. I like them because they have the ability to act like real people. No flash, no dash, just someone who could be your next door neighbor or your best friend. So today, I bring you a little known movie from 2009, Last Chance Harvey.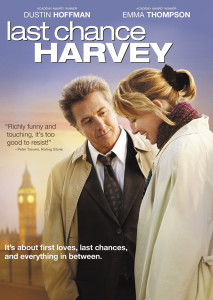 New Yorker, Harvey Shine is on the verge of losing his job as a jingle writer. He has been warned by his boss that he has one more chance to deliver and he has the younger guys "nipping at his heels." Harvey needs to go to London for the weekend for his daughter's wedding. Carry-on bag in hand he heads across the pond on the redeye. Government worker, Kate Walker works at the airport for the Public Statistics Agency. She surveys incoming passengers at Heathrow and endures relentless calls from her mother about every aspect of her life, especially her singleness.
Arriving in London, Harvey checks into the hotel his daughter has arranged for him only to find out with a call to his daughter that his ex-wife has rented a home for the rest of the family to use. As the day unfolds, he finds himself on the fringe of the event overshadowed by beautiful Brian (James Brolin), the stepfather. His daughter even breaks the news that she has asked her stepfather, since they are so close, to give her away.
You can feel his pain. Rightly or wrongly, he believes he has created the estrangement and heads back to the airport only to miss his flight. Stopping at the airport bar, he dejectedly finds a table and sits down. He spots Kate sitting alone at the next table. Harvey remembers her and attempts to apologize for his rudeness as he was getting off the plane earlier. This chance meeting begins an amazing weekend for both of them.
Fifty two per cent of all Americans over 18 are single now. This is a relatively new statistic and really kind of sad. I am single. We all would like to think we are single by choice, but the reality is, if we could find the relationship we want we would grab it and hang on. Are our standards too high? Is there too much "baggage" the older we get? Are we too hung up on looks or been hurt too badly and don't choose to return to the scene of that crime? If you're single you can probably check off one or more of those reasons. Well, Last Chance Harvey is about this dilemma.
When was the last time you danced all night or kicked your shoes off and just sat and talked to someone until the sun came up? Crying, Kate says to Harvey, "How is this going to work?" Looking into her eyes, Harvey says, "I have absolutely no idea, but I promise you it will."
Celebrate Life. Celebrate Love. Renew Your Promises!
As always, I value your comments at chastings@rockcliff.com.