Christmas…a magical time of year. It seems that you don't even have to be Christian by faith to revel in the joy of "The Season." I have friends with mixed faith families who celebrate Christmas. Many major faiths celebrate their holy holidays near Christmas, or maybe they would say that we celebrate Christmas near their special day. Having said that, I love Christmas, the one that celebrates the birth of Jesus Christ!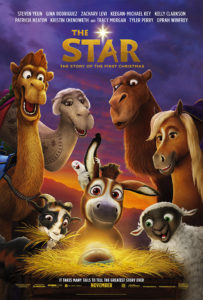 The Star is new to the theater this Christmas season. If you usually read my column, you know that I rarely review movies that are currently in the theater but I couldn't resist this beautifully animated movie about the birth of Christ told from the perspective of Bo.
Bo is a brave little donkey who yearns for something other than his daily grind at the village mill. Bo (Steven Yeun) has big dreams of joining the royal parade, which means he would be part of something important. When his best friend, Dave the dove (Keegan-Michael Key) helps Bo escape from his owner, they set off to pursue greatness. They quickly find themselves on the adventure of a lifetime.
In Nazareth, Mary (Gina Rodriguez) is told by an angel that she will give birth to the Son of God. When she tells her new husband Joseph (Zachery Levi) he is understandably concerned and confused, but after being instructed by an angel, he eventually understands the importance of what God is doing. When Mary finds Bo loose, she grows fond of him and takes him as her own, even though he wants to be free because of his own mission to find the royal parade.
Then there is King Herod and Mary and Joseph's empty home. They have left for Bethlehem for the required census, leaving Bo behind so he sets out to warn them of the horrible King's intent.
While Bo and Dave are making their heroic way to Bethlehem, the story also follows the journey of the three wisecracking camels, Felix (Tracy Morgan), Cyrus (Tyler Perry) and Deborah (Oprah Winfrey) who are carrying the three wise men. Other voices with smaller roles include Kelly Clarkson, Patricia Heaton, Kristin Chenoweth, Christopher Plummer, Anthony Anderson, Delilah and Maria Carey. Bo and his new friends follow the Star and become unlikely heroes in the greatest story ever told!
This Sony Pictures animation is wonderful. It brings the Christmas story to life from a perspective that a child can understand yet an adult will truly enjoy. As far as authenticity, the true story of Jesus' birth is told but with a few twists and turns—shall we say embellishments—that just make it more endearing.
The Star is a wonderful, hilarious, deeply reverential family film. Take your little ones, take your teens or even sneak off and see it by yourself. It should be in theaters through the holidays, so don't miss it.
I would be remiss if I didn't mention the amazing movie, The Nativity Story. This is for pre-teens and older, but is a wonderful movie about the birth of Christ. Stream it, rent it or even buy it so you will have it to watch every year. You won't be disappointed!
As always I always love your comments at carolyn@carolynhastings.com