Louie Zamperini. Louis died last year at 97 years old having inspired countless millions. Never heard of him? Have I got a movie for you! Maybe two!
Unbroken is a story way overdue to be told. Academy Award winner Angelina Jolie directs and produces Unbroken, an epic drama that follows the incredible life of Olympian and war hero Louis "Louie" Zamperini (Jack O'Connell) who, along with two other crewmen, survived in a raft for 47 days in shark infested waters after a near-fatal plane crash in WWII, only to be caught by the Japanese Navy and sent to a prisoner-of-war camp.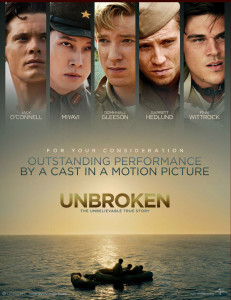 Director Jolie, began by shooting some of the dramatic and challenging scenes on location far out at sea in Moreton Bay, Australia, with Zamperini (O'Connell) and his fellow airmen, Phil (Domhnall Gleeson) and Mac (Finn Wittrock) having impossibly survived being adrift in the open Pacific for several weeks. Working with cameras on a floating rig in choppy waters and braving the elements, with actors dieting for months to appear as depleted as the characters, Jolie started with the treacherous, rigorous and uniquely challenging scenes and then moved on.
Adapted from Laura Hillenbrand's (Seabiscuit: An American Legend) enormously popular book, Unbroken brings to the big screen Zamperini's unbelievable and inspiring true story about the resilient power of the human spirit.
While held as a POW in Japan, Louie met a brutal camp guard, played by Miyavi known only to the men as "The Bird." "The Bird" found out about Louie being an Olympian and brutalized him physically, mentally and emotionally during his imprisonment, getting pleasure out of trying the break him. This cruel man would torment Louie's mind for many years after his return home.
Leading the accomplished, behind-the-scenes crew, is ten-time Oscar nominated cinematographer, Roger Deakins who deserves much of the accolades for this film deserves. The photography is absolutely stunning.
In the beginning of this article I mentioned a second movie. I would be remiss if I didn't mention the second half of Louie's story not chronicled in Unbroken. Louis Zamperini: Captured By Grace tells of the horrors in his life after his return. He suffered with alcoholism, night terrors and a failing marriage. After all he had endured, Louis was down for the count. His wife gave him one last chance by asking if he would attend a Billy Graham Crusade in 1949 in Los Angeles with her. He refused. He fought it. He even walked out of the first meeting. The second meeting changed his life forever and he became lifelong friends with Billy Graham. His last 65 years were full and joyous.
I highly recommend both movies. It's not often that we get to follow such an illustrious man all the way to his death after a life well lived. After Louie had died, his son said to Angelina Jolie that he wished his father had been able to see the completed film. She quickly and proudly told him that after the film was finished, she had taken her laptop to his hospital room and together they watched his story!
As always, I welcome your comments at chastings@rockcliff.com.