Have you ever watched a film that just stayed with you? One you can't even decide whether you liked or not? A film so raw it's makes you—I'm not quite sure of the word I want to use—uneasy?
I was browsing through some movies looking for something interesting and I stumbled on a movie that had been recommended to me several years ago. I was actually looking for a "girl" movie to follow my war movie last month. Having no preconceived idea what The Piano was about, I paid my rental fee and dived right in. All I can say is WOW!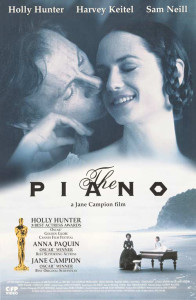 Firstly, let me make a point: it is a real R. This is due to sexually explicit content. Do not pick this for "family night." The Piano is a 1993 New Zealand drama about a mute piano player and her daughter. Set during the mid-19th century in a rainy, muddy frontier backwater town on the west coast of New Zealand, it revolves around the piano player's passion for playing the piano and her efforts to regain her piano after it is sold.
The Piano was written and directed by Jane Campion, and stars Holly Hunter, Harvey Keitel, Sam Neill, and Anna Paquin in her first acting roll. The film's score, by Michael Nyman, is one of the 100 top rated soundtracks in history and Holly Hunter actually performed her own pieces for the film and taught sign language to the cast as well.
I'll come back to The Piano.
After a little time had passed and deciding not to review The Piano, I watched Brooklyn which is a current hit. While contemplating the two movies, I was struck with the similarities. I was also amazed at how different two movies could be, east and west, north and south.
Brooklyn is a beautifully sweet movie. It's about a pious female Irish Catholic immigrant who comes to New York City in the 1950s and finds true romance, but must decide whether to return there when a tragedy forces her to return to Ireland for a month to comfort her distraught mother after the death of her only sister. She has to choose between two totally different lives, one where everything is familiar the other where nothing is familiar.
Saoirse Ronan, playing Eilis, is the sweet innocent personified. After the initial pain of home-sickness she meets Tony (Emory Cohen), a handsome young Italian plumber who "likes Irish girls." They fall in love.
Brooklyn is a glimpse of post war America; the beauty, optimism and open arms. It must have felt like a level playing field for new beginnings.
So, here you have it. The Piano is a little mind bending, exotic and hypnotic. Brooklyn is as sweet and simple, almost as peaceful, as The Piano is agitating. While both are about women moving to a different life in a different world the films are dramatically different.
Brooklyn was either nominated or won many awards including Academy Award nominations for Best Picture, Best Actress and Best Adapted Screenplay. The Piano had five Academy nominations, winning Best Actress for Holly Hunter, Best Supporting Actress for Anna Paquin (2nd youngest at 11 years old) and Best Original Screenplay for Jane Campion.
This month you get two to choose from, depending on your taste in films. I will await your comments at chastings@rockcliff.com.