I had this idea. I was going to write a review about Sylvester Stallone; a little about the man and a little more about his movies. The reason I was going to write about Stallone was because he had been approached by Donald Trump to be Chair of the National Endowment for the Arts. Low and behold, before I could get the article written and published he had declined the position.
When I think of Sylvester Stallone I think Rocky, or maybe Rambo. While most of his most acclaimed films have been action hero genre, Stallone has done a variety (some successful, some not so much) of films from hard core, edge-of-your-seat action films to animation.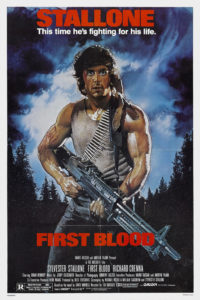 Stallone's father was born in Italy and was a hairdresser and beautician, his mother was (you can't make this stuff up) an astrologer, former dancer and promoter of women's wrestling. When he was born, the delivery went awry with the misuse of forceps severing a nerve and leaving his face partially paralyzed. His signature snarl and distinctive voice were the result and have come to be the persona of many of his characters.
Two tremendously successful movie franchises is quite a legacy. Both the Rocky and Rambo Franchises have put Stallone in an elite group. These two are considered his best and brightest. My count shows him at 54 movies—all the way from Rambo to Rhinestone Cowboy with Dolly Parton. He was also in the Spy Kids series. His early career included Lords of Flatbush with Henry Winkler. He even starred in Tango and Cash with Kurt Russell. Stallone's movies have entertained audiences for five decades.
The first Rocky movie received ten Oscar nominations and won Best Picture, Best Directing and Best Film Editing. Sylvester Stallone was nominated for Best Actor and Best Original Screenplay. His more recent 2015 Rocky movie, Creed, added an Oscar nomination for Best Supporting Actor and a Golden Globe win for the same category.
In the majority of his movies, he wrote about and performed tough guys. This is where I have to admit that I did not see ALL of his many action movies. What I do like about his films is that his characters are usually heroes in their own right. They are the "walk softly and carry a big stick" kind of guys, much like John Wayne characters in earlier films.
Stallone has defied the mainstream. He's held strong to owning his own scripts and often didn't take the easy road, instead opting for the "rocky road."
Having said that, let's go back to his job offer of a different kind—Chair of the National Endowment for the Arts. While he decided he would pass on that opportunity, he highly praised our new President and respectfully submitted that he would like to have a position working with our military veterans. Laudable. So, for now we'll wait to see what this next chapter brings for such a talented man.
While his movies might energize a dark, dreary winter night, I would also like to caution you to check the ratings. Some may not be appropriate for children because of the violent nature of the subject matter. As always, I welcome your comments at chastings@rockcliff.com