Everybody loves a winner! It's hard not to root for the good guys and what better good guys than an all-boys Catholic high school. Bob Ladouceur taught at De La Salle High School. He also coached football. But more than that, he raised up men. With a 151—yes 151 game winning streak—the Spartans seemed unstoppable. Inspired by a true story, When the Game Stands Tall is the remarkable journey of a legendary coach who took De Le Salle High School from obscurity to stardom, shattering all records for any American sport.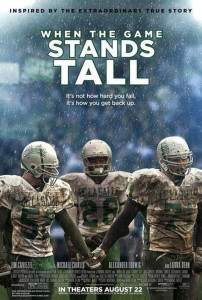 This home-grown story played out on a local football field for 12 straight seasons. When the streak is broken because tragedy strikes the team, Coach Lad must teach his players, and the entire town, that it's not about how far you fall, but how you get back up.
James Caviezel plays Bob Ladouceur with incredible insight into the man (maybe he ended up with a little divine guidance after hanging on a cross in Passion of the Christ). Caviezel is a truly amazing actor, whether he's playing Jesus (I can't imagine trying out for that role) or the lead in the hit TV show, Person of Interest. I personally think they couldn't have found a better Coach Lad. The real Bob Ladouceur and his Assistant Coach, Terry Eidson, even did cameos as what else, coaches, in the movie.
College coaching jobs were dangled in front of the coach but for more than twelve years his commitment was to teaching kids how to find their own self-worth. When asked by a reporter how long the streak can last his comment was, "Winning games is doable; teaching kids to win in life is the goal. Winning games was never the goal."
He focused on "the Perfect Effort" and reliability. His belief? Every great team needs leaders to cut the path and followers who will make it wider.
The pressure of failure is oppressive, but that's where true leadership shines. Every Spartan team member for 12 years had to, or got to, live with the "not on my watch" mentality and then, in one earth shattering moment the streak was gone, but more tragically, so was the life an endeared teammate.
I truly enjoyed this movie. It was well acted but more importantly it was chocked full of life lessons for young and old. This is definitely a must see for football fans and families. As always I welcome your comments at chastings@rockcliff.com.