I'm a sucker for a feel good movie. I'm even a bigger sucker for a "Purpose Driven" movie. The Little Red Wagon is a docudrama based on the story of an eight year old boy who dedicates his life to helping children rendered homeless by Hurricane Charley. In this inspirational drama based on actual events, Zach Bonner learns that you can't put a price on life's greatest gifts.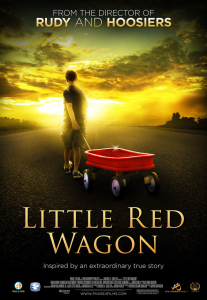 After hurricane Charley barely misses Zach's home but devastates many others nearby, he's dejected by the images of the families whose lives are uprooted by the disaster. Deciding to do something about it, Zach uses his old trusty wagon to collect essential items to help them get back on their feet. When the media spotlights Zach's benevolent endeavors, the selfless boy seizes the opportunity to launch his own charity, dubbed the Little Red Wagon Foundation.
Later, Zach encounters a widow and her son who were rendered homeless and vows to draw attention to their plight by embarking on a cross country walk. Despite his single mother's trepidations about the journey and his teenage sister's growing resentment over being stuck at the center of the media circus, Zach sets out on a journey that will transform not just his own life, but also the lives of everyone he encounters.
Zach Bonner is often called the kid with the heart of gold. His passion to aid the more than 1.3 million homeless children in the United States warranted him receiving the prestigious Presidential Service Award in 2006.
Through his foundation, Zach did many "walk projects" to raise money and awareness. His "My House to the White House" journey showcased the plight of the homeless and in 2010 Zach walked 2,448 miles from Tampa, Florida to Los Angeles, California. Zach is now 16 years old and still striving to abate the suffering of homeless children.
Little Red Wagon is an amazing story about an incredible young man and the family that supports him. They walk with him, nurse and feed him along the way and manage the "Zach Tracker," his GPS device so his supporters can follow him.
I highly recommend this DVD for its social value alone. It's a great teaching tool for kids, teens and adults. Zach could teach us all a thing or two about love and charity. In my humble opinion, it's never too early to start showing our children the habit of helping others.
So, sit down with the kids or the grandkids, or grab someone else's kids, and watch Little Red Wagon. Maybe the flame of passion for helping others that once burned brightly within you will be rekindled as well. Your life will be changed as you help to change someone else's life.
As always, I welcome your comments at chastings@rockcliff.com.