I consider myself a Patriot (yes, capital P). I don't usually cry at movies. I didn't even cry during Beaches or Terms of Endearment. Now I know that probably comes off a little hard core, but before you judge me, I want you to know that I always cry during the Star Spangled Banner or when the American Flag in front of a marching band goes by.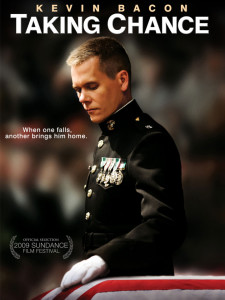 Taking Chance is a truly amazing movie. It doesn't scream at you, it quietly gets under your skin. The films power comes from a simple word – Reverence. Yeah, I guess that one would have to be capitalized as well. Taking Chance tells a true story, adapting Marine Colonel Mike Strobl's personal journal of his assignment escorting the remains of Lance Corporal Chance Phelps, killed in Iraq in 2004, to Phelps' family in Dubois, Wyoming. Mike, who served in Desert Storm is now sitting behind a desk stateside and feels guilty for not requesting combat duty in Iraq. Living comfortably at home with his wife and children had been the choice. He often wakes in middle of the night and checks the KIA list. One night while Mike is perusing the list he sees a name listed from his home town. He volunteers to be Phelps' escort home. It changes his life.
Director and Screenwriter, Ross Katz has done a brilliant job telling the story of one man's coming home in death and another's coming to life. It's a delicate balancing act, keeping focus on both the mourning of Phelps and Mike's personal journey, neither overshadowing the other.
Kevin Bacon, who plays Col. Strobl, is incredible. He does so much with just his facial expressions. Lean and chiseled, Bacon is the consummate Marine. Slow, deliberate and did I mention Reverent with his actions, Mike's devotion lends the story great intensity, and his struggles lend it great honesty. This is probably Bacon's best.
The film also shows how we honor our fallen heroes, a chore revealed in great detail. It is all very informative. From the time Lance Corporal Chance Phelps leaves the battlefield, packed in ice, to his arrival at Dover in the States, it's an amazing journey. His body is cared for. His belongings are cared for. A new uniform was created especially for him even though it was a closed casket. No detail was left undone. We also see the custom of how the escort salutes the casket every time it is moved from one mode of transportation to another, all working to guarantee that what may look like a giant cardboard box being shipped cross country is truly a "pearl of great price."
Don't misunderstand; Taking Chance is no mere documentary about how military remains are transported. It is a story about grieving. It is a story about honor. It is a story of Americans at our finest. No political agenda—no "support our troops" platitudes—just Reverence with a Capital "R" from Dover to Dubois.
Once again, I invite and enjoy your comments at chastings@rockcliff.com or look for my movie archives on CarolynHastings.com