Woman in Gold is a fascinating true story. I learned some history, some legal, a bit of negotiating and a whole lot about social injustice. Most of all I learned that, at times, justice does prevail. Occasionally, a wrong gets turned into a right.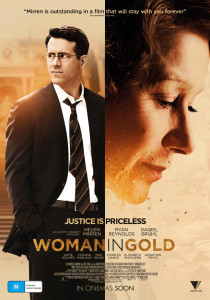 Woman in Gold isn't just another Nazi movie and it's not really about the millions of Jews who were annihilated. It's about the cultural and financial rape and pillage of a specific group of people.
The movie opens in America decades after World War II, where Maria Altmann's (Helen Mirren) only sister had passed away. After reading her sister's will, Maria finds out her family's painting was stolen by Hitler's government controlling Austria during World War II. Her family had commissioned famous Austrian painter Gustav Klimt to paint a portrait of Maria's Aunt Adele. Maria decides she wants to fight to get the painting back and asks her friends son, a lawyer named Randol (Ryan Reynolds), to help.
At first, Randol isn't excited about the case, but he discovers the painting is worth $100 million. Randol convinces his firm to let him take on the case because of the worth of the painting. So hurt from what happened in Austria, Maria is resistant to going back, but Randol finally convinces her she must go back in order to fight for the painting that was such a big part of her family heritage.
The two arrive in Vienna and each street reminds Maria of her past. Flashbacks to growing up in the family home with Aunt Adele come to Maria as she walks the familiar streets.
Maria and Randol are approached by a young man who had seen in the newspaper that Maria was speaking at the art restoration forum. The man tells them that he can help with the project, even though it will be very difficult to go against the government. The young man is able to introduce them to someone who works at the Belvedere Palace, where the painting has been on display for years and has become a national treasure known as "The Lady in Gold".
While the government officials tell them they absolutely cannot have the painting back they, over time, methodically go about uncovering wills and documents that eventually support their case against the Austrian government.
There are so many complexities to this film, in my book it's a must see. I can't even begin to understand what makes one group of people hate another group of people so very much.
But, I'm here to say, through so much pain and agony, this story is triumphant. I guess I can tell you that Maria and Randol eventual win. The decision brought approximately $325, 000,000 in paintings back to the rightful heirs of the Blauer-Bloch family and a cultural foundation was created with the money. They won at least partial restitution.
Strangely enough, the morning after I watched this movie, I opened my emails to a piece of spam. As I read, my stomach literally churned. This piece was anti-sematic hate at its most abhorrent. I was terribly disturbed by its content but then I was reminded that mankind is a work in progress and we can never let our guard down against hate in any form.
I invite your comments at chastings@rockcliff.com.