Bing Crosby, a roaring fire, snow outside, a Piano, and a Pretty Lady: A sure fire recipe for a cuddle and a kiss.
The magic of Christmas is alive and well and ready to explode at my house. My now-grown daughter's favorite line used to be, "Mom, I think the Christmas Fairy just threw up!" I truly don't believe my ten ton Christmas Stash is unreasonable.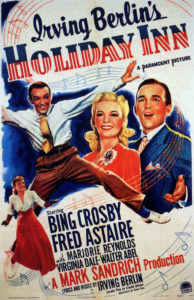 Having established how much I love Christmas, I must confess that I want to write about every movie, every year. I suppose I can't, so this year's offering will be Holiday Inn, released in 1942.
If you are anything like me, when you watch this film it will take you back to a kinder, gentler era. A time when ladies wore elegant gowns and the gentlemen wore coats and ties to lounge around. Now that is rather hypocritical of me since I was just having a conversation yesterday about the wonder of the comfortable fabrics used for most clothes today. They stretch, they move with you and yes, we can even leave them untucked and still be fashionable. Having said that, the clothes in this movie are just down right dreamy.
Holiday Inn is literally #1 on most lists of Christmas movies. It has the singing of Bing Crosby, the dancing of Fred Astaire and two incredibly talented leading ladies: Marjorie Reynolds and Virginia Dale. Probably the absolute best though is the music of the ingenious Irving Berlin. Contrary to what some believe, the famous song, White Christmas was introduced in this film not the later movie named for the song. White Christmas the movie truly is my favorite but I think that's because of the song, "Sisters" that is dear to my family.
There are ten Bing Crosby songs and six dances by Fred Astaire taking us through every holiday on the calendar, including the hallmark dance Astaire performs to Let's Say It with a Firecracker.
Holiday Inn is toe twinkling and ivory tickling. Crosby and Astaire have an easy casual banter that is charming and funny. This film is worthy of a rainy day indulgence.
Christmas is definitely a time for family, friends, gatherings and movies. All your old favorites and a plethora of new, soon to be favorites have been airing on Hallmark and other channels for weeks now. If I didn't love them so much, I'd be upset by how early they started this year! There are new ones every week on different channels including your family friendly subscription channels like the new offering by Hallmark called Feeln. And, no, it isn't a spelling error. Others like Pureflix and Christian Cinema are great for message movies. The Nativity Story is great to work into your schedule as well. Having said that, cable TV has enough movie channels to keep you busy until next July!
Have a wonderful holiday time with your family and friends and make your favorite old movies and your soon-to-be-favorite new movies, part of your celebration.
As always, I love hearing from you at chastings@rockcliff.com.