Luxury Features at Near- Luxury Pricing!
We used to think that vehicles coming from certain countries had a higher value over vehicles coming from others. For example, when models from Korea first hit the shores of the U.S. they were essentially cheap and throw-away. Boy, have things changed! KIA has been wowing the world with beautiful and fun driving vehicles!
Not only are vehicles produced by Kia appearing at the top of consumer must-have-lists, they have also been growing in size and technology. The introduction of the all-new 2014 Cadenza is an example of their incredible progress.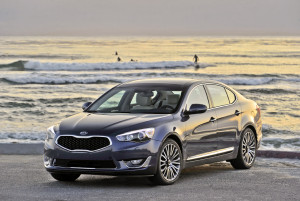 A fully-loaded Cadenza stretches KIA into the over $40k mark and will test the brand's boundaries into this price range. It will compete with big sedans in the 'near luxury' category.
The 2014 KIA Cadenza is a mature version of the Optima. It looks and feels like an elongated version of the Optima, and is packed with high-tech features including power closing side mirrors, heated front and rear seats, blind spot detection, push button start, front LED positioning lights, advanced smart cruise control, and rain sensing windshield wipers. All this with a 10-year/100,000 mile limited powertrain warranty!
The 2014 Cadenza is available in two trim levels: Premium ($35,100) and Limited ($42,400). Both models are equipped with a 3.3 L V6, 293 hp and 6-Speed Automatic Transmission with Sportmatic™. The performance is exhilarating as the accelerator effortlessly leaps on command.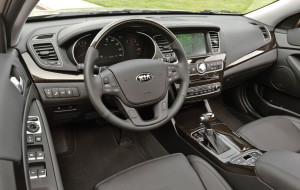 The suspension delivers a responsive, confident ride. The front suspension specifications include: MacPherson Struts Gas Shock Absorbers, and a Stabilizer Bar. The rear comprises of Independent, Multi-link, a Stabilizer Bar, and Dual-Flow Damper Shock Absorbers. Together they command the road, whether on the open highway or a winding mountain road.
The styling is clean and as mentioned earlier, really does look full-grown and even more refined than its little brother, the KIA Optima. The Cadenza was designed under the vision of Peter Schreyer with hints of a European influence. The front is dressed with the family KIA grille and the Cadenza carries a taut, athletic look. It is simply a sharp-looking sedan.
The interior offers a very quiet ride with extremely light road noise and almost no wind noise. The interior fit-and-finish is pleasing with high quality materials used through-out. My test vehicle included the Nappa leather seats and interior trim, plus an Infinity surround sound audio system and a navigation system with an 8-inch display. The powered front seats were also ventilated, and to keep the sun from the necks of my rear passengers – there was a power rear window sunshade.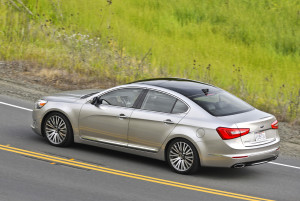 Cool Features:
• Rear heated seats
• Auto closing and opening power side mirrors
• Advanced smart cruise control system
The 2014 KIA Cadenza hits all the marks when it comes to safety. The Cadenza comes standard with 8 airbags, rear camera system and backup warning sensors, and an advanced smart cruise control system that will actually brake the car to stop for traffic. It also comes with a lane-departure warning system that chimes loudly if you attempt to change lanes without signaling. The blind spot detection system helps warn you of vehicles hiding in your blind spots.
In Summary – The 2014 KIA Cadenza owns features and styling to attract buyers away from more expensive nameplates. Priced nearly the same as a BWM 3-series or a Mercedes-Benz C-Class, the KIA has way more interior and passenger space. The Cadenza is both a good value in the near-luxury or even luxury class, as well as a pleasant and fun surprise.
Specifications
2014 KIA Cadenza Limited 4-Dr Sedan
Base price: $42,400 as driven: $43,250 (including destination and optional features)
Engine: 3.3 L V6
Horsepower: 293@ 6,400 RPM
Torque: 255 @ 5,200 RPM
Transmission: 6-speed automatic with overdrive
Drive: Front-wheel Drive
Seating: 5-passenger
Turning circle: 36.5 feet
Cargo space: 15.9 cubic feet
Curb weight: 3,792 pounds
Fuel capacity: 18.5 gallons
EPA mileage: City19/Hwy 28
Wheel Base: 112 inches
Warranty: 10 years/100,000 miles powertrain limited
Also consider: BMW 3-Series, Ford Taurus, Chevrolet Impala, and Mercedes-
Benz C-Class