It's hard to believe that 25years have blown by since the first Mazda MX-5 Miata rolled off of the assembly line. The little two-seater convertible from Mazda ignited years of fun for some and unlike many roadsters that are locked in the garage in preparation of the next sunny weekend mid-day drive, the MX-5 became a multi-use vehicle from work to the windy roads. To celebrate its 25th anniversary, Mazda completely re-engineered and redesigned the MX-5.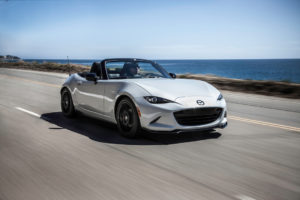 For 2016, Mazda has improved the Miata to include some modern safety and technology expectations while preserving its uniqueness that has run true with all MX-5's keeping it different from anything else on the market. Measuring in at about 154-inches, the new Miata is a bit shorter than last year's model, while growing wider to about 68-inches. Plus, it has an extended the wheelbase to 91.1 inches.
The MX-5 was designed around its driver and is lightweight, nimble and fun to drive. It was a blast to cruise around the curved roads in the Dublin hills. On the freeway, if the road wasn't smooth, you felt every bump…typical of low-to-the-ground cars. Nevertheless, it was the most fun MX-5 that I have driven to-date.
Now in its 4thgeneration, the 2016 MX-5 carves a path that is thoroughly modern, packed with high-tech features and has a strikingly-designed based on the KODO-Soul of Motion which is defined by a long hood, short overhangs, a cropped cabin pushed far back on the body and large wheels moved as far as possible towards all four corners. The new look produces a lower and sleeker profile.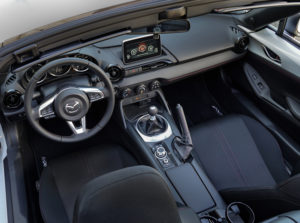 The 2016 MX-5 comes in four trim levels, Sport ($24,915), Club ($28,600), Grand Touring ($30,065) and a Limited Launch Edition. Standard on all MX-5 models are air conditioning, push-button start, a manual cloth convertible top, power door locks, USB input, Bluetooth® wireless phone pairing and audio streaming, leather shift knob and CD player. Entry MX-5 Sport and upper trims MX-5 Club and MX-5 Grand Touring all come with the option of a SKYACTIV-MT six-speed manual or six-speed automatic transmission. The 2016 MX-5 Launch Edition comes in Soul Red with a Sport Tan leather interior — an exclusive color combination for the 2016 model year in the U.S.
The interior is clean and comfortable with red stitching. The info-screen at the top of the center dash houses your navigation, radio and other operations. The control knob is next to the shifter and if you aren't careful while you are shifting you can accidentally change the radio station. There wasn't a backup camera on my test model.
The SKYACTIV-G 2.0-liter engine powering the MX-5 delivers 155 horsepower at 6,000 RPM and 148 ft-lb. of torque at 4,600 RPM. It comes standard with a 6-speed manual transmission that has a city EPA-estimated 27 mpg. Also available is a 6-speed automatic transmission for $1075.
Cool Features:
Bose speakers in the headrest
Push button start
Safety on the 2016 Mazda MZ-5 includes the following: dual front airbags, side impact airbags, tire pressure monitoring system, blind spot monitoring, rear cross traffic alert, and lane departure warning system.
In Summary –The 2016 MX-5 Miata is a blast to drive and the redesign is absolutely beautiful. The lines flow throughout the body and give the feel of motion. The portions are balanced and the MX-5 looks great with the top up or down. Raising and dropping the convertible top can be maneuvered with one hand.Mazda did an incredible job inside and out with its little roadster. If you take it for a test drive, I wouldn't be surprised if it ends up in your garage.

Specifications
2016 Mazda MX-5 Miata Club
Base price: $28,600 as driven: $32,820 (including destination & optional
features)
Engine: 2.0 Liter 4-cylinder SKYACTIV-G
Horsepower: 155 @ 6,000 RPM
Torque: 148 @ 4,600 RPM
Transmission: 6-Speedmanual
Drive: RWD Drive
Seating: 2-passenger
Turning circle: 30.8 feet
Cargo space: 4.59 cubic feet
Curb weight: 2,332 pounds
Fuel capacity: 11.9 gallons
EPA mileage: City 27/Hwy 34
Wheel Base: 90.9 inches
Warranty: 3 years/36,000-miles powertrain limited
Also, consider: Audi TT Roadster, BMW Z4, Mini Roadster, and Nissan 370Z Roadster