Ever since I can remember, I've been obsessed with the idea of marriage. What would my dress look like? How would I wear my hair? Who would I invite? Would I marry the man of my dreams on a tropical island, at a romantic winery, or in a beautiful church with exquisite stained glass windows?
I never could pick one clear path, so I wrote out each of my fantasy weddings in full detail, in a blue binder labeled, "Kristina's Wedding," with pretty stickers and red felt marker hearts. If only I would've known then what I know now, that binder that I spent years building would have been done in less than a week—and without all of the accessories. You see, all my life I have been told how wonderful weddings are, and I can't just blame my family and friends for this miscommunication, oh no, my complaints go a lot further than that.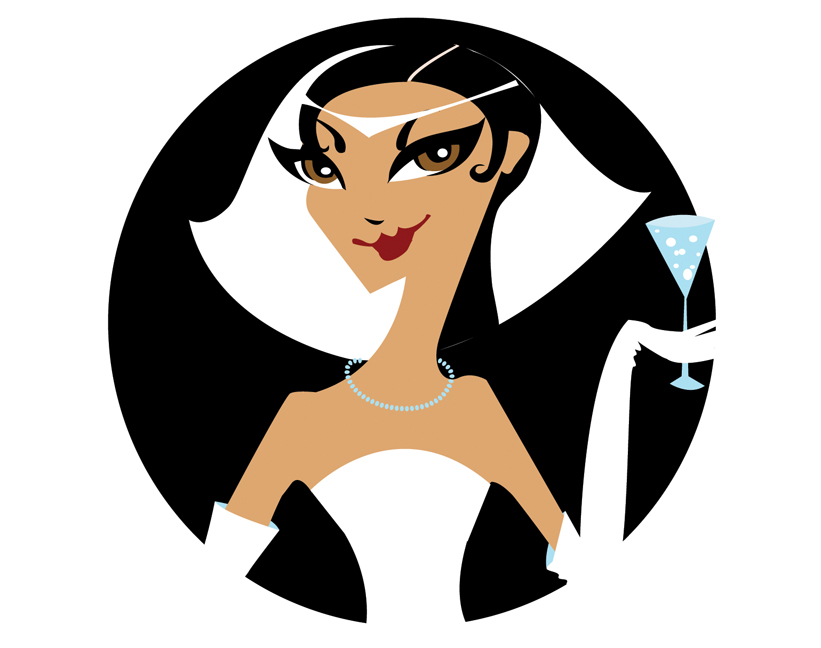 As a newly-married woman, I have decided to take a stand for all of the engaged women in the world who, like me, have preplanned and daydreamed what their wedding day will be. For those who have no help, and those who have too much help with all of the details, I vow to tell you everything "they" don't want you to know about "the wedding day," and the so called "blissful," first year of marriage. I didn't have anyone willing to keep it "one hundred percent real" with me, so I figured I would help my fellow woman as she walks down the isle of her American dream.
Let's get straight to it: Getting married is the best and worst experience of your life. Now I know this statement sounds a little harsh, but trust me, as an engaged woman, you spend so much time planning out every detail of that special moment—like which, of the over 200 shades of white, you want your dress to be; how the napkins should be folded, or whether you want to have the dry chicken or unseasoned salmon as your main course during the reception.
You spend many tiring hours, pouring out your hearts' desires, rummaging through wedding magazines, all for a twenty to thirty minute ceremony and a reception that you will hardly remember having. Not to mention that you are throwing a huge dinner party that will cost you thousands of dollars for a bunch of guests who you won't even remember were there until you see your pictures.
The night is busy, and let me just say, you are incredibly lucky if you even get to eat more than two bites of your food during dinner, because all of the nice, excited people want to take your picture and ask you a bunch of overwhelming and intrusive questions about when you're going to pop out kids, when you haven't even consummated your marriage yet. It's like being one of the animal attractions at Six Flags. You're highly annoyed, hungry, and sleepy all at the same time.
Am I saying that there aren't any good moments? Of course not. You do experience the moment when all eyes are locked in on you as you sashay down the aisle in a fabulous designer gown, the incredibly magical moment of your vows to your handsome husband, and the first kiss as a married couple that completely steals every breath in your body.
There are those moments when you enjoy shaking your groove thang on the dance floor and realizing that you are no longer a single lady, because he put a ring on your finger. You found your prince charming and get to transition from Miss to Mrs. It's one of the best moments in your life, and you will remember it forever; it's just that you will also remember the drunk bridesmaid that passed out at the reception and slept under the head table during the toasts to the bride and groom.
So who's to blame for these unrealistic expectations of the biggest day of our lives? Is it Cinderella, Twilight, or Pinterest for enticing us to fall in love with ideas of weddings and marriage that is only twenty percent accurate? Or do we blame our families and friends for trying to relive their marriages through ours, so much so, that on that day we stop caring about the details of it all, and are just glad that it's over?
No, the truth is, it doesn't matter that someone planted the seed and watered it, or even that it grew wildly in the forest of our minds. The real issue is that no one came to prune these delusions so they became out of control. Well, I've got great news: I just went to Home Depot and bought a pair of the cutest red shears. I've got