It may be nice to see the price of gas going down at the pump; however, the sad thing is that we think $3.60 per gallon is a good price. Yes, I'm showing my age since I can remember filling up the tank for less than $10.00—something our kids will never experience! With that said, the automotive manufacturers are giving us options including going all electric. One of the options from Japan is the Mitsubishi i-MiEV.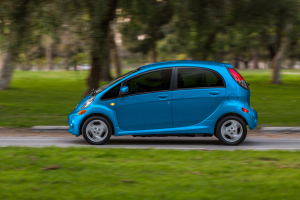 The 2014 Mitsubishi i-MiEV is the least expensive all-electric car on the market. It is small in size at just a little over 12-feet in length, and the four-door hatchback can carry four adults. The i-MiEV is a plug-in vehicle that runs only on electricity unlike some of the gas/electric hybrids. I plugged the i-MiEV into my110-volt outlet for between 12 to 15 hours and woke up the next morning to a driving range of 60 to 68 miles. However, Mitsubishi claims the care has a maximum range of 75 miles. I found the range drops quickly if you choose to run the A/C or use too many electric devices. You can run in Eco-mode to help achieve the maximum range.
Personally, I felt very comfortable driving around our local Tri-Valley without fear of being stranded. However, when I had to cruise up to Walnut Creek and Concord in traffic, I elected to grab the keys to my gas-driven vehicle.
After spending one week driving the i-MiEV, I found that it drove much like any other conventional car minus the limited range. It handled fine for a small car and had sufficient pick-up-and-go.
The i-MiEV has two charging outlets – your standard 110-volt and a 240-volt quick charge port. The quick charge port using the CHAdeMO standard will allow drivers to use properly equipped public charging stations to recharge the car's battery pack to about 80 percent in about 30 minutes.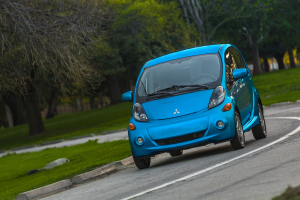 The 2014 Mitsubishi i-MiEV comes in rear-wheel drive and is available in one trim level, ES. It's starting priced is $22,995. Power is produced from a 66 HP AC synchronous permanent magnetic electric motor with a regenerative braking system. The automatic transmission is a single speed, fixed reduction gear. I found the shift pattern as challenging as driving down Lombard Street—that is the one-block section that consists of eight tight hairpin turns. The iMIEV Shift Selector has three modes: Drive, Eco and Brake.
The styling is both cute and funky with a jellybean or egg-like reflection. It definitely turned heads as I drove by on-lookers. Mitsubishi pushed the wheels out as far as they could to create the maximum wheelbase of 100.4-inches with minimum bumper overhangs on this subcompact electric car. The windshield is heavily raked back with the arch following through to the rear hatch. The small 15-inch wheels help create that mini-feel. The front disc/rear drum brakes with ABS operated fine. Despite its small size, it was comfortable to drive.
The interior is basic with no flashy items that would weigh the iMIEV down. Forget navigation or backup camera extras, but you can order a foldable cargo tray and USB adaptor kit for an i-Pod. I was surprised to see a driver-side heated seat. With that said, you are exchanging a car full of tech-gadgets for an eco-friendly electric car with technology-only systems.
Room for improvement:
• I would like to see the addition of a backup camera
Cool Features:
• Standard 240-volt quick charge port
Safety on the 2014 Mitsubishi i-MiEV comes standard with an advanced air bag system, dual-stage supplemental front air bags, driver and front-passenger seat mounted side-impact supplemental air bags, roof-mounted curtain side-impact supplemental airbags for front and rear-seat outboard occupant protection, Active Stability Control (ASC) with traction control logic (TCL) and a high voltage cut-off system.
In Summary – The 2014 Mitsubishi i-MiEV offers buyers the option of avoiding a gas station to help the environment. If you aren't heading too far, the i-MiEV works great for the local trips around town. It appears to be well-engineered and I enjoyed driving it. You might want to check into the federal tax credits for buying an electric car.
Specifications
2014 Mitsubishi i-MiEV
Base price: $22,995 as driven: $23,845 (including destination and
optional features)
Engine: AC synchronous permanent magnetic electric motor
Horsepower: 66 @ 3,000 – 6,000 RPM
Torque: 3145 @ 300 RPM
Transmission: automatic transmission is a single speed
Drive: Rear-wheel Drive
Seating: 4-passenger
Turning circle: 30.8 feet
Cargo space: 13.2 cubic feet
Curb weight: 2,579 pounds
EPA mileage: 62-mile range
Wheel Base: 100.4 inches
Warranty: 3 years/36,000 miles powertrain limited
Also consider: FIAT 500e, Ford C-MAX Energi , Honda Fit EV, Kia Soul
EV, Nissan LEAF, and the Smart