This year, we observed the 16th anniversary of the September 11 attack on our nation and remembered the people who lost their lives that day—a tragedy that changed our world. I will always remember where we were and what we were doing the day we heard the news. As I watched the television reports, I remember saying to my wife, "I think we're going to see our two Army sons involved in a war very soon." That day certainly changed the life of young Navy hospital corpsman, Derek McGinnis, who would also be involved in the Iraq War.
Petty Officer 2nd Class Derek McGinnis, US Navy
An Iraq combat Veteran and a graduate of the Sentinels of Freedom (SOF) program, Derek served in the Navy for eleven years. In 2004, he was wounded in Fallujah, Iraq; a suicide bomber attacked the ambulance that he was driving, blowing it to pieces. Derek lost his left leg above the knee, sustained multiple shrapnel wounds, and suffered a traumatic brain injury that caused intense pain long into his recovery.
At the annual Exchange Club 9/11 Remembrance Event in Danville, our community was honored to hear Derek share his story as the keynote speaker. Derek spoke about love of country, duty, sacrifice, resilience, and faith. It was deeply emotional and inspiring to see someone who has faced such a difficult and long recovery speak eloquently about service above self, and serving our nation.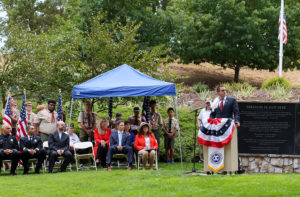 While Derek's transition to civilian life has been filled with obstacles, he has always found a way to push through: by having a supportive network, participating in athletic events, seeking care for physical and mental injuries, and sharing his experiences with others. In finding healing and peace of mind, Derek has taken back control of his life.
Through Sentinels of Freedom's assistance, Derek gained confidence and resources for his journey. One of the services we provide is mentoring—pairing Sentinels with an individual to assist with their personal and professional development. I have had the privilege of serving as Derek's mentor, and his drive and motivation to help others is inspiring.
A successful college graduate with a master's degree in social work, Derek now serves other Veterans as a licensed clinical social worker for the Department of Veteran's Affairs. He is a national speaker and advocate of new pain management techniques and protocols for Veterans and their families. Derek is also the author of the book, Exit Wounds, which narrates the details of his experiences of being wounded and learning to thrive.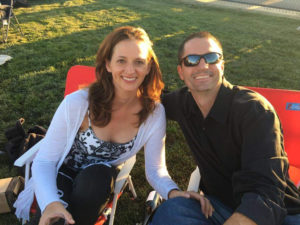 Derek says, "I'm grateful for all the things that I have, and proud of all I've accomplished. In the end though, I don't measure how far I've come by goals achieved, or academic degrees earned, or running trophies won. For me, what counts is that pain no longer rules my life." And that is what Derek wants to help other wounded Veterans to learn— they are still in control of their life.
Derek's journey, like the journeys of countless other wounded Veterans, is far from over. With his commitment to his community, he epitomizes a slogan that I often use: "Veterans Never Stop Serving." His perseverance inspires others in their struggles, reminding them there is a new life to be envisioned and experienced.
We owe a deep amount of gratitude, respect, and support to our Veterans and to those currently serving in our military; without them, we would not enjoy the freedom and quality of life we have come to know. I encourage you to take the time this upcoming Veterans Day to show your gratitude for these brave individuals.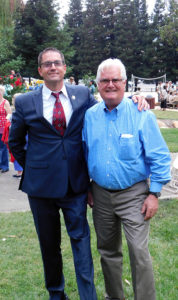 To learn more and to contribute to our effort in making a difference in the lives of Veterans like Derek, visit www.sentinelsoffreedom.org.