What makes a car a "classic?" Does it have to be a certain age? How many cars have you owned in your lifetime? How about your parents? Do recall certain cars they owned that you wish you had today?
My first car was a 1968, red, VW Beetle. My older half-brother had purchased the car new from a dealer. It had a sticker price of about $1,700. He sold the car to our dad who let me drive it until the engine blew. He told me that if I rebuilt the engine, the car would be mine. So I bought the then-famous How to Keep Your Volkswagen Alive, by John Muir (no, not that one), and set about de-constructing and re-constructing the car's engine in our backyard. Halfway through, the scene looked like one of those "exploded diagrams," with parts strewn in every direction, everywhere on our back patio.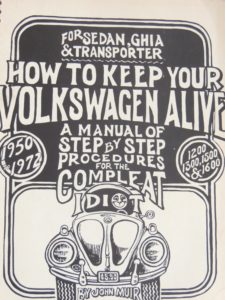 Somehow, I managed to get it all back together (with new parts of course) and was soon back on the road, "Cruisin' the Creek" (that was driving up and down Main Street in Walnut Creek on Friday night), along with several hundred other hormone-fueled male and female "cruisers," all hoping for at least a second glance by some—any—member of the opposite sex!
Looking online today, I see listings for my old "Bug" with price tags ranging from about $7,000 up to $18,000. Maybe that's about the same price as the original MSRP, adjusted for inflation. I don't really know, but I think old VWs are moving into, or are already within, "classic" territory. I suppose it isn't and won't ever be a "classy" classic, like an older Ferrari or a Corvette, because it wasn't and never will be as "sexy." But hey, I can tell you, the girls thought it was "cute!" It got the job done.
Speaking of sexy and classic cars, my parents had a number of cars I really do wish I owned today. How about a brown and white, 4-door, 1956 Chevy Bel Air? Or a pink and white Buick Coupe of the same vintage. They had some good ones! I recall a nice metallic blue GTO, and a pretty unusual red, 1961 Triumph Herald—a convertible with a leather top that my little brother managed to fall through while trying to get away from me when I was chasing him across the ceiling rafters in our garage. We even had a white, 62 Corvair Station Wagon—now, quite rare. Prior to my VW, I even took the driving test for my first license (1970) in my parents' 1962 Cadillac Fleetwood.
Americans have a love affair with cars, to be sure. So much of our culture is really anchored by them. What would American Graffiti have been without the cars? And what would America be without Route 66 and everything connected to that iconic Highway?
Lots of great cars with lots of terrific memories—I suppose that is what makes any car a real classic.