If you are a regular reader of ALIVE, you already know the answer to the question, "What makes ALIVE Magazine different from other local magazines?" I don't need to tell you that our covers are unlike any other or that we generally have more editorial content than some magazines with three times as many pages. Why, from time to time—dare I say it—we even include some content that some consider "controversial."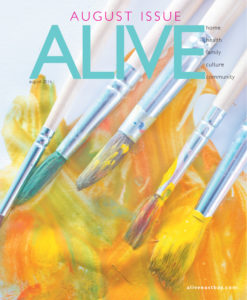 We intentionally strive to provide something quite a bit different from the standard "lifestyle magazine," because we know that, in the long run, it provides more value to both readers and advertisers. It's a model that has worked well for nearly eleven years.
In addition to the mailed copies of ALIVE that are sent to subscribers, offices, and businesses, ALIVE is distributed each month to nearly 200 rack locations throughout the Diablo Valley, Tri Valley and Lamorinda Corridor. In fact, chances are, if you're reading this, you probably picked up this free copy of ALIVE at one of those locations.
Now, here is the point I'd like to make: This issue of ALIVE isn't really a "free" copy at all—someone, or some group, paid to have this very copy produced so that you could have the pleasure of reading it.
That "someone" just happens to be is our amazing, loyal advertisers—and I don't use the word "loyal" frivolously. Indeed, many, like Fretwell's Ethan Allen, Pattiv's Jewelers, Katrina Rozelle, The Rouge Cosmetics, Dr. Donald Parsons, Sky Power Solar, Graham Hitch, Terry Thompson, Massage Envy, Align Healing Center, Dr. Robert Brown, Solar Technologies, Alamo Tax Service, Sentinels of Freedom, and Janna Chestnut, have been supporting ALIVE Magazine for many years—in fact, several have been with us since our very first issue in 2005.
Some advertisers that joined us more recently include Balanced Pain Management, Private Capital Investments, Diablo Valley College Foundation, and, last but not least, the newest member of our ALIVE family, Diablo Fine Jewelers in Alamo (please drop by for a visit and welcome them to the neighborhood).
So, as you enjoy this issue of ALIVE, please keep in mind that these fine businesses and professionals make it all happen. They are owned by and employ your neighbors and friends; they make our community the great place it is, but can only continue to do so with your ongoing patronage and support.