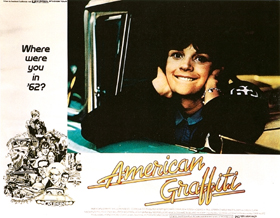 With the events of this past month, going back to another, simpler time sounds pretty good, doesn't it? I don't have enough space here to expound upon why simple is usually better than complicated, but suffice it to say when we think of classic films, some of the best are those with simple story lines and life-like characters. American Graffiti is one of those. And as tough as things have been lately, how fortunate we are, with this year being the 40th anniversary of the film, to be able to celebrate George Lucas' hit movie.
This entire issue is really the brainchild of my friend, retired film industry promoter Joe Redmond. When he suggested we do a story about the film, I was mildly enthusiastic. When he then mentioned he had met and chatted with the film's lead actress, Cindy Williams, at a charity event celebrating the film's 40th anniversary, I went from enthusiastic to ecstatic!   
Joe sent me photos of his encounter with Williams and I was dumbstruck—the "cuteness factor" of Cindy Williams is as palpable today as it was when she played Shirley Feeney in the hit comedy series, Laverne and Shirley. I loved the show when it ran in the 70s and 80s, and I'll admit to being as smitten today as I surely was then.
Even though Joe interviewed Cindy Williams, I really wanted to learn more about her, so I arranged for my own interview (page 20). As Joe said about his encounter with Williams, I too found her to be warm and unassuming—within a few seconds, she made me feel as though we were close friends.
Talking with Williams, I was struck by her dedication to her craft. Whether in movies, television or stage, she is the consummate professional who works very hard at what she does. Be it comedy or drama, her body of work over the past forty years speaks for itself. Before our interview, I didn't really understand the work required to be "professionally funny," but making it look easy is anything but. Laverne and Shirley, like Seinfeld and I Love Lucy, will remain timeless icons of comedy because of the work invested by the actors.
Most of all, I was impressed by Cindy Williams' honesty and conviction of values. She spoke passionately of the powerful faith that guides her life, and at a time when some celebrities act as if they rest in the center of the known universe, Cindy Williams stands as a reminder of what a professional actor is. If you're seeking an example for pursuing a career in Hollywood, I'd point to Cindy. 
Classic films like American Graffiti are rare, as are celebrities with the courage to reveal who they really are apart from the roles they play. Cindy Williams has that courage. The same warmth and depth of character I felt when we spoke, is what radiates from her performances on screen and stage. It's why she is the successful actress that she is.    
Oh, and of course, being cute doesn't hurt, either.