For many it is the traditional kick-off of summer; a day when friends and family gather to enjoy warmer weather traditions of barbeques, baseball and beer. Invariably however, on the Friday before Memorial Day weekend, I feel a tad uncomfortable saying things like, "Have a happy Memorial Day holiday," as I remember it may not be all that happy for some.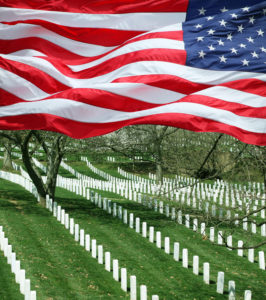 What was originally called Decoration Day began immediately after the Civil War, as the graves of Union and Confederate soldiers were decorated with flowers as a way to honor the fallen. On May 30, 1868, the first official Decoration Day was declared at Arlington National Cemetery. During WWII it was expanded to honor all Americans who died in military service and renamed Memorial Day, finally becoming a federal holiday in 1971.
Since our nation's founding, over one million American patriots have lost their lives in war; nearly half during the Civil War and another 400,000+ in WWII. The remaining thousands fought and died in wars since the American Revolution (4,435) to Korea (54,246), Vietnam (90,220), the Gulf War (1,564), and ongoing still, as we wage our War on Terror since 9/11 (7,000).
The sad reality of Memorial Day is that while these numbers represent the highest degree of patriotism and sacrifice, they also signify personal loss. In every case, someone lost a son or daughter; a brother or sister; father, mother or other relative. Someone lost their best friend.
During and after the Civil War nearly every family in America was directly touched by loss so the appreciation of sacrifice was deep and universal. During WWII, that appreciation was still high as twelve percent of Americans served in the military. Today less than one percent of Americans serve in active or reserve military, so we are all less likely to know the personal pain born of a patriot's ultimate sacrifice; a life given freely for the freedom we enjoy.
As we celebrate our reunions and enjoy each others company in parks and backyards this Memorial Day, let us not forget the families of the fallen. Let's extend our hands and hearts to those who have given so much, and let them know that we shall forever appreciate and honor their sacrifice.
Greater love hath no man than this, that a man lay down his life for his friends. John 15:13