This article was originally published in the April 2009 issue of ALIVE.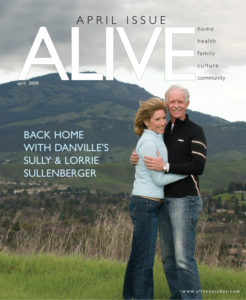 Prior to January 15th, Lorrie Sullenberger was the most famous person in the Sullenberger household. As a featured fitness expert on ABC-7's View from the Bay, contributing writer for ALIVE Magazine and creator of the Fit and Fabulous Outdoors TV show, Lorrie was often recognized when she shopped or when she and the family dined out. Then Lorrie's husband, Captain Chesley "Sully" Sullenberger III, and his courageous crew miraculously carried out the successful water landing of a US Airways Airbus A320 (flight 1549), on the Hudson River in New York City. At that moment their lives were forever changed. "We haven't been home for more than a few days since then," Lorrie told me when we all sat down to talk one Friday afternoon. "We've always enjoyed a certain amount of predictability and routine since moving to Danville, thirteen years ago. We miss that level of calm. It feels nice to just be at home enjoying dinners together again."
Overnight, Sully became a legitimate national hero at a time when the country desperately needed one, and the Sullenbergers went from being an ordinary suburban family to international celebrities. While they know that the intense and demanding schedule will eventually settle down, they can also accept that their lives will never be the same.
"I thought initially the story would run its course and eventually fade away when the next big story happened," Sully says, "but due in large part to the wide variety of media outlets that are available it has garnered worldwide attention and seems to have taken on a life of its own."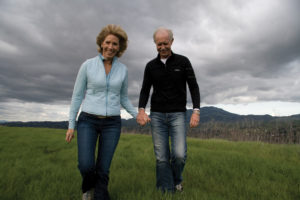 Since that fateful day, Sully, Lorrie, and at times their daughters Kelly and Kate, have been living a whirlwind existence of media attention and public appearances. Sully has done interviews with 60 Minutes, NBC Nightly News, Good Morning America and People Magazine. He has appeared on The Late Show with David Letterman and Larry King Live. He has been a celebrated guest at the Presidential Inauguration, the Superbowl, the Oscars and the President's nationally televised speech to Congress. All of this has fueled a never-ending desire for the American public to connect with our hometown hero. The Sullenbergers agree that timing had a lot to do with interest in the story. "People seem to need a good news story right now. This event seems to have given them hope," Lorrie says.
Sully readily admits that he was initially uncomfortable with the amount of public interest and adulation he was receiving. "I wasn't prepared for all the attention, nor did I understand the magnitude of what was happening. I'm not a celebrity, nor did I aspire to be one, but I'm willing to do what I need to at this time to try and generate as much good as possible from this opportunity."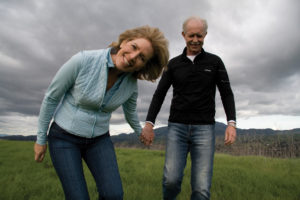 Upon his recent return from Washington D.C., Sully, Lorrie and I sat in the Sullenberger's living room on a sun filled afternoon—the same room where Katie Couric and the 60 Minutes camera crew was set up roughly four weeks prior. Intentionally, we didn't touch on the events of January 15th , but instead focused on how the outcome of that day has forever changed the trajectory of their lives.
As the outpouring of support and interest started to pick up speed, the Sullenbergers agreed that they wouldn't allow the recent event in their lives to change them personally. That was apparent, firsthand, when the Sullenberger's pool maintenance man knocked on the door and awkwardly asked if it would be okay to speak to Sully for a minute. Sully politely asked if we could interrupt the interview and made his way over to the front door. The brief exchange between the two men was unpretentious as Sully assured the gentleman, who was obviously in awe and unsure of what to say, that he was fine just talking with him like it was any other day, "pre-January 15th."
Fortunately the public's attention has been respectful and courteous. Unlike an actor or athlete who, to some degree, must court the spotlight, Sully believes people have respected their privacy because they don't have that air of entitlement. They do admit to the need to adjust their time allowances when going out in public because of the sheer number of people that respectfully want to shake his hand or request an autograph or photo. "We were at Costco recently and people were shocked to see us," Lorrie playfully said, "We still need to shop!" Both Sully and Lorrie know that their lives will get back to normal in time, but they seem more than willing to provide people with that "feel good" positive energy so many of us desperately need right now.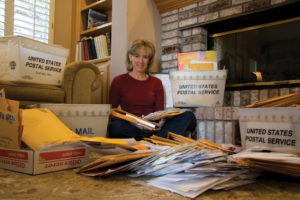 While the Sullenbergers have hired a PR team to assist them with chronicling the huge number of requests they receive daily, they have final say on any new projects or commitments. Other than an upcoming trip to New York for Sully, they plan to slow down and begin evaluating the offers and projects coming their way. When asked if they were at all burned out being in the limelight, both assured me that they weren't, although Sully admitted to being physically and mentally spent on three or four occasions. "It is incredibly demanding to be constantly sharp and on top of your game from early in the morning until late in the evening. I feel a tremendous obligation to represent my profession and colleagues to the best of my ability," Sully states.
John Macholz, a twenty year veteran pilot with American Airlines flying the S80, said pilots across the country truly appreciated Sully's impassioned address to the Aviation Sub Committee of the House Committee on Transportation and Infrastructure. "Sully did a wonderful job detailing the reduction in compensation and tattered retirement packages pilots have had to endure within the aviation industry over the last several years," says Captain Macholz.
Of the many grand events they've attended recently I was curious if there was anything that particularly stood out. Both were quick to say attending the Presidential inauguration and meeting the Obamas ranked high on their list. "President and Mrs. Obama were very gracious and kind. You feel like you've known them forever." Additionally, Sully was humbled by the standing ovation he received from the members of the House and Senate prior to President Obama's televised address before Congress on February 24th. Lorrie proudly recounted her day with Maria Shriver. Lorrie has been a volunteer for years at Maria Shriver's annual women's conference and when introduced to California's First Couple, Maria Shriver pulled her aside and said, "You are the one I'm here for."
At the Vanity Fair post-Oscar party, the Sullenbergers were seated between Academy Award winners Michael Douglas and Sydney Poitier. While Sully enjoyed a lengthy conversation with Mr. Poitier on a variety of life topics, Lorrie said the whole experience was surreal.
Amidst all the traveling, never far from Sully and Lorrie's hearts, minds and cell phones, are their two teenage daughters, Kate and Kelly. One might expect teenage girls to get caught up in all the red carpet invitations, but in this case, you'd be wrong. "Teenagers can be wonderfully self-absorbed," Lorrie says. "Once they determined that their dad was safe and well, it was back to business as usual." Sully playfully added how the girls almost had to be coerced into attending the Presidential inauguration with their parents. "They were concerned about missing school and getting behind with their homework." However, while attending Danville's "Key to the Town" ceremony on January 24th. Kate actually turned to her father and with a smile on her face said, "This is pretty cool."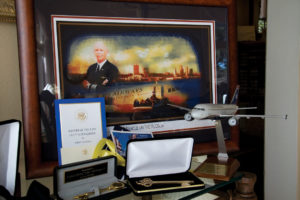 With over 20,000 hours of flight time in the left (captain's) seat, I wondered if Sully was at all uncomfortable being a passenger as he travels back and forth across the country to meet his appearance obligations. "This is my job now," he says, "if I didn't plan to resume flying it might feel strange, but as soon as I'm ready I'll go back to work." He predicts it will be a few more months before he returns to work as he continues to assist the National Transportation Safety Board (NTSB) with their investigation of the accident and takes advantage of this opportunity to promote a safety culture that works within every organization.
Sully owns a company called Safety Reliability Methods which assesses precursor incidents and identifies changes that need to be made or training that needs to be implemented to avoid future accidents. He is passionate about the aviation industry's need to not only attract the best and the brightest to the profession, but also to prepare and train his peers for any unforeseen emergency situations.
As we concluded our interview I noticed the enormous amount of mail that's arrived at their home over the last several weeks. Stacks and stacks of letters were piled high around their family room. Some were a request for an autograph or photo, others were simply notes of thanks and gratitude. The Sullenbergers said it was their goal to personally respond to each and every note.  They are also trying to determine how to best help further the cause and provide awareness to a handful of charities near and dear to their hearts including, but not limited to, Tony LaRussa's Animal Rescue Foundation and Guide Dogs for the Blind.
While researching information for this article online, I read a quote from an unnamed source that also expressed my assessment of Captain Sullenberger. "This man is worthy of our admiration. Forget athletes and celebrities. The values, competence and humility displayed by this man should be contemplated by anyone looking for something to aspire to."
As our country faces domestic hardships, economic struggles and international negativity never before experienced by this generation, we all need something positive to believe in and a person or event to provide hope for the future. We yearn for some form of bravery, decency and pride to illuminate this period in time. Chesley "Sully" Sullenberger was the right man at the right time. For that we can all be grateful that he has embraced the opportunity to set forth an example and lead the way however he can.
Writer's note: When friends and family learned that I had spent the afternoon interviewing the Sullenbergers, I was repeatedly asked if Sully and Lorrie were as genuine and sincere as they appear on TV. I'm happy to report that they both are warm, open and engaging. They responded to all of my questions without hesitation, yet their answers involved consideration and contemplation. Sully exudes a relaxed and subtle commanding confidence that comes from a lifetime devoted to preparation and attention to detail—a different type of assuredness from any I have observed during my meetings with corporate CEO's, politicians or professional athletes in the course of my primary business, writing and fundraising efforts.
Conversely, Lorrie exhibits the vivacious charm of a successful businesswoman, supportive wife and proud mother. The highlight of my afternoon with them was the casual "neighborly" conversation we engaged in after the interview had concluded. Given the unimaginable demands on his time, Sully eagerly inquired about my father's naval background. We also talked about the wonderful local public school system and the similarities of how we both migrated to Danville. Our interaction epitomized his true sincerity and character. I would like to thank my editor, Eric Johnson for giving me this unbelievable opportunity and the Sullenbergers for inviting me into their home. This experience was truly the pinnacle of this writer's fledgling career.