We are not enemies, but friends. We must not be enemies. Though passion may have strained it must not break our bonds of affection. The mystic chords of memory, stretching from every battlefield and patriot grave to every living heart and hearthstone all over this broad land, will yet swell the chorus of the Union, when again touched, as surely they will be, by the better angels of our nature.
– March 4, 1861 – Lincoln's First Inaugural Address
The battle of Palmito Ranch in Texas took place May 12-13, 1865 – this was the very last battle fought during the American Civil War. One hundred fifty years ago, the gruesome, bloody and tumultuous four-years of fighting between the brothers (and sisters!) of one hugely divided nation ended; a period of history significant in the growth, collapse and creation of many American ideals. Yes, the significance if the American Civil War is immense, and for me, the number of casualties plays a large role in roping me in, but… what does it mean today?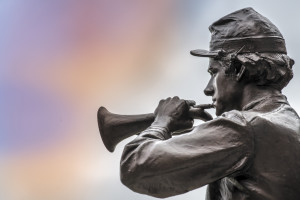 I have had numerous constructive discussions with my father and friends, and other people I encounter who also have a keen interest in the topic. This random, yet substantial, fact about me tends to throw people off; I've been asked if I was kidding on a few occasions. Honestly, it makes me think, "are you kidding?" when someone makes it clear that they have little-to-no interest in understanding and learning about this important, heartbreaking time in our country's short history. I am constantly wondering, "How are people not absolutely fascinated with this?"
Looking back on my public school education, I'm not even sure I learned anything significant about the Civil War, aside from the key-notes; Abraham Lincoln's Gettysburg address and the Emancipation Proclamation being the most notable in regards to what I and all of my classmates learned in high school. I can only assume this attributes to my peers' lack of interest on the topic,
Though the final battle was in May, General Robert E. Lee surrendered at Wilmer McLean's house in Appomattox County, Virginia on April 9, 1865. This is the most commonly agreed upon date most people associate with the end of the war, but as I mentioned at the very start of this article, the last two-day battle had not yet been fought. Isn't that interesting? Short answer: yes, yes it is!
What was it about?
When I talk to friends, colleagues or strangers (listen, I'll talk to nearly anyone about it, okay?), the responses can be interesting to say the least. Coming as no surprise whatsoever, the most common understanding is, "They were fighting to end slavery!" I've heard someone say with a cutting tone, "This is literally one of the most boring topics. Choose something better to talk about." I can recall the time a person once told me that it wasn't actually that big of a deal, a lot of it was fabricated and blown totally out of proportion for "media purposes." Personally, I love when people ask for fun facts because I get to share my personal favorite: the war started and ended on the properties of the same man. Wait, what?
Remember like, two short paragraphs ago, when I mentioned General Lee surrendering at the McLean house? Okay, well, here's the thing: the first battle occurred on Wilmer McLean's ranch in Manassas on July 21, 1861 – this would become better known as the first battle of Bull Run. So, close to exactly four years later, even after the man and his family moved, it was formally ended inside his home, in the parlor to be exact. He is credited as saying, "The war began in my front yard and ended in my front parlor."
Okay. At this point you might be wondering what I'm even going on about – why am I writing this? What is the point? As a future historian, one of my goals is to educate people about the civil war—whether it is general or complex information. Don't worry; this will be a pretty general overview with primary focus on the loss accumulated because of the war. This, to me, is incredibly significant in recognizing the 150th anniversary of what many historians consider to be the nation's greatest moral and political crisis.
The Numbers
With the first battle of Bull Run beginning there on the McLean farm, many thought that it would be a quick fight – over in no time. That sounds familiar and not archaic at all, doesn't it? Well, obviously it was not. For the next four years the men and women, yes, I said women, would fight hundreds of battles and lose hundreds of thousands of American patriots. An estimated 2,213,363 American's fought for their causes. With the Northern Union army, it is generally agreed that they were fighting to keep America united and, eventually, for the emancipation of African American slaves – the north considered their lives valuable. If you read more about this topic, there are a number of reasons given for those who signed up to fight in the Union army. The general consensus in regards to the Confederate army was that they were fighting to keep slavery alive in America – their livelihood depended upon it and it was their right as free Americans. These are the very basic ideals for the war coming about.
All totaled, we would lose two percent of the total American population because of this conflict. Interestingly enough, an updated estimate of the total number of deaths was released in 2012 by J. David Hacker, a demographic historian from Binghamton University in New York. For over 100 years the number was thought to be an estimated 618,222 total lives lost; 360,222 from the North and 258,000 from the South. Keep in mind that this number includes casualties of disease, injuries, infection caused from injury and deaths of prisoners being held captive, as well. According to various sources, for every four Union soldiers, it is estimated that more than one was killed or wounded during the war whereas casualties in the Confederate army were considered to be even worse – it's estimated that one in three Southern soldiers were killed or wounded.
That number was considered pretty concrete for over a century following the war, but with the research painstakingly compiled by J. David Hacker, the new number was increased by more than twenty percent—he believes that the total of casualties actually lies somewhere between 650,000-850,000. Dr. Hacker referenced census records from 1850-1880 to put together a pattern of survival rates throughout the decades of turmoil in America. His research revealed that the period of 1860-1870 was approximately 750,000 men and women short of the normal survival pattern in the years when war was not waging. This new estimate provides even more reason to acknowledge the significance of this incredible moment in American history.
"If you want to argue that the conflict was very destructive, the 750,000 number could certainly suggest that," Hacker says. "On the other hand, you could emphasize that neither army directly targeted the civilian population, that the number of civilian deaths was relatively low and that most soldiers' deaths were not on the battlefield. Only when you add both sides' casualties, which we don't do for other wars, can you get to that total."
Reaching Further than Anticipated
Points that should also be noted include just how much of the land in America saw battle activity throughout the duration of the war, as this may bring more understanding in regards to the number of casualties historians have estimated. Of course, all along the east coast and throughout the south, there are thousands of battlefields where blood was shed. Interestingly enough, there were battles fought out as far west as New Mexico. The Battle of Glorieta Pass first began at Apache Canyon on March 26, with the last encounter being at Pigeon's Ranch on March 28, 1862.
Our dear San Francisco even has historical ties to the civil war; though Alcatraz never fired its guns offensively, though during the war it was used to imprison Confederate sympathizers and privateers as early as 1861. The island of Alcatraz was ordered to be set aside specifically for military use in 1850 by President Millard Fillmore. When the civil war began in 1861, the island was equipped with 75 cannons lining the perimeter to start, later having a total of 105 as of 1866. Alcatraz Island was also used as arsenal storage in an attempt to prevent their inventory from falling into the hands of those that sympathized with the confederacy.
The Pacific Coast Theater of the American Civil War was the military operations for the Pacific coast as well as states and territories lying west of the Continental Divide. California, Oregon and Nevada were the states that took part; the territories of Washington, Utah and Idaho joined some time after the fighting began. While there were no direct meetings aside from the aforementioned Battle of Glorieta Pass, there was wartime activity as far west as the coast of Alaska, when the CSS Shenandoah, the second and last Confederate raider ship to enter the Pacific, fired some of the last shots of the war in the Bering Sea—too late to have any real impact, as the war had already ended.
You ask me if I will not be glad when the last battle is fought, so far as the country is concerned I, of course, must wish for peace, and will be glad when the war is ended, but if I answer for myself alone, I must say that I shall regret to see the war end. I would be willing, yes glad, to see a battle every day during my life. Now do not misunderstand me. I speak only of my own interests and desires…but as I said before, when I think of the pain & misery produced to individuals as well as the miserable sorrow caused throughout the land I cannot but earnestly hope for peace, and at an early date.             -George Armstrong Custer, in a letter to a cousin, written shortly after Antietam, October 3, 1862.
This barely scratches the surface of the huge impact yet short divorce this nation seems to have experienced with its own history and development, and how people began to view and hold America in their hearts. If you're looking for a good starting point for more in-depth information about the Civil War, Ken Burns' Civil War is highly recommended. Indeed, all of his documentaries are incredible but this one is especially poignant.
I hope this brief look has inspired some intrigue to explore the depths of this topic. Let's try to keep a dialog going to ensure this critical yet tragic time is never glossed over or forgotten.