Spring comes to America and one thinks of fathers playing catch with sons and daughters. Often, words are not involved. A person with eyes closed can tell a lot about the relationship—the sound of the baseball in the gloves, the cadence of the exchange, the pauses, the imagined life of an unseen baseball and the partners who throw it.
I think of playing catch with my father. He loved to play catch, loved baseball; Lou Gehrig was his boyhood idol. I think, no I know, he would rather have been playing ball instead of doing what he did—his job. And that's saying something when you consider that a significant part of his job was making love on the movie screen to actresses such as Ginger Rogers, Barbara Stanwyk, Jane Wyman, Rita Hayworth, Betty Davis, Ann Sheridan, Olivia De Havilland, Virginia Mayo and other lesser known film companions. Beyond baseball, my father's great love was singing, and he was more fulfilled while singing in musicals than he would have been even playing first base for the Yankees. The titles of musicals which featured his fine tenor voice include The Desert Song, Shine on Harvest Moon, My Wild Irish Rose, One Sunday Afternoon. Dennis Morgan was his stage name and he appeared in 52 films between 1938 and 1958, mostly in starring roles.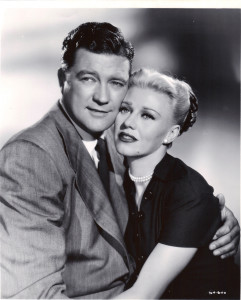 Back to baseball. Morgan, whose real name was Stanley Morner, batted left handed and threw right. Taught me to do the same. Made sense in those days. Now we've got switch hitters galore. That's even better. But he could hit with power, my father. "I knocked one over the fence in Wrigley Field," he told me. I might have been seven years old at the time. I believed him. Years later, I found this time-worn article in one of the scrap books my mother kept; it confirmed his home run where it was 339 feet down the foul line in right field. This occurred in one of the mock baseball games that featured Hollywood celebrities. The one in which Morgan hit his home run packed 25,000 people into that Pacific Coast League park.
My father, Dennis Morgan, and his co-worker at Warner Brothers studio, Ronald Reagan, played some of these mock baseball games. They had been made stars by the Warner Brothers publicity department in the same year, a 'class' of five actors and actresses who were introduced as 'stars' together. One other member of that class was Jane Wyman, who would become Reagan's first wife.
Dennis Morgan and Ronald Reagan would often be cast in the same kind of film roles, at least once, simultaneously. The day Reagan was given the role of Custer and showed up in the Costume Department at the studio to try on the uniform, he found Dennis Morgan's name attached to the coat. Reagan learned a profound message about how studios manipulated actor's careers. It turned out there had been a change of mind, and the two contract players happened to be the last to know.
Reagan and Dad had both been athletes and took their parts even is such tomfoolery with some seriousness. So on one play, Reagan actually slid into second base at full speed. Dad was either playing short stop or second base. He told me he heard a crack. As Reagan writhed on the ground in pain, other actors came running out saying to themselves, "What a funny gag Ronnie just pulled off. Look at that. He's making it seem real. Great actor!" They were going to get him up and join in a laugh with the audience. Dad pushed them away and didn't let anyone touch the man who had just broken one of his legs and not in the show biz sense, but for real.
Reagan always remembered Dennis Morgan's act of perception and kindness. Many years later when my father and mother were driving from the SKJ Ranch to visit their family in the Bay Area, they had a near fatal automobile accident on Highway 5. While they were in the hospital in Tracy in critical conditions, I was flooded with phone calls from their many friends. One of the first calls came from the White House.
Dennis Morgan had disappointments and successes both in his career and in baseball. Here are the stories of one such disappointment and one success.
Here is this actor who is as close to a natural for the part of Lou Gehrig as one could find. Here's a guy who hung out and practiced with ballplayers: who knew the game; who would not have needed a stand in or trick photography to hit the home runs left-handed the way Gehrig did. So what happened when they made the Lou Gehrig story into a move? Morgan got shut out. They picked Gary Cooper, a right-handed batter who was known for many acting skills, hitting and throwing a baseball not among them. They had to use trick photography to make it look right and they hired Babe Herman to do the action scenes. It was just like when MGM did "A Pretty Girl is like a Melody" with Dennis Morgan lip-synching Allen Jones' voice, when Morgan had a better voice anyway.
But in the end, Dad threw a smoking strike down the middle of the plate, something that came out right not just for my father but for community. He created something he called "The Two Strike Series." There existed in the 1940s, in the Los Angeles area, an informal organization of major league baseball players who met as "The Hot Stove League." This consisted of league baseball players and those connected with major league baseball that lived in the Southern California area. Remember that there was no major league baseball in California or the western states at that time. Dennis Morgan had many friends in this group; Leo Durocher, Lefty O"Doul, Bob Lemon, and others whose names might not be familiar to readers today. They included batting champions, base stealers, top players.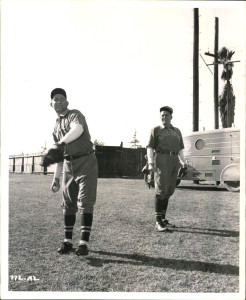 The idea for The Two Strike Series came when my father saw a safety poster of a boy who had been hit by a car. He decided that "any child who had to play in the street had two strikes against him and the third strike could be getting hit by a car." He conceived the idea of staging baseball games using Hollywood personalities and his friends from the Hot Stove League. They would play fun games that were mostly meant for entertainment, show case celebrities and major leaguers, and sell tickets. These games played in 1946-7. The money they made enabled the community to build Two Strike Park, a facility which still exists on the five acres of land purchased in La Crescenta. I had the privilege of being the batboy for these games when I was fourteen years old, something that included playing catch with major league baseball players.
More than 40 years after he donated the land for Two Strike Park, the late Dennis Morgan was finally recognized for his contribution to the community. His granddaughter, Mara Morner-Ritt, accepted the award for him. In the words she spoke, Mara said, "He was just a decent family man. That's what I liked most about him."
Playing Catch
I'm playing catch with Dad
one last time. He tosses.
"It's getting to be the late innings."
The ball smacks our worn gloves.
"What do you know about death, Dad?"
He rifles a hot one my way.
"You just kind of stay around."
I think of Dante,
The Tibetan Book of the Dead,
Greek shadows hanging around Hades.
This staying around thing bothers me.
I flick a lazy curve his way.
It bothers me a lot
because he's dead.
Probably knows something I don't.
Bothers me even more
because he was a Christian
the last time I saw him.
I slip him my best slider.
That pitch has some bite to it.
"Do they play baseball in heaven, Dad?"
I'll be darned if the old guy isn't smiling.
"Sure they do. That's the good news."
"What could be bad about baseball?"
"You're set to pitch tomorrow, Butch."
After three years as an officer in the U.S. Air Force, Stan Morner spent a career as a high school English teacher, most of it in the Mt. Diablo Unified School District. Mr. Morner is a vice president in The Ina Coolbrith Circle, a literary organization founded by California's first Poet Laureate, Ina Coolbrith. He has been a swimmer with the Walnut Creek Masters Swim Team for nearly 30 years and is a member of the Lafayette Orinda Presbyterian Church. Stan Morner was born in 1934 in Wisconsin and came to California when he was nine months old because his father had been given a contract as an actor/singer with MGM. His father, AKA Dennis Morgan, made 52 films in Hollywood as a leading man. Stan Morner has published poetry, fiction, and essays in a number of periodicals, including California English, Kansas Magazine, Anais, an Iyternational Journal, Collages and Bricolages, and The San Jose Mercury News, Bulletin of the California State Library Foundation. Mr. Morner is currently working on a book concerning his family's experiences in Hollywood. "Playing Catch" is a shortened version of one of the chapters in this work in progress.