On July 19, 2008, Alan Thicke was the headliner at the Sing for Your Supper Benefit Concert at the Lesher Center for the Arts in Walnut Creek. ALIVE Feature writer Antonia Venezia interviewed Thicke some time prior to the concert and we published that interview in our July 2008 issue.
We were saddened to hear of Alan Thick's passing. Not only a man of vast, varied talents, Alan Thicke was a humanitarian and a positive role model to many. He will be sorely missed. All of us at ALIVE offer our thoughts and prayers to his family and close friends.
In remembering Alan Thicke, a re-print of Antonia Venezia's interview follows below.
---
One could call him a "Jack of All Trades" in the entertainment business—a multi-faceted entertainer who has delighted fans for over twenty years. If the name Alan Thicke doesn't ring a bell you probably haven't watched much television over the years?
As a lead actor on the hit ABC television sitcom, Growing Pains, released in the eighties, Thicke played Jason Seaver, a psychiatrist and father. Growing Pains: The Reunion was one of Disney's highest-rated TV Movies.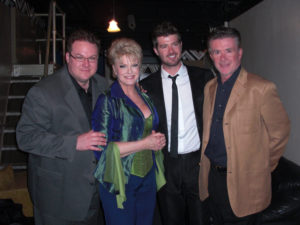 Thicke is also well-known for hosting, producing and writing The Alan Thicke Show, a highly successful talk-variety series that still remains the biggest hit in the history of Canadian daytime televi­sion. Soon thereafter, the show Thick of the Night was born, becom­ing a popular late-night favorite in America.
Alan Thicke has earned a Golden Globe "Best Actor" nomination and seven Emmy Award nominations, five of which are for writing and two for acting. As one of America's most popular and sought-­after emcees, Alan has hosted event specials including: The Emmy Awards; ABC's Olympic Kick-off Gala; ABC's Disney Christmas and Easter Parades; the Miss Universe, Miss World USA, and Miss USA Pageants; Showtime's Comedy All-Stars; TV's Funniest Families and NBC's World's Greatest Magic, along with many other hit shows.
During our interview, Alan shared some of his secrets on how to become a great television host: "I think the main advice that I can give you is to always expect the worst. Expect that a light might fall down or someone's going to trip, or you're going to say a dumb thing; misspeak or misread the prompter. Learn to have fun and just play with that. I think the people who do badly are the ones who try for perfection."
Alan Thicke has a thick, impressive resume. He's an accom­plished author who recently signed a publishing deal for his first novel, Lovely Parting Gifts. His other books inc1ude: How To Raise Kids Who Won't Hate You (the sequel to How Men Have Babies, which is the Pregnant Father's Survival Guide, an ongoing favorite since its release in 1999). The book has become so popular you can now read it in Spanish, German and Chinese, too. There's also an audio version available by the author himself.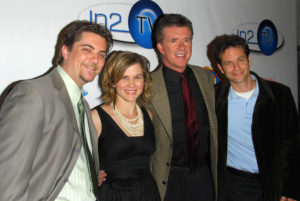 With an extensive background in game shows, Alan produced Celebrity Sweepstakes and Wizard of Odds, launching the career of his friend Alex Trebek.
"Writing theme songs was a fun little business and I am glad 1 did it," mentions Thicke. As a music composer, he has written over 45 television theme songs, including themes for the shows Facts of Life and Different Strokes.
While conversing about music, Alan was thrilled to tell me about his recording artist son, Robin Thicke, the creator of the infectious sleeper hit song, Lost Without U, which has reached platinum status. When I asked him what gives him the most satisfaction out of all of the things he's achieved in his career, he was happy to say, "The most fun I have, frankly, is enjoying my son's career. He sold a lot of records last year and he has a new album coming out. I enjoy watch­ing him grow and succeed and then I become a fan, beyond being a Dad or a counselor. I play his record all the time. Wait until you hear his next album. I think it's even better."
As a Dad, Alan thinks his son Robin learned some valuable les­sons from him while growing up. "I have a pretty good commercial ear and I am a pretty decent judge of music. I would have been a good judge on the show, American Idol instead of being a partici­pant. I think Robin learned about the business. I taught him how to treat people. People always tell me that he is a gentleman; easy to work with and all the good things you want to hear about your kid."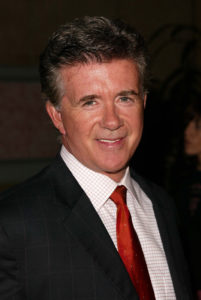 Currently, Alan Thicke is working on several exciting new projects. He is acting in a new hour long drama in Canada called, IPOD where he plays a no account Dad with no rules and he has a role in a new Will Farrell film called, The Goods: The Don Ready Story starring Jeremy Piven. His popular book, How to Raise Kids Who Won't Hate You will soon be re-released with a new chapter that he is writing.
"I'm proud to say that on Thursday I became a grandfather for the first time to Tyler, from my oldest son Brennan," says Alan. "I'm looking forward to that phase in life. I'm covering the spectrum—I am a grandfather while I am waiting in the parking lot of my youngest son's fifth grade school to meet with his teacher."
Alan Thicke has achieved more than some would only dream of in the entertainment world, which is often quite a demanding job. I was curious to know how he finds the time to do everything. Here's what Alan had to say: "I'm up at 6:30AM working, making calls and writing. Then I take a couple of hours off during the day to play tennis, golf or hockey. I end up wrap­ping things up at the end of the night and doing more writing. I pace myself and change my venue. I sometimes go from room to room in my house when I am working."
Thicke's television career began behind the scenes as a writer for a Canadian broadcasting Corporation. His talent soon led him to the U.S. where he wrote and/or produced comedy spe­cials and series for Bill Cosby, Flip Wilson, Kenny Rogers and Barry Manilow, among others. He also produced and wrote the revolutionary comedies Fernwood 2night and America 2night for hot producer Norman Lear. "All of these talented people who I worked with stood out in their own unique way and they all had different personalities. Every one of them contributed to my evolution," says Thicke.
In theatre, Alan received rave reviews opposite Jason Alexander in the Neil Simon/Burt Bacharach musical, Promises, Promises and for his Broadway debut as 'Billy Flynn' in Chicago: The Musical.
He has written sitcoms and film scripts for Castle Rock, Warner Brothers and Viacom. Originally, Thicke wanted to be a football reporter. In college he started doing a little performing and now he's obviously "doing-it-all." He has guest-starred on various television shows like Just Shoot Me, Married with Children, and Seventh Heaven. He's appeared in TV movies and feature films including, Disney's Not Quite Human trilogy, The Calendar Girl Mureders, and Teddy Bear's Picnic.
As a headliner and speaker, Alan's unique charm, personality and humor have established him as one of America's all-pur­pose entertainers. He's been a keynote, motivational speaker and a host/comic at various conferences, hotels and events, including everything from Sacramento's Earth Day, Awards Ceremonies for California's Building Industry, and Atlanta's Real Estate Conference, to The Chiropractic Centennial Celebration and the NHL's All-Star Banquet.
Alan is married to Tanya Callau and is a proud father of three sons: Brennan, Robin and Carter and a grandfather to a new-born, Tyler.
Alan Thicke's experience as an entertainer is outstanding. As an actor, writer, host, composer and producer, one can only imagine how hard he works. For many people, it would take a lifetime to achieve this kind of status, but for this multi-talented Superstar, the world is his oyster in the entertainment business. He is, truly, "A Jack of All Trades."
The best shows on television are as good, or better, than they have ever been. There are some bottom feeders as well. Then you have a lot or reality shows and competition shows. There are so many networks now, it allows a lot of bad stuff in. The low end spectrum is pretty low… but the high end is pretty high. ~ Alan Thicke
Please visit: www.alanthicke.com