There are very few rigid rules in the world of wine. Far too much time is spent agonizing over just the right pairing for a holiday meal when the truth is there isn't one right answer. Many wines pair beautifully with many foods. The holidays are the perfect season to have fun and try some new wines from different regions around the country or around the world. Ever had a wine from New York? Try a Finger Lakes Riesling. Love Pinot Noir? Try a selection from Oregon's Willamette Valley. Die-hard Cabernet fan? Napa is the place for you. Want something really different? Try a sparkling Shiraz with your New Year's dinner.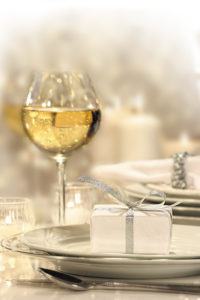 Generally, it's hard to go wrong, except when it comes to dessert. Please put away your fancy, brut champagne and dry table wines! They have no place here. With dessert, the simple rule of thumb is the wine must be sweeter than the dessert.
At first, this might seem confusing. Who serves wine with dessert anyway? The answer is you! Or it should be. Coffee and tea are so yesterday. To be truly cutting edge, the sophisticated host offers a chic dessert wine at the end of the meal. It's not as odd as it might sound.
Sweet wine is the classic accompaniment for the dessert course. Sweet champagne and fortified wines have been the choice of kings for centuries and you're the king of your castle, right? Having a classy dessert wine will impress your guests and make you look like a real connoisseur.
The type of wine you select depends on the type of dessert you serve. The sweeter the dessert, the sweeter the wine. Easy, right? Not always. Have you ever been served a dry, sparkling wine and chocolate-covered strawberries? The combination is often presented in hotels and restaurants. Though it looks decadent and inviting, it is ever so wrong. The flavor of a dry wine becomes bitter after you nibble on sugar. Suddenly that expensive bottle of bubbles is offensive. What a waste!
The proper pairing would be a demi-sec (slightly sweet) champagne or even better, a lovely glass of port to complement the creaminess of the chocolate and the fruitiness of the berries. Brut champagne is meant to accompany briny oysters or to cut the greasiness of crispy french fries, not to be sipped with a plate of bonbons. Dry with dry, sweet with sweet. Think about it. If you are reluctantly agreeing that perhaps I do have a point, read on…
When choosing a sweet wine, consider your dessert. Do you like chocolate? Try a tawny port. Love Tarte Tatin? Look into a luscious and impossibly elegant Sauternes. Prefer pecan pie? Try a hauntingly delicious Rutherglen Muscat from Australia. Want sparkles? A delicate Moscato D'Asti might be just the thing. Have a budget for the best? Seek out a fine demi-sec or doux champagne from France and savor every bubble.
Be adventurous this festive season. This is your chance to not only keep up with the Joneses but to surpass them altogether. Your basic understanding of wine and simple pairing will catapult you to new heights of admiration from family, friends, and business associates. Don't tell them I told you. Let it be our secret. Have a gorgeous holiday. Cheers!