Fresh corn and watermelons abound. The earthy fragrance of vine-ripened tomatoes and glistening strawberries perfume the summer mornings. The disappointment that comes with the waning profusion of locally-grown blueberries and blackberries is tempered only by the arrival of early apples and table grapes. It's August at the farmers' market.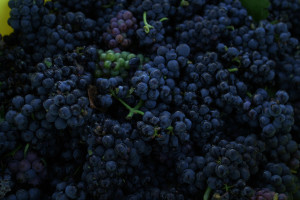 Grapes evoke childhood memories: the cold mouthful of juicy sweetness plucked directly from the stem, one by one. The two or three anemic specimens you could always count on finding in a can of fruit cocktail. Grape was arguably the most coveted flavor for sugary drinks, chewing gum (!), and Popsicles (it was probably revered as much for its staining ability as its taste). Concord grape jelly elevated the peanut butter-on-white-bread sandwich to gourmet heights.
As our culinary horizons expanded, grapes became the ubiquitous garnish for any cheese platter. Savory dishes starring grapes—like the French classic Chicken Veronique—were considered wildly exotic. Every fancy banquet table was garnished with clusters of seedless grapes "frosted" with sugar. Film buffs laughed at Mae West calling out, "Beulah, peel me a grape!" in the film She Done Him Wrong.
Grapes are the not-so-secret ingredient that helped make Neiman Marcus' chicken salad legendary. We traveled and learned that Italians enjoy rich breads and olive oil cakes studded with wine grapes to celebrate the annual harvest. Pickled grapes often appear as a condiment on Thanksgiving tables. Table grapes make a fresh addition to many Waldorf salads, and a welcome departure when added to tabbouleh or other traditional salads.
I was once slightly horrified when the glass of Merlot I ordered in a hotel cocktail lounge was delivered in an oversized goblet with a bunch of seedless red grapes hanging over the rim. But that's a whole other story. In most other cases, grapes are always appropriate.
For something light and nourishing—and definitely outside of the box— consider grape salsa. It can be made in a matter of minutes. As with any salsa it's a natural with tortilla or pita chips, but this recipe also makes a cool and refreshing condiment for quesadillas or grilled chicken, pork, or fish; try it spooned alongside soft California goat cheese or a wedge of perfectly ripe Cambozola or brie. There's nothing childish about it.
California Two-Grape Salsa
1 1/2 cups stemmed green seedless grapes, quartered or coarsely chopped
1 1/2 cups stemmed red or black seedless grapes, quartered or coarsely chopped
2 green onions (scallions), chopped
3 tablespoons thinly sliced or chopped fresh mint leaves
1 jalapeño chile pepper, seeded if desired, and finely chopped
Finely grated zest and juice of 1 large lime (or as needed)
1/8 teaspoon fine sea salt
1. In a large bowl, combine the green grapes, red grapes, green onions, mint, jalapeño, lime zest and juice, and salt. Toss gently to mix. Cover with plastic wrap and refrigerate for at least 30 minutes to blend flavors.
2. Just before serving, toss again and taste, adding more lime juice or salt if needed. Makes about 3 cups, to serve four to six.
Grape Expectations
–Grapes grow in temperate zones throughout the world, including Africa, Asia, Australia, Europe, and North and South America. California is the largest U.S. producer of grapes—both for wine and for the table.
–There are literally thousands of grape varieties, ranging from pale yellow to nearly black. They are categorized by color as well as the way they are used: for wine; for the table (such as Thompson seedless); or for commercial food production (e.g., Muscat grapes for raisins; and Concord grapes for jams, jellies, and juices.)
–Concord grapes are native to the U.S.; developed in 1854 by Ephraim Bull in Concord, Massachusetts.
–The tiny, tightly-clustered grapes sometimes labeled "champagne grapes" are not used at all for wine making. They are actually Corinth or Zante grapes–which are either eaten out of hand or dried for currants.
–Wine grapes are very high in acid, and therefore too tart for general eating. Likewise, table grapes make terrible wine.
–Buy grapes that are plump, fragrant, and still attached to the stem. (This keeps them fresher for longer.) The grapes should be firm, but not rock-hard.
–Once grapes are picked from the vine, they do not continue to ripen.
–A white bloom on the grape skin is simply an indication they have been handled minimally.
–Refrigerate unwashed grapes in a perforated plastic bag lined with a paper towel. They should keep for up to 7 days in the crisper drawer. Just before serving, rinse thoroughly with cold running water.
–Organic grapes have a shorter shelf-life than those grown conventionally, since no sulfur dioxide fumigation is used during storage.
–Red grapes contain the powerful antioxidant quercitan and the trace mineral boron, which is associated with brain power and bone strength.
–Freeze grapes to keep on hand as a healthy snack or light dessert during these warm days. Rinse and dry individual grapes, then flash-freeze in a single layer on a baking sheet. Once frozen, store in plastic bags for up to 2 weeks. Instant sorbet!
–1 cup of grapes weighs in at about 104 calories, and is a good source of vitamins C and K.
The Danville Certified Farmers' Market, located at Railroad and Prospect, is open every Saturday, rain or shine, from 9 a.m. until 1 p.m. For specific crop information call the Pacific Coast Farmers' Market Association at 1-800-949-FARM, or visit their web site at www.pcfma.com. This market is made possible through the generous support of the Town of Danville. Please show your appreciation by patronizing the many fine shops and restaurants located in downtown Danville. Buy fresh. Buy local. Live well.