I've already abandoned the whole New Year's Diet thing. For the first week or two I documented my carb, fat, and caloric intake with military precision. But now that I've dropped a few pounds, I'm over it. I figure any reasonable regimen is bound to be an improvement over December's champagne-fueled evenings and Christmas-cookie-breakfasts.
In the aftermath of holiday excess, it is comforting to sit down to a healthy meal at home…providing it's something appealing and delicious. The good news here is that the words "healthy" and "delicious" need not cancel out each other.
I know I can't stray far off track when I'm at the farmers' market. With no shelves of salty snacks or candy aisle or liquor department to divert my attention, I feel quite virtuous as I shop in the open air. For me, this is about as good as it gets. So as I'm leaving the market, I reward myself with a bouquet of fresh flowers. Yup, that's how I roll.
One of the cruel ironies in life is that the New Year begins in winter, when we are naturally inclined to hibernate in the coziness of our homes. This has the potential of becoming a danger zone, for nothing satisfies like comfort food on a chilly evening. But "comfort" doesn't have to mean giant bowls of cheesy pasta or a small trough of ice cream. Nor does it mean a scoop of nonfat cottage cheese and a few limp lettuce leaves. Somewhere, there is a happy median.
Fellow January dieters can rejoice that sweet potatoes are one of the few starchy vegetables that ranks low on the glycemic index. They are also high in vitamins and A, B6, C and D; and a good source of potassium, calcium, folate, magnesium, iron, and beta-carotene. If you have never tasted sweet potatoes without a blanket of molten marshmallows on top, you are in for a pleasant surprise.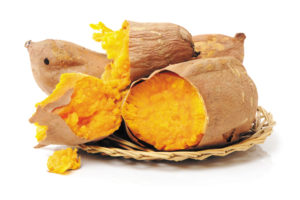 Sweet potatoes are born with paper-thin skin and a high ratio of starch to sugar; and they're not terribly desirable at this stage. Only after a designated period of climate-controlled storage does the skin thicken into a protective barrier and the starch contained within convert to sugar—resulting in the creamy sweet potato we know and love.
The peak season for both sweet potatoes and apples is waning, so it's the perfect time to indulge. The following torte makes a company-worthy side dish for roast pork or poultry; and an impressive vegetarian entrée when served alongside a warm loaf of crusty whole-grain bread and a lively green salad dotted with toasted sliced almonds and juicy orange segments. It's also a very comforting way to ease into 2017.
SWEET POTATO TORTE WITH APPLE, GOAT CHEESE& THYME
31/2 tablespoons unsalted butter
1 small thyme sprig, plus 2 teaspoons chopped fresh thyme leaves
2 green onions (scallions), thinly sliced or chopped, including the green tops
1 tablespoon all-purpose flour
3/4 teaspoon fine sea salt
1/2 teaspoon granulated sugar
Freshly ground black or white pepper, to taste
1/2 cup (2 ounces) crumbled soft goat cheese
2 red-skinned sweet potatoes (yam variety), about 12 ounces each, peeled and thinly sliced*
1 large tart green apple, such as Granny Smith, peeled, halved, cored, and thinly sliced*
Preheat the oven to 375 degrees. Melt the butter in a small saucepan or in the microwave. Use some of the butter to generously grease an 8- or 9-inch cake pan, then place the thyme sprig in the center of the pan.
In a medium bowl, combine the chopped thyme, the green onions, flour, salt, sugar, and a few grindings of pepper. Toss gently to mix well. Stir in the cheese.
Arrange a single layer of sweet potatoes in concentric circles over the bottom of the prepared pan, overlapping the slices slightly and taking care to not disturb the thyme sprig in the center. (This layer will be the only one visible when the torte is unmolded, so you'll want to take the time to make it attractive.) Top with half of the apple slices spread into an even layer. Sprinkle with half of the cheese mixture; then drizzle with about 2 teaspoons of butter. Use half of the remaining sweet potatoes to make the next layer; and top with the remaining apple, the remaining cheese mixture, and 2 teaspoons of butter. Make the final layer using the remaining sweet potato slices and drizzle with the remaining butter. Press down gently to compress the mixture. Cover the pan tightly with aluminum foil and bake until the potatoes are just tender when pierced with the tip of a sharp knife, about 40 minutes. Carefully remove the foil and bake, uncovered, until lightly browned at the edges, about 25 minutes longer. Let cool in pan for 5 minutes to 10 minutes, then run a knife around the edges to loosen.To serve, invert the warm torte onto a warm serving plate and cut into pie-shaped wedges. Makes 1 (8- or 9-inch) torte, to serve 6 to 8 as a side dish.
* To simplify your life, use a mandoline or the slicing disk on a food processor to make uniform slices about 1/8-inch thick.
The Danville Certified Farmers' Market, located at Railroad & Prospect, is open every Saturday, rain or shine, from 9 a.m. until 1 p.m. For specific crop information call the Pacific Coast Farmers' Market Association at 1-800-949-FARM, or visit their web site at www.pcfma.org. This market is made possible through the generous support of the Town of Danville. Please show your appreciation by patronizing the many fine shops and restaurants located in downtown Danville. Buy fresh. Buy local. Live well!