I've learned to write 2015 on my checks. The cymbidium orchid in my patio is covered with blooms. After a month of sensible eating, the December weight gain is now a distant memory. We've finally had some rain; and occasionally I catch a whiff of spring in the air. I say it's time to get this New Year started.
Valentine's Day comes at a time when everyone needs a little pick-me-up. We've had enough of the January doldrums. It's time for a bit of romance…even if it involves no more than one simple act of kindness.
No sweetheart? No problem. Just about anyone—including you—deserves to feel special on Valentine's Day. There are plenty of ways to do this. You can pass out greeting cards, just like you did in second grade. Flowers are another easy out—and you will find gorgeous, just-picked bouquets at the farmers' market at rock-bottom prices. And then there are gifts of food. This holiday is already heavily laden with chocolate; and believe it or not, some people don't even like it that much.Why not celebrate the season with a culinary quickie? It's Valentine's Day. Live a little!
No doubt strawberries will probably get sweeter and cheaper as the season progresses; but for now–after months of eating apples and citrus–I simply cannot resist them. Strawberries are a sign that spring is on its way. And you can rest assured the flavor of locally grown strawberries will surpass that of any shipped here from another hemisphere.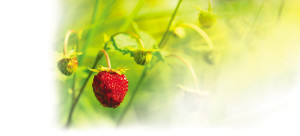 Spice up your day with this whimsical take on chips-and-salsa for dessert, or enjoy itas a snack while snuggled up on the sofa watching your favorite chick flick. Strawberry salsa is equally good spooned over ice cream or slices of angel food or pound cake. Omit the jalapeno if you must; or add a couple of peeled and chopped kiwi fruit for variation. It's all good.
Strawberry-Mint Salsa with Cinnamon-Spiced Tortilla Chips
2 tablespoons fresh lime juice
1 1/2 tablespoons local honey
1/4 teaspoon fine sea salt
1 jalapeño or serrano chile pepper
2 pints farm-fresh strawberries (about 1 pound total), hulled and coarsely chopped
2 tablespoons thinly sliced or chopped fresh mint leaves
Cinnamon-Spiced Tortilla Chips (recipe follows) or Cinnamon Pita Chips
1. In a large bowl, mix together the lime juice, honey, and salt.
2. Wearing rubber gloves, remove the stem, seeds, and ribs from the chile and chop finely. Add to the lime mixture; then gently stir in the strawberries and mint to combine. Serve at once, or cover and refrigerate for up to 4 hours. Makes about 2 cups.
Cinnamon-Spiced Tortilla Chips
6 (7-inch) flour tortillas
1/2 stick (4 tablespoons) melted butter
1/3 cup granulated sugar
1 1/2 teaspoons ground cinnamon
1. Preheat the oven to 375 degrees. Stack the tortillas on top of each other and cut into 6 pie-shaped wedges. (Alternatively, cut the tortillas into strips or irregularly shaped, elongated triangles.)
2. Lay the tortilla wedges flat in a single layer on 1 or more parchment- or foil-lined baking sheets. Lightly brush each wedge with butter.
3. In a small bowl, mix the sugar with the cinnamon until well blended. Sprinkle the mixture evenly over the tortillas and bake until crisp, 10 to 12minutes. Let cool completely. Serve at once, or store in an airtight container at room temperature for up to 2 days.To serve, have each guest spoon salsa onto a chip. Makes 36 chips.
————————————————————————————————————
Strawberry Savvy
–A shiny berry is a fresh berry. Once picked, strawberries lose their natural sheen in a matter of days.
–Fresh green caps, intense perfume, and vibrant, uniform color are other qualities to look for in strawberries. Avoid those "white shoulders" that mean the berries were picked before their prime. And when it comes to strawberries, bigger is not always better!
–When stored properly, farm-fresh strawberries last 1 week or longer in the refrigerator. (Oh yes they do.) Here's the secret: Line a plastic container with a paper towel to absorb moisture. Gently pile in the unwashed strawberries with their green caps intact. Top with another paper towel, seal with an airtight lid, and refrigerate.
–Never rinse strawberries or remove their green caps until just before using. Rinsing berries removes their naturally protective outer layer; and their caps prevent water from soaking into the strawberries, diluting the flavor and altering their texture.
–To clean strawberries, place them in a colander or large sieve and rinse quickly under a gentle spray of cold water. Pat dry with towels; then remove the green caps, if desired.
–To hull strawberries (i.e., remove the green caps), use the sharp tip of a paring knife; the pointed end of a swivel-bladed vegetable peeler; or a strawberry huller—an inexpensive tweezer-like gadget available at most cookware shops. This removes not only the leafy green cap, but also the tough little white core beneath it.
–1 cup of halved raw strawberries weighs in at around 49 calories. They are a good source of vitamin C, and also contain potassium, iron, and folic acid.
The Danville Certified Farmers' Market, located at Railroad and Prospect, is open every Saturday, rain or shine, from 9 a.m. until 1 p.m. For specific crop information call the Pacific Coast Farmers' Market Association at 1-800-949-FARM, or visit their web site at www.pcfma.com. This market is made possible through the generous support of the Town of Danville. Please show your appreciation by patronizing the many fine shops and restaurants located in downtown Danville. Buy fresh. Buy local. Live well