February is upon us and it's time to gear up for a romantic Valentine's Day. What will you and your beloved drink on the big night? There are so many wonderful choices. You could go classic and opt for a sparkling wine. California sparkling wine, French champagne, Italian prosecco, and Spanish cava are always popular choices. But given the spirit of the occasion, why not try a red sparkler?
A red sparkling wine? Indeed, red sparkling wine is somewhat of an enigma. You don't find it on menus very often in the United States, so when you do, be sure to sit up and take notice. The best red fizz is made in select corners of the world but you won't need your passport to buy these gems. You should be able to find a good bottle at your favorite wine shop. If by chance your local store does not carry these wines, look for them online. They're surely worth the effort.
Lambrusco is a sparkling red wine from Lombardy and Emilia-Romagna in central Italy. Made from the grape Vitis Labrusca, from which it takes its name, Lambrusco comes in different styles, some slightly sweet, some dry. The first Lambrusco imported to the USA in the 1970s was sugary sweet and truly no more than slightly alcoholic grape juice. But such Lambrusco was made expressly for export. The wise Italians kept the traditional version for themselves.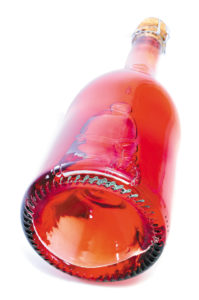 Today, Italian wine producers are crafting their own Lambrusco for the world. Appealing to the modern palate, unpretentious Lambrusco is a refreshing, sparkling red wine with low alcohol (about 8.5%) and crisp, high acidity. A good Lambrusco is fruity on the nose with aromas of red fruit, rose petals, and green geranium, and dry to off-dry on the palate with a soft, bubbly mousse. Lambrusco is the perfect wine to accompany charcuterie, cheeses, and light pastas.
Heading "Down Under" to Australia, you'll find delicious red bubbles in the form of sparkling Shiraz. Take all of the qualities you love about good Australian Shiraz and add some bubbles. An Australian favorite, sparkling Shiraz is a richly flavored, robust wine with aromas of warm vanilla, dried flowers, and smoke, and a palate of intense forest berries with a whisper of cinnamon.
Perfect for any celebration, sparkling Shiraz pairs beautifully with roasted meats, game, and stews, hearty foods that might tempt your Valentine's palate. Be sure to keep a few bottles around for the warmer months too, as sparkling Shiraz pairs brilliantly with grilled meats and veggies on the barbecue. The unexpected fizz of the Shiraz only adds to the fun of the occasion. As the Aussies say, "Give it a go, Mate!"
Wine drinking doesn't have to be studied and serious. Who has time for that? It should be fun and it should be an adventure. Finding a unique bottle to share with your loved one can be truly rewarding. A red sparkler might just do the trick. A little extra effort on Valentine's Day will surely be rewarded as 2017 pushes on.
Happy Valentine's Day! Cheers!