Due to a couple of scheduling conflicts, Thanksgiving is coming to my house a week early. The date really doesn't matter to me; the important thing is that our family is together.
I'm honestly looking forward to this year's celebration more than usual, for all my planning and shopping and cooking will be but a distant memory when the actual holiday finally rolls around on November 28. By then, while others frantically circle crowded supermarket lots in search of an empty parking space, I'll be stowing away the last of the platters.
Even though the grocery stores won't be so crowded when I shop, I still plan to keep those purchases to a minimum. The unquestionable showstoppers of the meal will come from the farmers' market—as will my centerpiece and floral arrangements.
Over time, my family tree has become a little top-heavy with vegetarians; but I've always considered that more of a challenge than a stumbling block. It's actually quite easy to accommodate their preference by serving plenty of interesting veggie-centric salads and side dishes. If recent history is any indication, the few remaining carnivores will politely nibble on turkey, but mostly load our plates with November's farm-fresh bounty. And then, of course, dessert will be a free-for-all.
For a fleeting moment I considered eliminating turkey from the menu altogether, but decided that might be a little too radical an idea. If for no other reason, I'll roast a turkey just to get the requisite aroma wafting through the house. Even the vegetarians find that nostalgic smell irresistibly comforting.
One of the special dishes I plan to make is butternut squash lasagna. If you haven't dabbled in less-than-classic lasagna before, I urge you to give it a try. A couple of winters ago I made a very similar recipe that appeared in Fine Cooking magazine. After minimal tweaking, this is my adaptation, and the one I will be serving to my family this year. It is also a great company dish to carry through winter.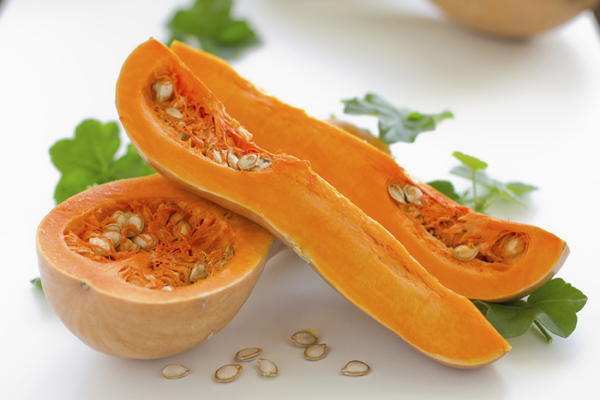 This is not one of those heavy pasta dishes that lands in your stomach with a thud. It's substantial enough to be a main course for vegetarians, yet so delicate and ethereal it can stand in as a side for others. The secret is to use fresh rather than dried pasta. No option there.
And please don't be put off by the length of the recipe. As you read through you'll see that most of the components can be prepared separately at your leisure, and the entire casserole can be assembled a day or two in advance. (Just cover it tightly with plastic wrap, and return it to room temperature before baking.)
I'm pretty sure this is going to be the start of a new Thanksgiving tradition.  I just hope somebody eats that darn turkey.
Butternut Squash Lasagna with California Goat Cheese
1 large butternut squash (about 3 pounds), halved lengthwise and seeded
2 large cloves garlic, unpeeled
1 bunch fresh thyme
2 teaspoons California extra virgin olive oil
Coarse (kosher) salt
Freshly ground black pepper
5 tablespoons unsalted butter
1 bunch fresh sage
1/4 cup all-purpose flour
3 cups whole milk
1 1/4 cups (about 4 ounces) crumbled fresh California goat cheese
1 cup (about 2 ounces) finely grated Pecorino Romano or Parmesan cheese
1/4 teaspoon grated fresh nutmeg
1/4 cup coarse dry breadcrumbs, such as panko
1 pound fresh pasta sheets (homemade or store-bought), cooked 30 seconds to 1 minute until barely tender, then rinsed with cold water and drained well
Optional: about 1/3 cup Fried Sage Leaves for garnish (instructions follow)
To roast the squash and garlic: Position a rack in the center of the oven and preheat the oven to 425 degrees. Arrange the squash cut-side up on a large, heavy, rimmed baking sheet. Put 1 garlic clove and 1 sprig of thyme in each cavity. Drizzle each half with 1 teaspoon of the oil, then season each with 1/4 teaspoon salt and a few grindings of pepper. Roast until the squash is browned in spots and very tender when pierced with the tip of a sharp knife, 45 to 50 minutes. Remove from the oven and let cool completely. (This can all be done a day in advance, if you like.)
Discard the thyme sprigs. Peel the garlic and put it in a large bowl. Scoop the squash flesh from the skins and add it to the garlic. Mash with a fork until the mixture is well blended but still maintains a bit of texture. Season to taste with salt and pepper. Reduce the oven temperature to 350 degrees.
To make the goat cheese and sage sauce: In a 2-quart saucepan, melt 4 tablespoons of the butter over medium heat. Add a couple of large sage sprigs and cook 2 to 3 minutes to flavor the butter. Discard the sage. Add the flour and whisk over medium heat until smooth and golden, about 2 minutes. Gradually whisk in the milk and cook, whisking occasionally, until thickened enough to coat the back of a spoon, about 15 minutes. Stir in the goat cheese, 1/2 cup of the Pecorino, the nutmeg, 1 teaspoon salt, and a few grinding of pepper. Taste, adding more salt and pepper if needed. Set aside 1 1/2 cups of the sauce, and mix the rest into the mashed squash.
To make seasoned breadcrumbs: Finely chop about 2 teaspoons of thyme and 1 teaspoon of sage leaves. In a small skillet, melt the remaining 1 tablespoon of butter over medium heat. Stir in the breadcrumbs, chopped sage, chopped thyme, a pinch of salt, and few grindings of pepper. Remove from heat and mix well to coat the crumbs.
To assemble and bake the lasagna: Spread 1/2 cup of the reserved cheese sauce over the bottom of a large gratin or other 3-quart baking dish. Cover the sauce with a slightly overlapping layer of cooked noodles, cutting them as needed to fill any gaps. Spread 1 cup of the squash mixture evenly over the noodles. Add another layer of noodles and repeat the layers as instructed above, to make a total of 4 squash layers and 5 pasta layers. Spread the remaining 1 cup cheese sauce evenly over the top. Sprinkle with the breadcrumb mixture and the remaining 1/2 cup pecorino. Cover the baking dish with foil and bake for 40 minutes. Remove the foil and bake until the top is browned and bubbly, 15 to 20 minutes. Cool for at least 10 minutes before serving. If desired, scatter fried sage leaves over the top before cutting into squares to serve. Serves 6 to 8.
To make fried sage leaves: Heat about 1-inch of oil in a pot until it reaches 365 degrees on a deep-fry thermometer. Working in batches, fry whole sage leaves, turning once, for 3 to 5 seconds. Remove with a slotted spoon and drain on paper towels; season with salt. (These can be made up to 2 days in advance. Store at room temperature in an airtight container lined with a paper towel.)
The Danville Certified Farmers' Market, located at Railroad and Prospect, is open every Saturday, rain or shine, from 9 a.m. until 1 p.m. For specific crop information call the Pacific Coast Farmers' Market Association at 1-800-949-FARM, or visit their web site at www.pcfma.com. This market is made possible through the generous support of the Town of Danville. Please show your appreciation by patronizing the many fine shops and restaurants located in downtown Danville. Buy fresh. Buy local. Live well.