Many grocery stores carry some ho-hum version of asparagus all year long. It may look fresh, but it was usually grown in another hemisphere and shipped thousands of miles before reaching California. That is one of the many reasons it has little or no flavor.
Spring is coming into full bloom at the farmers' market, and locally-grown asparagus is one of the star attractions. While shopping for "grass," also check out the new crops of squeaky-fresh artichokes, fava beans, celery, sweet peas-in-the-pod and sugar snap peas, and tender young greens. And who can resist a basket of early cherries or strawberries? Needless to say, now is the time to start carrying a cooler in your car on Saturday mornings.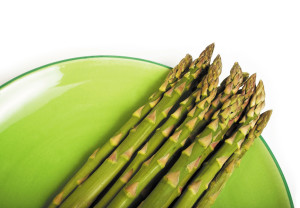 After I have returned home and binged on plain roasted asparagus every day of the week, I start thinking of other ways to enjoy it… and the following recipe always comes to mind.
Frittata is one of the original fast foods. It comes together in a flash; is far healthier than anything you could order at a drive-through window; and is as suitable for breakfast and brunch as it is for a light lunch or dinner. It's simple enough for a family weeknight meal, and good enough to serve to guests. Oh, and did I mention it is economical, too?
If you are fortunate enough to have any frittata left over, wrap it in plastic and refrigerate. Cold frittata—paired with handful of arugula and a slick of mayonnaise on artisan whole-grain bread from the farmers' market—makes a stellar sandwich.
Spring Frittata with Asparagus & Goat Cheese
8 large eggs, preferably at room temperature
1/2 teaspoon fine sea salt
1/8 teaspoon freshly ground black pepper
2 tablespoons California olive oil
8 ounces locally-grown asparagus, trimmed and cut into 2-inch pieces
1/2 cup coarsely crumbled California goat cheese (about 2 ounces)
2 tablespoon chopped fresh chives, mint, or parsley
Break the eggs into a large measuring pitcher or medium bowl. Add the salt and pepper and beat with a fork until the eggs are just blended. Preheat the oven broiler.
Heat the oil in a 10-inch nonstick skillet with an oven-proof handle*, tilting the skillet to coat the bottom and sides. Add the asparagus and cook over medium-high heat, stirring and tossing until bright green, about 1 minute.
Reduce the heat to medium and spread the asparagus in an even layer. Carefully pour in the eggs and cook, using a heat-proof rubber spatula to lift the edges as they firm up to let the uncooked egg flow beneath, until the underside is fully set (lift with the spatula to check) but the center is still slightly runny. Shake the pan now and then to make sure the frittata is loose and not sticking. Scatter the cheese over the top and place the frittata under the broiler until the cheese has softened and the top is very lightly browned, 1 to 2 minutes. Slide the frittata onto a cutting board or warm serving plate and sprinkle with chives. Cut into wedges and serve. Serves 3 or 4.
*If your skillet has a plastic handle, wrap it snugly and completely with a double-thickness of heavy-duty aluminum foil.
Asparagus Tips
When buying asparagus, select firm, bright green stalks with little or no white and tight, dry tips. Asparagus breaks down quickly after harvest, losing sugar and moisture, so check the ends: if they are shriveled or dry, the stalks are old.
Choose asparagus spears that are approximately the same thickness so they will cook evenly.
Thick or thin? Like people, it's all a matter of personal preference. Asparagus plants live 8 to 10 years. Young plants produce thin asparagus; mature plants produce thick spears.
To store, wrap the bunch of unwashed asparagus in a damp paper towel and refrigerate in a plastic bag for up to 4 days. If the spears begin to go limp after a couple of days rehydrate as you would flowers—by cutting off the ends and standing them upright in a container filled with about 1-inch of water. Cover loosely with a plastic bag and refrigerate.
To remove tough ends from asparagus before cooking: Hold a spear near its middle with one hand, and near its bottom with the other hand. Gently bend the asparagus spear and it will snap apart at the spot wear it becomes tough. (If you prefer things neat and tidy, just cut off the ends with a knife.) Add the tough ends to your compost pile, or use them fresh or frozen when making vegetable stock.
The Danville Certified Farmers' Market, located at Railroad and Prospect, is open every Saturday, rain or shine, from 9 a.m. until 1 p.m. For specific crop information call the Pacific Coast Farmers' Market Association at 1-800-949-FARM, or visit their web site at www.pcfma.org. This market is made possible through the generous support of the Town of Danville. Please show your appreciation by patronizing the many fine shops and restaurants located in downtown Danville. Buy fresh. Buy local. Live well!