Summer is here! Time to let down your hair, slip on your flip-flops, and pop open the rosé. Rosé is the ultimate summer wine, enjoyed by savvy Europeans vacationing on the beaches of St. Tropez and other sunny destinations for decades. As the warmest months descend upon the Northern Hemisphere, great waves of rosé (called "rosado" in Spain and "rosato" in Italy) wash over the shores of Europe and fill the impatient glasses of the thirsty population.
Why rosé? Why not? Rosé is pink in color and beautiful to the eye, floral and perfumed to the nose, and fruity but dry on the palate. Its refreshing acidity is bracing and cleanses the mouth between bites of food. Rosé is made from red wine grapes and takes its color from the skins. Depending on which variety of grapes is used and how long the grape skins are left in contact with the juice, the resulting wine can range from a pale, onionskin color to a deep, almost red hue. The finished color has nothing to do with the quality or intensity of the wine.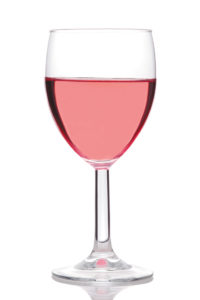 As all wines are different, so are all rosés. They can range from light to full-bodied, fruity and tangy to crisp and bone-dry, zippy and light to lush and smooth. The differences are part of the fun and an excellent reason to try many different rosés all year long. Rosé is meant to be enjoyed young. Buy it and drink it, don't save it for a rainy day or stick it indefinitely in your cellar. A rosé wine should be no more than 2-3 years old. Sparkling rosé is the only exception to the rule and has the ability to age in a temperature-controlled cellar.
Rosé pairs perfectly with just about everything but truly shines when paired with classic picnic foods such as cheese and charcuterie, sandwiches and quiche. Casual bistro food is a perfect fit with rosé. It is a delightful accompaniment to savory fried calamari, briny oysters, crispy French fries, and juicy hamburgers. While we think of rosé as a summer wine, served lightly chilled at the shore, it can easily be enjoyed throughout the year with heavier seasonal fare like stuffed pork tenderloin and roasted salmon.
The United States showed up late to the rosé party. In fact, the USA was a little tardy to the wine party altogether. Unlike Europe, which has a history of wine consumption going back thousands of years, the USA was not a wine drinking nation until the 1970s. Rather than wine, Americans favored cocktails a la "Madmen," and beer, of course.
When the wines of California began gaining international acclaim, Americans wondered what the fuss was all about. We ventured cautiously into the new and exciting world of dry table wines. Vineyards in Napa went on to become world famous and USA production of wine soared. Today, wine is produced in every state in the union, ranging from classic European varieties to sweet ice wines to fabulous, fruit wines from states like Idaho and Hawaii.
So how did rosé make its way into our vocabulary? Slowly but surely. We started drinking sparkling pink wine back in the 1940s with sweet wines like Mateus and Lancers. But these were not "serious" wines. They were created specifically for the American market, rather like Coca-cola for the older crowd. Dry wines were not favored and wine pairing with food was unheard of at the time.
Sutter Home's White Zinfandel blasted onto the scene in 1975 after a fortuitous winemaking error and the sugary pink wine went on to define rosé for most Americans. The success of white zinfandel made many Americans assume that all pink wines were sweet. Rosé as a class of wines became gauche and discerning wine sippers avoided it. Fortunately, Americans went on to greater wine sophistication and learned the joys of dry rosé. Today the United States is the greatest wine-consuming nation in the world and at last, rosé wines have gained their rightful place in the hearts of Americans.
Rosé is such a favorite now that most restaurants serve it by the glass and offer a few different bottles on their wine lists. Some historic French rosés to seek out include Tavel, from the Southern Rhone Valley and Bandol from sunny Provence. An all-time favorite produced right here in California is Bonny Doon's Vin Gris.
The warm weather is upon us. Better stock up now. Cheers!