The Second Annual San Ramon Arts Foundation DeliRadioHigh School Battle of the Bands is scheduled for Saturday, March 29, 2014.  This event keeps music alive for high school teens by providing much needed funding and a performance opportunity for young musicians.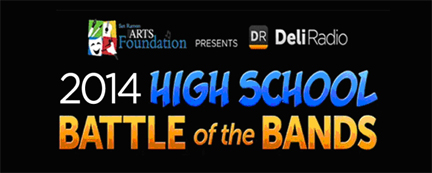 This San Ramon Arts Foundation event is a truly unique event in the Tri-Valley area, with great media exposure through our partner, DeliRadio to extend the experience online.
The competition is free and open to high school bands throughout the bay area. Imelda Alejandrino, a President at AP42 is a volunteer and the event organizer for the San Ramon Arts Foundation. She says, "Students with a passion for the arts and music need a positive environment to showcase their art and play their music. The battle of the bands is an opportunity for local student bands to play at the Dougherty Performing Arts Theater and play their music to at least150 fans. It's also, a fun-filled day of music, food and student artwork!"
The winner of the event gets a free professional recording session at Ninth Street Opus Studio in Berkeley. Last year's winner, Rundown Radio, has performed locally at Red House, Starry Plough, and at San Ramon events such as Run for Education. They also recently recorded their latest EP, professionally, in Los Angeles.
The Tri-Valley ins the home of numerous up-and-coming young bands such as, Minute2Midnight, Crossout, Adelyne. MdK, Scarlet Machine and Fallen Impact, to name a few.
Saturday, March 29, 2014 Dougherty Valley Performing Arts Center 10550 Albion Road, San Ramon, CA 94583   For Event & Sponsorship Details, email Imelda@ap42.com or steve@coastlitho.net   Tax Exempt ID #: 94-2833174