Life of a King stars Cuba Gooding Jr., LisaGay Hamilton, and Dennis Haysbert. It's directed and co-written by Jake Goldberger. The movie takes place in a gritty Washington, D.C. neighborhood in the early 1990s, and is inspired by the true story of Eugene Brown, a man who spent 17 years in prison for armed robbery, and started a successful chess program for inner-city teens called The Big Chair Chess Club.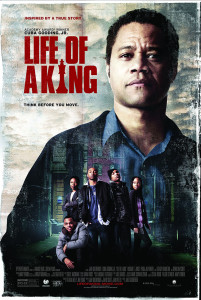 During his time in prison, Eugene (Cuba Gooding Jr.) learned a lot about chess, and even more about life from his friend and fellow inmate Searcy (Dennis Haysbert). Once he's released, Eugene tries to turn his life around by looking for a job, and by trying to make things right with his estranged children, who are now grown up. But both of these tasks prove to be easier said than done. He's having a hard time finding a job because of his criminal history, his daughter doesn't want anything to do with him, and his son is doing time in juvenile hall for selling drugs. But Eugene is determined. He still tries desperately to be a part of his kids' lives, and with the help of an old friend, he manages to get a job as a janitor at a local high school.
Things are finally going well for Eugene, and when the detention monitor suddenly quits. The school's principal (Lisa Gay Hamilton) asks him to temporarily watch the kids while she looks for a new monitor. This is when Eugene finds his true calling. He sees himself in these troubled kids, and he doesn't want them making the same mistakes that he made, so he decides to teach them how to play chess and apply the rules of the game to their everyday lives. This is one of my favorite scenes in the film. The passion Eugene has when teaching the kids is obvious and clearly shows how much he cares for them—and the way he explains the rules of chess is fantastic. He makes the game so easy to understand, I think even non-chess playing viewers will appreciate this scene as well.
In time, Eugene begins forming special bonds with most of the kids, especially Peanut (Kevin Hendricks) and Tahime (Malcolm M. Mays). Peanut is one of the characters that I admire most. He may not have been as talented as some of the other students, but his love and enthusiasm for chess was a joy to watch. And then there's Tahime, who, despite his initial boredom with the game, turns out to be a surprisingly gifted player. Yet with a lack of discipline, and bad influences all around him, it's very hard for him to realize his full potential. However, with the help of Eugene, Tahime learns the importance of making right choices, no matter how difficult they may be.
All in all, Life of a King is a terrific movie, with some great lessons about life. It has plenty of talented young actors, and it's full of thought provoking chess-to-life metaphors that anyone will enjoy. Life of a King is inspiring, entertaining, and definitely worth watching.