Do you have that special event—wedding, reunion, graduation, vacation, etc.—coming up and you need to know a good timeline for all those special cosmetic procedures that can make you glow in the happiness of the moment? If you are plagued with mild acne, rosacea, sun damaged, aging skin, cellulite, or excess fat at neck, hips, waist and belly, plan a consultation with a board certified dermatologist 4-6 months before the big event. Individual results and needs will vary but the following time guide can give you a reference to the time required in order to see the best results.
4-6 Months
Ultherapy®is the only FDA approved non-invasive treatment for lifting and tightening the skin on the neck, face and brow without any downtime. Ultherapy focuses ultrasound waves to generate a plumping effect that reaches deep below the skin surface to initiate your body's own repair process that strengthens existing collagen and elastin fibers to produce fresh new tissues over a 3-6 month period. Ultherapy is an option to consider, preventing the need for a facelift as long as possible. Advanced Laser & Skin Care Center has a dedicated Ultherapist on staff who is a nationally recognized expert and trainer. We provide nothing but the best for our patients.
3-6 Months
Cellulaze™Laser Cellulite Reduction delivers the best results for women who are not significantly overweight but have mild to moderate cellulite. Cellulite is not a fat problem; it's a structural problem below the skin. Only Cellulaze attacks the brittle structural bonds beneath the skin that are the real cause of cellulite's dimpled appearance. A very small tube is inserted under the skin to release the fibrous bands that pull the skin down causing the orange peel look. The area is numbed with local anesthesia so the procedure is comfortable. Following the treatment, you may experience some slight soreness, but you will be able to return to normal activities in a day or two.
6 Weeks
Smart Lipo™ Laser Liposuction permanently melts away fat from jowls, neck, thighs, stomach, chest, arms and love handles. This is a safe in-office procedure, requiring no general anesthetic. Ninety-eight percent of our patients return to work in three days and full active sports in 3-6 weeks. Because SmartLipo™ actually tightens tissue, there is less dimpling and sagging afterwards, as you improve your overall body shape. We have performed more than 2,000 liposuction treatments since 1997. Experience counts. Beautiful body sculpting with liposuction requires experienced technique and an artist's eye. We are accomplished in both.
6 Weeks
Micro-Fractional CO2 Plus Erbium Laser Skin Rejuvenation can make you look 3-10 years younger on your face, neck, chest, hands and arms. This procedure combines two powerful lasers in one treatment to smooth and tighten the skin and reduces wrinkle lines on the face, neck & chest as well as acne scars and unwanted pigment and sun damage. You may return to work in 7-10 days. You'll want to schedule a comprehensive one hour consultation with us before considering any other laser or face lift procedure.
3-4 Weeks
Fillers: Restylane®, Juvederm®, Perlane®,Radiesse® etc. to treat deep lines, creases, individual acne or chickenpox scars. This is also a wonderful product and procedure to enhance the appearance of cheekbones and lips. Fillers are pure hyaluronic acid gel which exactly matches the hyaluronic acid gel in our own skin that is lost through aging and sun damage. We can artistically enhance the face to give you a softer, more sensuous natural appearance, without that "overdone" look. We combine a host of acupressure techniques, ice, painless dental blocks and the experience of over 25,000 treatments since 1981 to deliver the best results possible. As with anything, experience counts and for your face it makes an important difference.
3 Weeks
Botox®, Dysport® and Xeomin®to safely erase the frown lines and wrinkles on the forehead above the nose and crow's feet at the corner of the eyes. Give yourself that stress free relaxed look that comes with the easing of the fine line muscles on the face. We have performed more than 15,000 treatments since 1992, all virtually pain free. We use a combination of acupressure, cold compresses and the smallest diameter needle possible to minimize both discomfort and bruising. You owe it to yourself to have the best, most experienced professional, when it comes to your big event.
2-3 Weeks
Micro Laser Peels are for the patient looking for a deeper peel (12-50 microns) than the microderm abrasion but without the 7-10 day downtime of CO2PLUS.This procedure refreshes, rejuvenates and evens the tone and texture of the skin. It does leave you with a "sunburned" appearance for approximately 1-4 days but quickly heals to a smoother, healthier, more vibrant skin texture.
**1-2 Weeks (series of 5 treatments spaced 2-4 weeks apart is best)**
BBL (Broad Band Light) & IPL this treatment is a wonderful innovative procedure to help turn back the clock on aging skin. Premature aging of the skin is the result of years of over exposure to the sun, collagen depletion, hormone loss, smoking, poor diet, excessive alcohol intake, stress, age and even genetics. Through the BBL process, dark areas in the skin absorb light more intensely than lighter areas. The dark areas are then heated and the light destroys the pigment carrying cells which lead to an evening out of the discoloration of the skin. Besides dark pigment, the BBL can also treat red pigment cells in rosacea-prone skin types. Improvement in skin tone, texture and color with reduced or eliminated brown spots and redness will be gradual and will accumulate with each session, depending on the condition being treated. For best results, usually 3-5 treatments are recommended, spaced 2-4 weeks apart. Smoother skin with less noticeable fine lines, brown spots, red/purple blood vessels will lead to a more vibrant and younger look and feel to the skin.
2 Weeks
Physician Strength Products & Peels are cosmeceuticals that are provided exclusively for our patients to provide the best quality, most effective skin care merchandise at the most reasonable price. Cosmeceuticals are available only through a physician's office and are not sold over the counter.  Much of the skin care products available today are high price marketing items with very little science or efficacy. We have chosen the products we feel offer the most value for improving our patients' skin health. We also, have an extensive selection of effective sunscreens which are the cornerstone to any skin care program. Our various peels are applied by a highly trained medical aesthetician who chooses the appropriate peel to freshen your skin and relax your mind before the Big Day. The face becomes a perfect palate for makeup, a more even skin tone, and diminished lines and wrinkles. We also treat the neck, chest, hands and back area if your dress is low-cut.
1 Week
MicroDermabrasion is the gentle exfoliating of the top layers of skin to add that healthy smooth glow and allow skin care products better absorption into the skin. After lightly removing the top layer of dead rough skin cells our medical aesthetician can also apply a hydrating collagen mask or other serums to augment and nourish the skin for a more radiant look and supple feel. Hands can also be treated in this manner to add a refreshed glow and smoothness to the touch.
Some Final Thoughts:
There are many people who say, "Just grow old gracefully." The naturalists among us would say to age as healthfully and gracefully as we can. There is no question that being healthy is fundamental, regardless of your age. Keeping our body healthy and in good repair should be our number one priority. After all, we keep our homes and our cars in good repair and condition, so why not our bodies? Just like a refreshing coat of paint to our home or our car can improve their look and the joy we take in their appearance, why not do a few cosmetically restorative things for your body. Of course it is a decision we all get to make for ourselves.
We can choose a little or a lot, depending on our disposition. The minimum skin care decision would be to choose a SPF# 30+ sunscreen to wear daily, rain or shine. Although a comprehensive skin care routine with well-formulated cosmeceuticals (it always takes more than one product) can make a huge difference in the appearance of your skin, they simply cannot do what cosmetic procedures can do—it just isn't possible.
Cosmetic treatments such as lasers, Botox, and fillers are the only ways to truly shave years off your appearance. Even the best skin-care routines and cosmeceuticals have limitations, but there is no question that after a certain time, the combination of a brilliant skin-care routine, coupled with corrective procedures, is the best solution to looking younger, longer.
One key factor to having a procedure done sooner rather than later is that it's safer to have any surgery, including cosmetic, when you are younger versus older. First of all, your skin and your body are better able to heal when you are younger. The older you get, the longer it takes for the skin to repair and heal itself. Having cosmetic procedures sooner rather than later also is less dramatic when your face is just beginning to show signs of age, as opposed to when you already look older and people have become used to seeing your "older" face and neck.
Also, consider your expectations. If you expect cosmetic procedures to turn you into a model or a 20 year old version of yourself, you will be disappointed because that is not what will happen. Patients who report the greatest satisfaction after cosmetic procedures are the ones who kept their expectation realistic, not expecting the procedure to magically transform every aspect of their life. They also did it for themselves, rather than to please someone else.
Cosmetic care and procedures are not about shopping for a bargain. Truth is, most procedure costs are all fairly similar. Just remember this is your skin on your body and I'm pretty sure it's the only one you have—so take care of it and find a health care professional with knowledge and experience. There are always risks and unexpected possibilities with any procedure or product, and the time of recovery differs. Individual reactions can be faster or slower, and any number of things can be different, depending upon the situation. What you want is someone with the experience and compassion to deal with any potential problems that may arise, not the cheapest bid available on "Groupon."
Any doctor who glosses over risks or downplays your concerns is not one to trust with your appearance and well-being. Another important point is whether or not the doctor is willing to provide enough time for your consultation. There should be no sense of being rushed and you should leave the consultation feeling informed and empowered.
Another important point to finding a qualified dermatologist is to check for board certification with the American Academy of Dermatology. (AAD) Always check online with the aforementioned accreditation group before assuming that a framed picture of a certificate hanging on the wall has any validity or relevance.
In the end, whatever you choose is up to you. Your decision should be based on improving how you feel about yourself from the healthy perspective of wanting to look as good as you feel and feel as good as you look. If you are willing to take the time to find the right doctor, and keep your expectations realistic, then there's every reason to go for it!  Have a wonderful Big Event!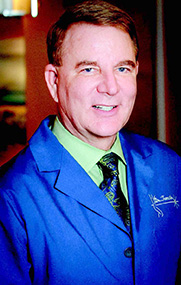 Dr. Michael J Tomcik, M.D., FAAD is a Board Certified Dermatologist with over 35 years experience. Doctor Tomcik's state-of-the-art practice at Advanced Laser Skin Care Center, is located at 101 Park Place in San Ramon (at the corner of Crow Canyon  and Park Place).
See their website at www.SanRamonDerm.com or call, 925-743-1488.