I remember reading an interesting article, years ago, about longevity. It touched upon the scientific considerations of aging and how, due to a better understanding of nutrition, along with advances in science and medicine, human life expectancy was steadily increasing.
The discussion then went on to broach the topic from a philosophical perspective, asking the question, "If you could live forever, would you want to?" My first reaction, I suppose, was probably a common one: "Well, of course! Who wouldn't?"
But then the article's author challenged his readers to re-consider, suggesting that everything we love about life and living—everything that adds meaning and makes life precious—is so because it is finite. He proposed that the knowing that this glorious ride that we call life will someday end is the "stuff" that gives all of the value and meaning to it. It was wholly the yin yang argument—that we can only understand the fullness of joy by experiencing sorrow; that we only love others, and life itself, because we know we will someday lose them and it.
As a Christian who believes in eternal life, I must admit this idea was something I wrestled with. If it is the finite nature—the urgency—of life that gives it its richness and meaning, then is the notion of eternal life one void of meaning? Or, would living forever be an existence without passion?
This past October, I was once again forced to consider these questions, when I received a troubling email from a dear friend and colleague, ALIVE columnist, Edwin Cohen. True to his style, Ed's email to me was clear and direct, with the same touch of humor found throughout all of his "And Then I Wrote" columns in ALIVE. His email came just eleven days after he had submitted his article for the November 2017 issue. The subject line of his email was simply, "Bad News." It read:
Hi, Eric, etc.,
It looks like my November article will be my last and, indeed, will be published posthumously. This sickness I have had for the past two months cannot be cured. I have an appointment today, 10/10, to make some final arrangements with my doctor.
We had in my opinion a good run together and I loved the fact that despite our coming from vastly different backgrounds we could disagree with respect and dignity.
Thanks for everything,
Ed Cohen
Upon minutes of reading this, I swallowed hard and called Ed. We spoke briefly about his condition, but then talked about what mattered most between us, both painfully aware this would likely be our last conversation in this life. Always the epitome of a gracious gentleman, Ed thanked me for the opportunity to write for ALIVE—something that was clearly a benefit to our magazine, as it will forevermore be lacking without his monthly articles. I know our readers will miss him, as do all of us at ALIVE already.
As mentioned in his email, Ed and I came from very different backgrounds, and were pretty far apart on most political and many other matters. But our mutual respect and willingness to discuss matters openly with one another kindled a bond of friendship that I will sorely miss. We even joked about running for office together on the same ticket, debating who would occupy the top slot.
Returning to that vexing question about eternity, after considerable contemplation and prayer, my conclusion is that the answer is: While this life on Earth is finite, the promises of a loving God are true, and we will all experience life, albeit in a different way, when this "session" is over.
And true to the nature of our relationship, as I am a Christian and Ed is a Jew, we once again found common ground in that final conversation, as we agreed to look forward to more lively debates to come… leaving the question about who will be on the top of the ticket, temporarily still unanswered.
Edwin Cohen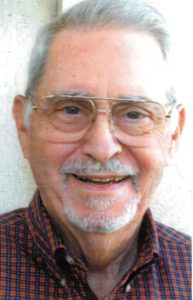 February 2, 1931 – November 10, 2017
Edwin Cohen passed away on Friday, November 10 after a several-month battle with multiple illnesses. He touched many lives through teaching both in and out of the classroom. Ed was an inspirational role model for his two children and five grandchildren.
Born in Sunbury, Pennsylvania, Ed moved to Atlantic City, New Jersey with his parents and then to Los Angeles when he was seventeen. He earned his AA from El Camino College, his BA and MA from CSU Long Beach, and then his PhD from the University of Southern California in Speech Communication.
In between his AA and BA, Ed proudly served in the United States Army and traveled abroad, entertaining with the USO show. He taught in high schools and colleges for forty-two years before he and his wife, Shirley, retired to the adult community of Rossmoor in Walnut Creek.
He wrote and published six non-fiction, academic books, one book of poetry, two full length plays, and many articles in academic journals and newspapers. During the last part of his career, Ed lectured on cruise ships, enabling he and his wife, Shirley, to visit many exciting places around the world, and he was a popular contributing writer for ALIVE Magazine.
Ed is survived by his devoted and loving wife, Shirley; two children, Lisa Cohen Bennett of Richmond, California and David Cohen (Laureen) of Oakland, California, and five grandchildren, Gabrielle Cohen, Jacob Cohen, Noah Bennett, Alexandra Bennett, and Martin Cohen.
The family suggests that donations in Ed's memory be made either to St. Judes, Mazon, the Weizmann Institute of Science (through the American Committee for the Weizmann Institute of Science), or a charity of your choice.