To: 145 East Prospect Ave. Suite 100 in Danville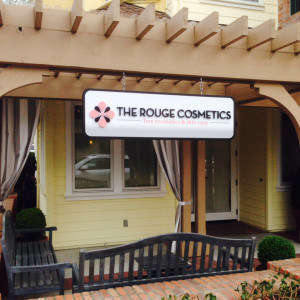 Mission Statement: To provide exceptional cosmetics and skin care for future health of the skin.
Buzzing with great cosmetics and highly-advanced skin care since it opened its doors at 822 Hartz Way in Danville more than 10 years ago, The Rouge Kiss and Make-up Beauty Boutique is now The Rouge Cosmetics and is moving to 145 East Prospect Suite #100, in the heart of downtown Danville.
Although the name and location are new, this is the place to go for make-overs, personalized make-up lessons, seasonal make-up updates, expert brow shaping and superb cosmetics and skin care. They also do wedding make-up for brides and the bridal party, as well as custom blended foundations to perfectly match your skin tone color.
They feature a full line of high-end, cutting edge cosmetics and advanced skin care supplies and techniques. With their state-of-the-art Fleur Visage Cosmetics and Ongrien Advanced Skin Care line, you will receive the highest quality in beauty products available anywhere.
The Founder of The Rouge Cosmetics is Theresa Taylor-Grutzeck, a board-certified, licensed aesthetician, professional make-up artist and skin care specialist. As the creator, she has dedicated her career to helping women achieve their beauty goals through healthy choices in cosmetics and skin care products. Having more than 30 years of education, knowledge, and experience, Theresa is highly trained and qualified in the art of beauty and in advanced technologies for skin care. Whatever your concern or skin type, it is Theresa's goal to give you the necessary beauty tools for a healthy complexion and a natural, beautiful look.
The Rouge Cosmetic's skin care and cosmetic collections were created in direct response to the challenges Theresa sees on a daily basis. She believes that with the right tools and education, women can achieve their goals for a healthy complexion and a beautiful, natural "every day" look. She is honored to have the opportunity to work with women of all ages, every day, teaching them how to care for and enhance their looks with the right cosmetics.
Theresa is uniquely qualified and equipped to provide the necessary, advanced technologies in skin care and cosmetics, all designed to produce a youthful complexion and a future of healthy, beautiful skin.