Valentine's Day is around the corner: yet another reason for consumers to rush to the shops with mad looks in their eyes, searching for just the right card, box of chocolates, bouquet of flowers, or bottle of sparkling wine. But why? Does anyone remember why we celebrate Valentine's Day at all?
Saint Valentine was a Catholic priest in 3rd Century Rome. He conducted secret marriage ceremonies for Roman soldiers who were denied the legal right to marry. Because of this, his name became synonymous with love. Valentine was eventually jailed for his actions. While in jail, the good-hearted saint allegedly fell in love with his jailor's blind daughter and cured her blindness. Just before Valentine was executed on February 14, in the year 270, it is said that he wrote the girl a love note signed, "from your Valentine."
Eventually, the Pope named the 14th of February "St. Valentine's Day" and ever since, Valentine's Day has been considered a day to celebrate romantic love. The practice of sending love notes to one's true love on Valentine's Day became hugely popular around the world. Sadly, most of this heart-struck lore has been forgotten with time and even poor Saint Valentine's name has been corrupted.
Many people walking down the street today actually believe the day is called "Valentime's Day." With an "M". It's heartbreaking. Nevertheless, what people do know for certain is that if the 14th of February rolls around and they don't have red roses and a dinner reservation to share with their beloved, all is lost.
Valentine's Day is a great opportunity for everyone to shake off the "After Christmas Blues" and celebrate love and friendship. Sparkling wine is a natural choice. In honor of an Italian saint, why not make merry Italian-style? There are so many options from which to choose. What a perfect occasion to get acquainted with some of Italy's best bubbles.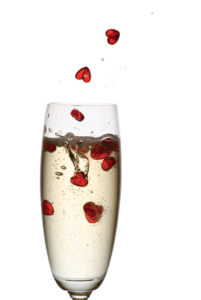 Franciacorta is Italy's beautifully crafted version of champagne. The Italians use the same grapes and the same methods of production as they do in the Champagne region of France. We don't see a lot of Franciacorta here in the USA so it's easy to forget how good it is. Like a little secret the Italians prefer to keep to themselves, 98% of Franciacorta production is consumed within Italy. And who can blame them? Franciacorta is delicious and on a par with the best of the best in Champagne. Ask for it by name at your favorite wine shop and be prepared to be delighted.
Good Franciacorta retails at about $40 and up. Like champagne, it is a gorgeous lemony color with tiny, persistent bubbles. Toasty flavors of brioche and roasted nuts envelope the palate and are rounded off by a touch of baked apple, creamy butterscotch, and perhaps a hint of minerality at the finish. Impressive indeed.
For an offering that is lighter and less pricy, you could try an Italian Prosecco, which retails from $7.99 and up. Prosecco is always tasty and festive with bright aromas of pears, golden apples, and acacia blossoms. It is a favorite at every gathering and perfect for a special, romantic tete-a-tete.
For a splash of color, you may want to try something off the beaten track, a sparkling red Lambrusco, retailing from $12.99 and up. Lambrusco is an Italian original: fruity on the nose with aromas of red fruit, rose petals, and green geranium. It's dry on the palate with an engagingly soft, bubbly mousse. Lambrusco is a terrific "food wine" to accompany charcuterie, cheeses, and your favorite Italian dishes. Why drink the same old wines when you can have an authentic Italian wine experience?
Don't forget about dessert! Moscato D'Asti and Asti, which retail at $12.99 and up, are delicate and youthful with aromas of sage leaves and rosewater. The palate is lovely and mild, with lightly sweet flavors of white peaches and a hint of mandarin. They pair effortlessly with fruit-based desserts like apple pie or a fruit tart, and are guaranteed to bring a smile to your face and to the lips of your beloved.
Make Valentine's Day special this year. Delight your loved one with something different and original. Let the romance flow. Get creative. Go Italian!
Happy Valentine's Day. Cheers!