Congratulations! You survived another holidaze! We may be a little worse for wear, but inevitably welcome the joys and challenges of the New Year. After all the indulgences of the past two months, a lot of us turn to a vegetable-centric diet in January. The farmers' market may not be as glamorous as a few months back, but it remains a good place to clear your mind and plan meals for the week ahead. Best of all, there are still plenty of healthy bargains to be found there. Look for an astounding array of Asian greens, winter squash, Brussels sprouts, cauliflower, and the often-overlooked broccoli.
Every supermarket produce department features a towering mound of "fresh" broccoli, but look closely and you'll probably find florets turning yellow, dried or cracked stems, or an unpleasant cabbagey smell. Not terribly enticing. When truly fresh, this cruciferous vegetable is crunchy-good—raw or cooked.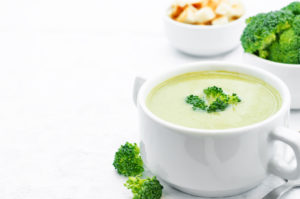 The weather is cool, and my nesting instincts have kicked into full gear. Cozy time in front of the fireplace, candlelight, and comfort food are the rules of the month; and making a pot of soup hits all the marks on my to-do list each week. Whether it's a first-course or the main event, broccoli soup is an economical food to soothe the soul. This one benefits from a relatively brief cooking time—just until the broccoli is tender—so it retains its beautiful color. (Who wants to sit down to a bowl of drab, army-green liquid?) I seldom tire of eating it several consecutive days before reaching the bottom of the pot; but if you prefer, freeze the leftovers for another meal.
If you happen to be following a low-carb diet, you're in luck. If you prefer to reduce the fat in this recipe, omit the butter and substitute unsweetened coconut milk for the cream.
Start the meal with a crisp green salad, and serve the soup piping hot with warm, crusty whole-grain bread from the farmers' market. It's time to really celebrate the New Year!
Creamy Broccoli Soup with Lemon & Parmesan
1 large bunch farm-fresh broccoli (1 1/2 to 2 pounds)
2 tablespoons California olive oil
1 tablespoons unsalted butter
2 medium onions, coarsely chopped
1 large rib celery, coarsely chopped
1 carrot, coarsely chopped
2 large garlic cloves, chopped
Fine sea salt
4 cups (32 ounces) chicken or vegetable stock, purchased or homemade
1/2 cup heavy (whipping) cream or half-and-half
1 tablespoon fresh lemon juice, or as needed
1/8 teaspoon cayenne pepper, or more, to taste
4 strips bacon, cooked until crisp and crumbled, or herbed croutons
3/4 cup (3 ounces) freshly grated Parmesan cheese
1. Trim off the ends of the broccoli stems. Remove and reserve any fresh green leaves. Peel the thick stalks and slice them into 1-inch pieces. Separate the florets into 1-inch pieces.
2. In a soup pot or 4- to 6-quart Dutch oven, melt the butter in the olive oil over medium heat. Add the onions, celery, and carrot and cook, covered, stirring occasionally, until softened but not browned, about 5 minutes. Stir in the garlic and cook until fragrant, 30 seconds to 1 minute longer.
3. Stir in 1/2 teaspoon of salt and the stock. Increase the heat to medium-high and bring to a boil. Add the broccoli stems and boil, uncovered, for 5 minutes. Add the florets and leaves and let the stock return to a boil. Cook uncovered until the florets are tender but still bright green, 3 to 4 minutes. Remove from the heat.
4. Use a hand-held immersion blender to puree the soup* (Alternatively, let the soup cool for 10 minutes and, working in batches, puree in a blender or food processor. Return the pureed soup to the pot.)
5. Stir in the cream, lemon juice, and cayenne. Cook uncovered over medium-low heat, stirring occasionally, until heated through, about 5 minutes. Taste, adding more salt, lemon juice, and cayenne as needed.
6. To serve, spoon the hot soup into bowls and top each with about 2 teaspoons of bacon, if using. Pass the bowl of cheese at the table, for each guest to sprinkle over the soup. Makes 7 to 8 cups.
*The vegetables will still retain some texture—which I think is fine. (Can't we all use a little more fiber in our diets?) If you prefer a perfectly smooth puree for a less rustic soup, take the added step of straining the puree through a fine sieve; keeping in mind that the total yield will be a bit less than the original recipe.
The Danville Certified Farmers' Market, located at Railroad & Prospect, is open every Saturday, rain or shine, from 9 a.m. until 1 p.m. For specific crop information call the Pacific Coast Farmers' Market Association at 1-800-949-FARM, or visit their web site at www.pcfma.org. This market is made possible through the generous support of the Town of Danville. Please show your appreciation by patronizing the many fine shops and restaurants located in downtown Danville. Buy fresh. Buy local. Live well.