Life without lemons is not worth living. There. I said it.
I'm crazy about the way they look, the way they smell, and their bright, bracing flavor. Describing lemons as "versatile" barely scratches the surface.
Any worthwhile establishment adds a lemon slice to water glasses, and provides a wedge alongside seafood dishes. Cocktails wouldn't be the same without a twist. And don't even get me started on limoncello…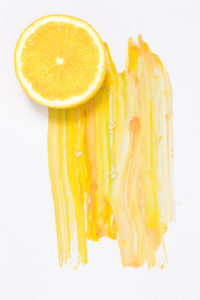 Lemonade is the unofficial beverage of summer. Tea is incomplete without a little squeeze. Espresso benefits from a strip of peel. Lemon meringue pie is a perennial home-style favorite. Restaurants get fancy with mousses, sorbets, and soufflés. Greek, Moroccan, and Sicilian cuisines—among so many others—pay homage to the lemon. Lemon drops and candied lemon peel define the glories of sweet-tart. Lemon juice is a delicate substitute for vinegar. And last but not least, tarnished copper shines up beautifully when coarse salt is rubbed onto the surface with a lemon half! No other fruit shares such bragging rights.
Valentine's Day is coming, and guess what? Not everyone is a hardcore chocoholic. Winter is citrus season, so the following cake may be just the thing to brighten your day. It's tender, moist, and not-too-sweet. The juice and zest of a lemon take center-stage; and rather than overpowering, the olive oil lends a fruity/peppery undertone that rounds out the flavor.
This simple sweet would make a thoughtful gift for a special friend or neighbor, or a welcome snack any time of day. Some may even eat it for breakfast. (Hey, it's made from fruit, right?) You can also serve it as a Valentine dessert, perhaps accompanied by a glass of champagne. And, if you must, a couple of chocolate truffles.
Lemony Snippets
–Although native to Southeast Asia, lemons are now grown in tropical and temperate climates throughout the world. California is the leading producer in the United States.
–Eureka and Lisbon are the most common varieties we see. The Meyer lemon, beloved by home gardeners, is not a true lemon but a cross between a lemon and a mandarin orange—which accounts for its deep yellow-orange color and slightly sweet flavor. Meyer lemons, in season from October through April, bruise easily so you rarely find them in supermarkets.
–Lemons last longest in the refrigerator, but I often keep a bowl of them on the kitchen counter to use over the course of a few days. (This also allows me time to enjoy their heady perfume and sunny beauty.)
–To maximize juice output, roll a room-temperature lemon firmly back and forth on a work surface before halving and juicing.
–When using zest in a recipe, I generally opt for organic lemons. If using conventionally grown lemons, first scrub them well to remove any residual sprays.
–The juice of 1 lemon provides anywhere from 40 to 70 percent of the minimum daily requirement of Vitamin C.
–For optimal flavor and nutritional value, juice lemons just before using.
–An average lemon contains 2 to 3 tablespoons of juice, and 2 to 3 teaspoons of zest.
Lemon-Olive Oil Cake
1 cup granulated sugar
1 tablespoon finely grated lemon zest (from 1 large lemon)
4 large eggs, at room temperature
1 cup all-purpose flour
1/2 teaspoon baking powder
1/4 teaspoon fine sea salt
3 tablespoons fresh lemon juice (from the zested lemon)
1/2 cup California extra virgin olive oil, plus extra for greasing the pan
Confectioners' (powdered) sugar for dusting
1. Preheat the oven to 350 degrees. Grease the bottom and sides of a 9-inch cake pan with olive oil. Line the pan with a parchment round and oil the paper. Dust with flour and tap out the excess.
2. Combine the sugar and lemon zest in the bowl of a stand mixer fitted with the whisk attachment.* Add the eggs. Beat on High until the mixture is pale, thick, and doubled in volume, 6 to 7 minutes.
3. Meanwhile, combine the flour, baking powder, and salt in a medium bowl. Whisk gently to blend well.
4. Reduce the mixer speed to Low and beat in the lemon juice; then gradually add the olive oil in a slow, steady stream. Mix until incorporated. Remove the bowl from the mixer.
5. Sprinkle about 1/3 of the flour mixture into the bowl, and use a large rubber spatula to fold it into the egg mixture just until incorporated. Do not overmix. Repeat, gently folding in the remaining flour mixture in 2 additions, and scraping the bottom and sides of the bowl to ensure it is evenly distributed. Scrape the batter into the prepared pan and bake until the edges are set and a toothpick inserted into the center comes out clean or with only a few moist crumbs attached, 35 to 45 minutes. Let cool on a wire rack for 20 minutes. Use a thin knife to loosen the cake from the edges of the pan, then invert onto the wire rack and carefully peel off the parchment. Let cool completely. Just before serving, dust with confectioners' sugar. Makes 1 (9-inch) cake, to serve 6 to 8.
*Alternatively, a hand-held mixture can be used. The mixing process will just take longer.
The Danville Certified Farmers' Market, located at Railroad & Prospect, is open every Saturday, rain or shine, from 9 a.m. until 1 p.m. For specific crop information call the Pacific Coast Farmers' Market Association at 1-800-949-FARM, or visit their web site at www.pcfma.org. This market is made possible through the generous support of the Town of Danville. Please show your appreciation by patronizing the many fine shops and restaurants located in downtown Danville. Buy fresh. Buy local. Live well.