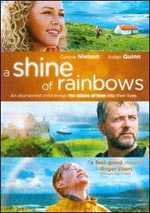 I've was going to write a review on The King's Speech, but it seems as though every month I find another little gem that received virtually no publicity (unlike The Kings Speech) that I wanted to offer to you. I did notice that on the DVD release category it said 'Freestyle Releasing' and that seemed to make up my mind.
A Shine of Rainbows is a very sweet movie with a very deep subject matter…love. It seems that one can never get enough of it. Our story opens with a fresh faced young Irish boy being taunted in his classroom by some older bullies. Eight year old Tomas (John Bell) is shy, introspective and has a stammer. He is also the brunt of all the pranks at the orphanage. One day he walks with trepidation to the office when called but is overjoyed when he finds he has been adopted by Maire O'Donnell (Connie Nielsen) a lovely woman who takes the boy under her wing. On the boat ride back to the island of Corrie where Marie lives, our young lad does everything but throw up over the side and this is his new father's first impression, a slightly green young boy in a sea environment. Alec (Aidan Quinn) isn't able to hide his disappointment with his frail new son. Tomas is loved by Maire while trying to understand Alec and live up to his expectations. Maire is someone filled with magic, the kind of magic that could change someone's life by just allowing them to be themselves.
As he explores his new island home, he finds a baby seal (what Irish movie would be complete without a baby seal!) on the beach, and begins caring for the seemingly abandoned animal, showing it the compassion he's longed for in his own life.
I was recently talking about A Shine of Rainbows to a friend of mine. Since this is considered to be a family film and he has a young child and a pre-teen we started to chat about different subjects that seem to be taboo in many homes today. Just how old does a child need to be to be able to 'handle' the subject of death? I'm definitely not young anymore, except at heart, but death was part of life when I was growing up. Now, we have memorials instead of funerals and parents don't seem to know how to answer the tough questions. No matter how long we live, our lives are touched by death. Different movies handle it, well, differently. There is death in A Shine of Rainbows but to me it was not sentimental, it was too sincere and real to be sentimental.

A Shine of Rainbows is a beautiful movie about the transformation of love; a movie adults and children alike will 'get'. Director Vic Sarin has created a masterful film with quiet yet dynamic performances by Bell, Nielsen, and one of my favorites, Aiden Quinn. One day I may yet review the other 'stammer' movie, The King's Speech but not today. As always, I invite your comments. I love hearing from you at chastings@rockcliff.com.