A morning spent at the July farmers' market is my happy place. The combination of blue skies; truckloads of just-picked sweet corn; and the intoxicating perfume created by juicy stone fruits, plump blackberries, ripe strawberries, and fresh flowers does it to me every time. Top it all off with a little live background music, and I'm ready to do some serious shopping. There's a reason I keep an ice chest in the trunk of my car.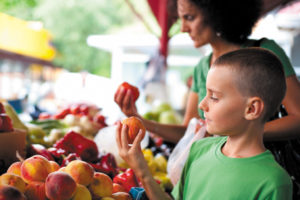 Sometimes there are not enough days in the week to eat all the produce I end up lugging home. But between veggie-centric meals; seasonal desserts and snacks made from seasonal fruit; my own small-batch preserving; and sharing the bounty with lucky neighbors, nothing ever goes to waste.I'm all about relaxed, one-dish meals, especially in the summertime when produce is at its peak. It's time to show it off. The following salad is a fairly typical offering; serve it with crusty artisan breadfrom the farmers' market and you've got yourself one company-worthy lunch or dinner. For dessert? Wedges of ice-cold watermelon. For a vegetarian option, simply eliminate the chicken and add some crumbled California goat cheese.
Yes, there are a number of steps involved; but the good news for the host is that all of the prep—including the grilling—can be done at your leisure in the cool morning hours so you can assemble the salad just before serving. Easy peasy.
GRILLED CHICKEN & SUMMER VEGETABLE SALAD
1 tablespoon balsamic vinegar
1 tablespoon Dijon mustard
1/8 teaspoon crushed hot red pepper flakes
1/4 cup California olive oil, plus extra for the corn
1 1/2 tablespoons coarsely chopped fresh rosemary leaves
2 garlic cloves, crushed with the side of a knife
2 1/4 pounds skinless, boneless chicken breast halves
5 ears corn
Salt
3/4 pound farm-fresh green beans
1 large Fresno or other mild chile pepper, seeded if desired, thinly sliced
1 cup vine-ripened cherry tomatoes, stemmed, halved if large
1/2 small red onion, thinly sliced
5 or 6 large handfuls baby arugula leaves
Basil-Lemon Vinaigrette (recipe follows)
Freshly ground black pepper
To make the marinade: In a small bowl, whisk together the vinegar, mustard, and pepper flakes. Whisk in the oil. Stir in the rosemary and garlic.
Rinse the chicken under cold running water and pat dry. In a large heavy-duty zipper-seal bag, combine the chicken and the marinade. Seal the bag, turning it several times to coat the chicken. Let stand 2 hours at cool room temperature or refrigerate for up to 24 hours, turning the bag occasionally to distribute the marinade.
Bring a large pot of salted water to a boil; and prepare a large bowl of ice water. Add the green beans to the boiling water and cook until bright green and barely tender, 2 to 4 minutes. Remove with a slotted spoon and immediately plunge into the ice water to cool. Trim off and discard the stem-ends of the beans. Cut crosswise into 2-inch lengths, if desired.
Prepare an outdoor or indoor grill over high heat. Shuck the corn, and use a damp paper towel to remove any excess silk. Trim off the stem-end of each ear of corn, creating a flat base so it can be held upright when removing the kernels. Rub corn with oil and season with salt. Grill, turning, until golden and lightly charred in spots. When cool enoughto handle, working one at a time, carefully hold each ear of corn upright on a large rimmed baking sheet, with the flat end positioned securely on the sheet. Cut downward with a large knife to remove the kernels.
Remove the chicken from the plastic bag, discarding the marinade and garlic. Pat the chicken dry with paper towels and season with salt. Grill the chicken breasts, turning once or twice, until nicely browned on the outside and white throughout but still juicy on the inside, 8 to 10 minutes total. When cool enough to handle, cut or tear into bite-size chunks. Combine the corn and chicken in a large bowl.
Add the green beans, chile pepper, tomatoes, red onion, and arugula to the bowl. Pour in about 3/4 cup of the Basil-Lemon Vinaigrette and toss gently to mix. Taste, adding more vinaigrette if needed. Season with salt and pepper to taste and toss again. Transfer to a large rimmed serving platter or shallow bowl and serve at once.
Serves 6 to 8.
Basil-Lemon Vinaigrette
1/3 cup fresh lemon juice
1 tablespoon Dijon mustard
1 garlic clove, minced or crushed through a press
Fine sea salt
1/8 teaspoon crushed hot red pepper flakes
3/4 cup California olive oil
2tablespoons chopped fresh basil
In a 2-cup measure or bowl, whisk together the lemon juice, vinegar, mustard, garlic, 1/2 teaspoon salt, and the pepper flakes. Whisk in the oil to blend. Stir in the basil. Taste, adding more salt if needed. Makes about 1 1/4 cups.(Any leftover dressing can be used in other salads during the week.)
The Danville Certified Farmers' Market, located at Railroad & Prospect, is open every Saturday, rain or shine, from 9 a.m. until 1 p.m. For specific crop information call the Pacific Coast Farmers' Market Association at 1-800-949-FARM, or visit their web site at www.pcfma.org. This market is made possible through the generous support of the Town of Danville. Please show your appreciation by patronizing the many fine shops and restaurants located in downtown Danville. Buy fresh. Buy local. Live well.