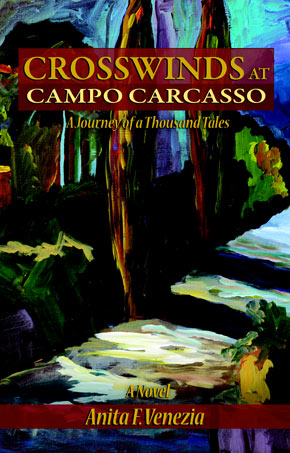 At long last, ALIVE's Senior Staff Writer Anita Venezia's debut novel, Crosswinds at Campo Carcasso — A Journey of a Thousand Tales, is now available. The riveting novel portrays five unlikely protagonists ensnared in the web of illicit looting of golden treasures and ancient artifacts from 2000-year-old cavernous crypts in Etruscan Cities of the Dead discovered beneath their vineyards and olive orchards spreading in the shadow of Orvieto in Umbria—the green heart of Italy. Gold, bronze, pottery and stone grave artifacts—considered Italian cultural patrimony and too dangerous to sell—are copied to perfection by politically-connected antiquities traders, and aided by Sicilian dealers, flood the European black market with impeccable fakes for millions of dollars; resulting in intrigue, death and unrelenting retribution.
Readers of historiographical fiction will be enthralled by the fast-paced story set against the wartime backdrop of Sicily, when British exile Stefano, a French Foreign Legion deserter, and fake-maker Massimo amass and copy ancient treasures ripped from the navel of the island. Years later, they uncover gold-rich Etruscan graves under their Umbrian vineyards and orchards and the compelling story unfolds in 1960s Italy. The well-connected looters of history, with friends in high places, entangle beautiful art historian Carlotta, and her older lover Clarence, an excruciatingly ethical archaeologist, who become torn between integrity and greed when hired to appraise ancient Greek-Sicilian and Etruscan artifacts—too tempting to repatriate.
Anita F. Venezia's debut novel draws from years of research as feature magazine writer for ALIVE Magazine. Anita is an antiques and art appraiser. She lives in the San Francisco Bay Area in Danville, California near her three grown children and grandchildren. Her travels on four continents, and living in South Africa and Italy for many years, gives her a unique perspective to write about classical history and the cultural patrimonial antiquities that never appear in museums.
The book Crosswinds at Campo Carcasso — A Journey of a Thousand Tales by Anita F. Venezia is published by Aventine Press, #ISBN-59330-35-7 and is 458-pages. Suggested retail is $22.95. It is currently available at www.amazon.com and www.barnesandnoble.com.